Democratic presidential contender Bernie Sanders received a second opportunity to explain how he plans to implement his economic policy during an appearance on MSNBC's "Morning Joe" Friday, namely his proposal to break up America's largest banks.
Sanders was criticized earlier this week after meeting with the New York Daily News' editorial board to discuss several key campaign issues. Most of the criticism focused on his alleged failure to explain and elaborate on how he would fracture big banking. Many felt Sanders only focused on the "why," instead of also explaining the "how."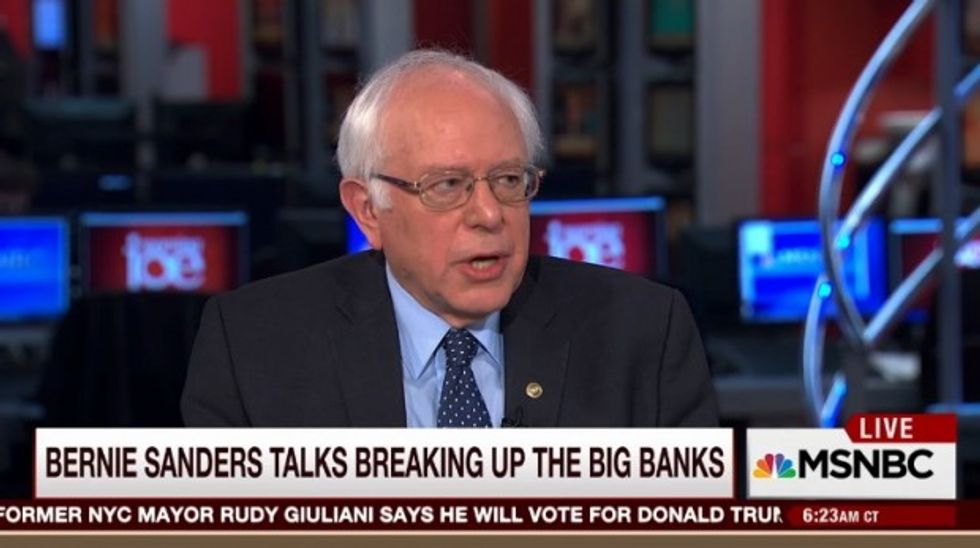 Image source: MSNBC
"Some answers they felt you came up short with, especially on your main message. So I'll re-ask those questions," show co-host Mika Brzezinski told Sanders. "By what authority and how would you go about breaking up the largest financial institutions in the country?"
"You ready for the answers?" Sanders quipped in response. "You can do it in a couple of ways."
"One way is you can use Section 121 of the Dodd-Frank legislation. And number two — better, and I would prefer — is pass by legislation," Sanders explained. "What my legislation and the legislation that I've introduced says that the secretary of the treasury will have the authority to investigate and determine which banks pose systemic risks to our economy, i.e., if they're too big to fail, they can bring down a significant part of the economy and within a period of time, the secretary can break them up."
However, once the banks are broken up, Sanders said the government intervention would stop. He added that it would then be up to each individual bank to decide how to structure their organizations from there.
Repeating a question that the NYDN editorial board asked Sanders, Brzezinski went on to ask the Vermont senator what a large bank — such as JPMorgan — would look like in the second year of a Sanders administration.
"What I said is after they're broken up that is their decision to reconfigure how they want to do it. It's not the government's business," Sanders said. "We tell you you can't be this big, you're too much of a danger. Go from there, this is how big you can be. I won't run JPMorgan."
Watch:
—
Follow the author of this story on Twitter and Facebook:
[facebook //www.facebook.com/plugins/like.php?href=