BROOKLYN, N.Y. — On Friday, Sen. Bernie Sanders came home.
Despite the chilly temperatures, Sanders received a warm welcome from the hundreds who gathered in the streets and sidewalks around a Flatbush apartment building Friday afternoon. A few supporters lucky enough to live inside the very building where the Democratic presidential candidate grew up, leaned out of windows, congregated on the fire escapes and waved Sanders paraphernalia and pride flags.
"Welcome home," the crowd chanted for several moments as Sanders surveyed the area where he used to play football and sent marbles tumbling down storm drains — an area now crowded with light blue signs and reporters' cameras.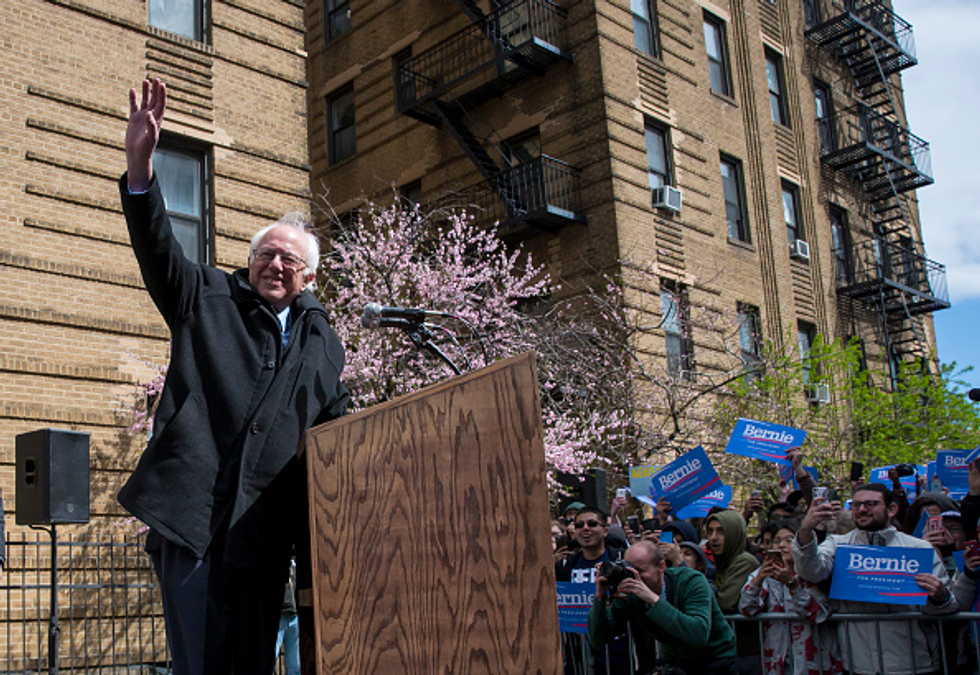 Democratic presidential candidate Sen. Bernie Sanders (D-VT) holds a rally outside his childhood home in Flatbush on April 8, 2016 in the Brooklyn borough of New York City. (Photo by Eric Thayer/Getty Images)
"I spent the first 18 years of my life in apartment 2C right here," Sanders said. "I spent four years at James Madison high school up the street. I spent eight years at PS 197. And I used to hang out on the corners on Kings Highway a little bit so thanks for being right on this street."
"When I lived here, a lot of these folks, I don't know if they're still here or not, but these were rent controlled apartments. Are they still?" Sanders asked the crowd. "A lot of rent controlled apartments, a lot of folks who did not have a lot of money. So growing up here, I learned the major lesson that I've ever learned in my life about economics, and that there are millions of families in America today who struggle every single day to take care of their families."
Sanders continued to deliver his usual stump speech to those gathered in the "great community" as the crowd predictably chanted along with his call for free college tuition and an economy that benefited more than just "the one percent."
Despite being a last-minute event — even volunteers in the Flatbush area were not aware of the event until after midnight Friday morning — security told TheBlaze at least "a couple hundred folks" were able to attend the rally, including small school children and James Madison High students.
"I go to the same high school as Bernie so there was no way I'd be in class today and miss this," a freshman student who only wished to be identified as Sara, told TheBlaze.
"If he becomes president, that means any of us can become president," Sara's classmate, who wished not to be named and was presumably skipping school as well, said.
Along with Sanders, former Secretary of State Hillary Clinton has ties to the Empire State and both candidates have drawn on those roots as they campaign in the state ahead of the April 19 primary. Clinton leads Sanders by 13 points. 
Actor and New Yorker Mark Ruffalo, who introduced Sanders' at his homecoming rally, remarked that the vast number of "young people" who came to see the candidate Friday was indicative of Sanders' own childhood in Brooklyn as someone "who didn't give up on" his dreams.
And a handful of Sanders' young staffers certainly weren't giving up on their dreams either; immediately following the rally, Sanders' new campaign office in Flatbush was quietly buzzing as less than a dozen volunteers crowded around a small table as they planned how they would mobilize around the borough. The office, while new, was sparse, but the excitement was nearly palpable, especially as curious passersby wandered in off the street for brochures and buttons.
Next week Sanders will make a historic trip to the Vatican to attend a conference on social, economic and environmental issues, but on Friday, on sidewalks which he said looked better than they used to, he made an equally important trip; he came home. 
—
Follow Kaitlyn Schallhorn (@K_Schallhorn) on Twitter