John Stossel concedes he's "not confident" a libertarian candidate will be elected president in 2016, but the Fox Business anchor still believes "policy matters" and will air the second part of a Libertarian forum he hosted on his show Friday night.
"My fantasy is that after people watch debate part two, suddenly America will rise up and support the Libertarians," Stossel joked to TheBlaze in a phone interview Thursday.
The three Libertarian candidates, former New Mexico Gov. Gary Johnson, Austin Petersen and tech entrepreneur John McAfee, fielded questions on immigration, America's drug policy and the environment.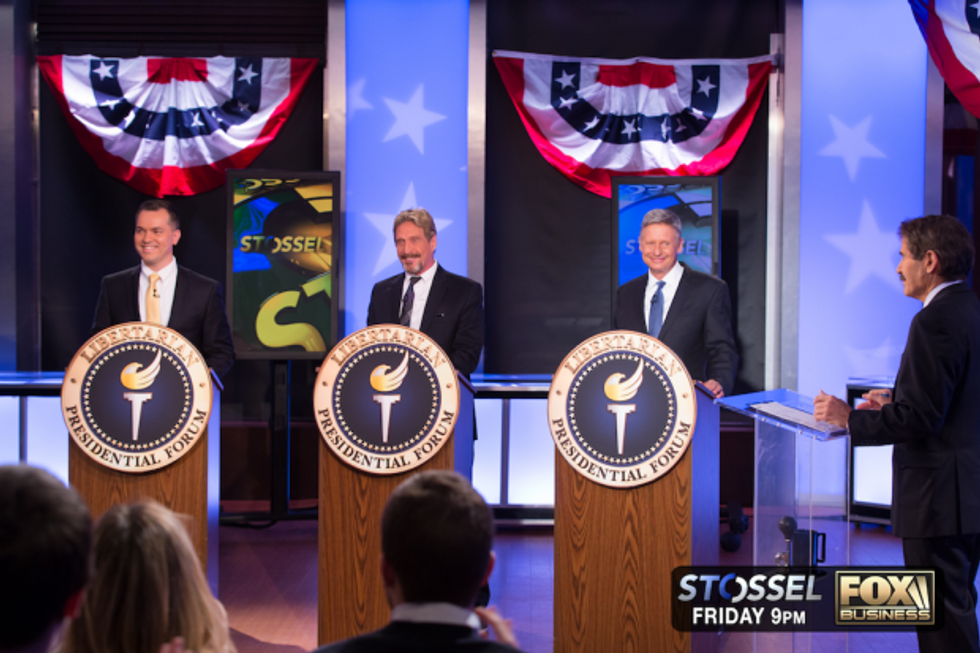 Image source: Fox Business Network
But Stossel said he that he was most surprised by a comment that had to do with government's role in relation to private businesses. The libertarian pundit said he asked the candidates if a Jewish baker should be forced to bake a cake for a Nazi wedding — a parallel to the controversy over Christian bakers being fined for not baking a cake for a gay wedding — and didn't anticipate to receive a "yes" response from anyone in the the group.
"Gary Johnson surprised me by saying yes. He argued that it's part of social cohesion that holds the country together," Stossel said. "I didn't expect it."
[sharequote align="center"]"I didn't expect it."[/sharequote]
Stossel said he was also taken aback by the candidates' rejection of the Environmental Protection Agency.
"There was talk of eliminating the EPA. I think that's one government agency we do need," he told TheBlaze. "To control pollution ... I think you need government."
"My smoke goes to your lungs. My sewage goes to your drinking water. ... It makes sense to me that the EPA be granted certain controls. But this group is anti-EPA," he said. "I would argue the EPA is disgusting now and they have done much more than they needed to do. But I do believe that is one role for government the founders didn't think about."
That wasn't the only criticism Stossel had for the group of Libertarians. Asked to describe each of their weaknesses, the Fox Business anchor was blunt.
"Austin is 12 years old. McAfee is weird and got accused of murder, or being possibly complicit of murder in another country. And Gary Johnson doesn't speak with the same passion that politicians normally do. Therefore, so far, he hasn't inspired people," he said.
Nevertheless, Stossel insisted that all of the Libertarian candidates would be better than the alternatives. He blasted the front-runners of the two major parties, drawing a comparison between Donald Trump and Hillary Clinton.
"Donald wants to take our freedom by starting a trade war with China. He wants to deprive us of opportunity to buy and sell things freely," Stossel said. "Hillary wants to take our freedom by micromanaging every aspect of the workplace and other parts of life. And she wants to engage in wars all over the world."
Describing each of the major candidates in one word, he called Clinton a "micromanager," Trump a "bully" and Sen. Ted Cruz (R-Texas) a "smart bully."
Stossel was also reluctant to call Sen. Rand Paul (R-Ky.), a former Republican presidential hopeful, a libertarian.
"He is libertarian-ish. Ron Paul was libertarian. But Rand is Republican-Libertarian," Stossel contended. "Rand Paul has said we should intervene in other countries more than any of these candidates. Rand Paul has, to my knowledge, never said we own our own bodies and all drugs should be legal."
Asked why none of the Libertarian candidates have seen traction in a year non-establishment candidates have dominated, Stossel had no answer.
"I don't know! It mystifies me!" he said. "It does require a little more thought than the free stuff from Bernie and the 'I'm going to make America great again' magical thinking from Donald. But libertarianism makes so much sense to me. And I don't get why people aren't more enthusiastic," he said. "Why that is, I don't know. ... I don't have a good answer for you."
Nevertheless, he said he remained "hopeful" one of the Libertarians will gain momentum before November.
"If people start really thinking about what Trump says and looking for more sensible alternatives — maybe," he said.
The second part of the Libertarian forum airs on "Stossel" at 9 p.m. ET.
—
Follow the author of this story on Twitter and Facebook: