Video from an in-house daycare center at a gym in Houston, Texas, appears to show a worker slapping a toddler across across the face, all while her father was just feet away, unaware of what was happening.
It happened in December when Tyler Davis was working out at a local 24 Hour Fitness. Davis had left his twin 18-month-old girls at the in-house daycare, but it wasn't until days later that Tyler would learn of exactly what one of his daughters reportedly experienced in his absence.
Tyler got a phone call from the gym manager, saying that a video had surfaced on the social media app Snapchat.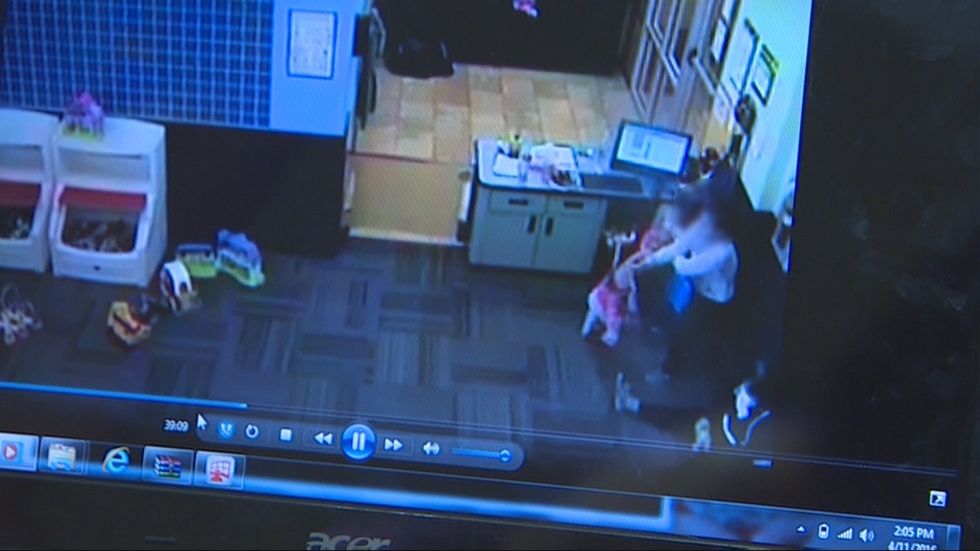 Image source: KHOU-TV
"He wanted us to know that one of my daughters had been slapped, and it appears that one of the employees had been horse playing with the girls," Tyler told KHOU-TV.
Tyler and his wife, Arianna Davis, were given the footage, which they shared with local media.
"My heart just sinks," Arianna told KHOU.
Now, months after the incident occurred, the Davis family is still grappling with what happened. Tyler Davis said that while part of him wants to be mad, the "Christian side" of him wants to recognize that everyone makes mistakes.
"Kind of an anger, but then I guess the Christian side of me just said, 'You know, we have all made a mistake, we've all done something wrong,'" the father said.
"I need to find a way to forgive these people for what they've done," Tyler added.
A representative for 24 Hour Fitness confirmed that the two employees involved were later fired and that upon learning of the incident the gym notified the parents as well as law enforcement.
The Fort Bend County Sheriff's Office opened an investigation, but the district attorney's office was expected to take over the inquiry, KHOU reported.
Neither the Sheriff's Office nor the district attorney's office immediately responded to requests for comments from TheBlaze.
(Content warning: disturbing video)
(H/T: KHOU-TV)
–
Follow the author of this story on Twitter and Facebook: