Sen. Rand Paul (R-Ky.) told MSNBC's "Morning Joe" Tuesday that the Republican presidential primaries are "biased in favor of the establishment."
"Well, no, I hear someone's been saying they're rigged. I don't think they're rigged, but they are biased — and intentionally so," the former Republican presidential candidate said.
"'Rigged' would mean that it was illegal, that it was somewhat shady," Paul continued. "No, it's done somewhat in the open. But they are biased in favor of the establishment."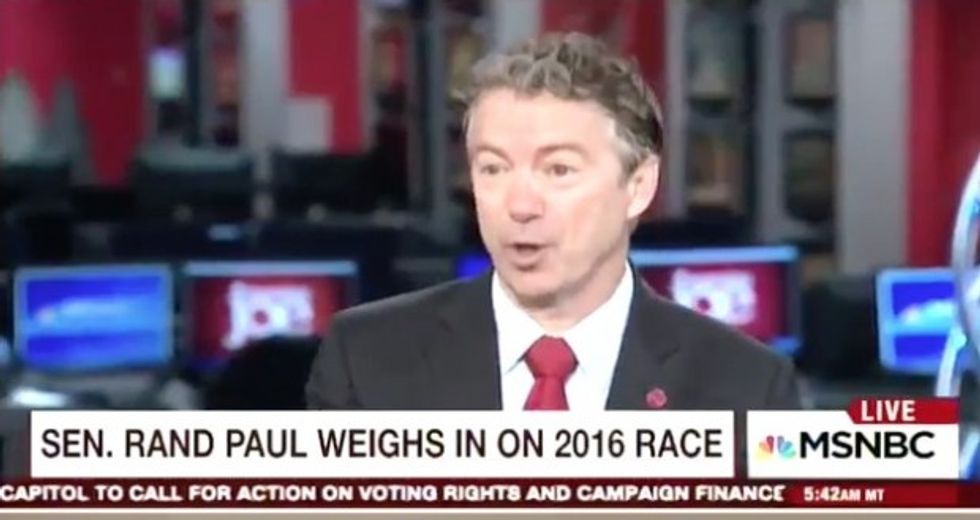 Image source: YouTube
Paul noted that during the 2012 primary, when his father Texas Rep. Ron Paul sought the Republican nomination, the GOP Rules Committee mandated that a candidate could not be nominated unless they won at least eight states.
"And [it's] interesting, now, if you talk to all of the Republican establishment, they're saying, 'Oh, yeah, your votes can be counted,'" Paul said. "This is a big deal because, think about it, [Gov. John] Kasich's votes cannot be counted. Under Rule 40(b), they should not be counted. And if it was not Ron Paul, they were not counted in 2012."
"When you think about it, both [Sen. Ted] Cruz and [Donald] Trump have a great deal of incentive not to let anybody else have votes," Paul added. "That's what the rules currently state. However, 110 people are going to be very important. That's the Rules Committee. They're going to decide what the rules are. I think you want to see a contentious room, it's going to be those 110 people."
Asked if he would rather be a senator in "the age of Trump or the age of Cruz," Paul replied that one can "always fill in the blank."
Paul suspended his presidential campaign shortly before the New Hampshire primary.