NEW YORK — Jenny Beth Martin is getting out the vote, just not for a presidential candidate.
Martin's conservative organization, the Tea Party Patriots, endorsed Republican Texas Sen. Ted Cruz for the nomination in January, but instead of focusing all of their efforts on campaigning for the GOP presidential candidate, the group is campaigning for conservative delegates.
Their mission, as Martin travels around the country, is to "make sure prior to the convention that those who are going to be the delegates ... are paying attention to what the voters vocally want" —  a mission Martin describes as "vital." The organization has also endorsed a bevy of delegate candidates, especially in Colorado.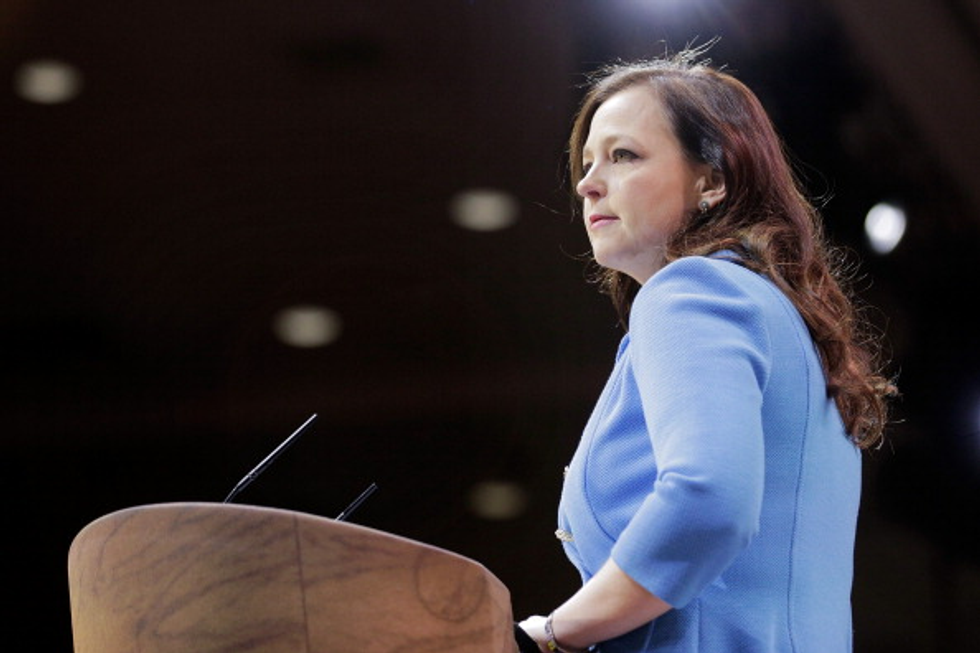 Jenny Beth Martin, president of Tea Party Patriots, speaks during the 41st annual Conservative Political Action Conference in National Harbor, Maryland. (Getty Images/T.J. Kirkpatrick)
"Most people have not lived through a contested convention, and they don't know everything that is about to happen," Martin, 46, told TheBlaze in an interview. "I just want to make sure that in this day and age when we have so much communication and so much data coming at us, that all of us are able to sort through the data to get to the true information — that the delegates are able to do it, that our supporters are able to do it, and we can also help other voters understand what is happening in July."
"We're going to need to be looking at how can we effect these places where people still have to get on the ballot or vote for the delegates to the national convention and then also where the congressional district conventions and state conventions are happening — who are those people going to be," she said.
So with her focus on delegates, Martin and others in her organization, put out feelers within their network of supporters in order to figure out who is "engaged in the convention process or who is on the ballot to become delegates" in states that hold elections.
"We're working with our people within those states to see how best we can help them maneuver the next step," she said.
Martin adamantly predicted a high probability that the Republican convention in July will be contested and urged campaigns to pay attention to how states allocate both their congressional district delegates as well as their at-large delegates and the rules that will allow for them to become unbound to a certain candidate.
"The delegates are real people and those people are representing their congressional districts or their states when they get on the floor of the convention in July," Martin add. "It's a very representative process."
And because it's representative, Martin stressed her belief that delegates should focus their attention on two candidates — Cruz and businessman Donald Trump — and not elect someone such as House Speaker Paul Ryan (R-Wis.) as "he didn't even step up and try" to compete for the nomination.
"I want to make sure that what happens as they're faced with the many different choices they have to face is to remember in that sense this is a Republican run-off, when we select our nominee, it needs to be within the majority of support, and this is how we're going to come to a majority consensus, and that they make sure that they're nominating someone who is going to adhere to our values within the Tea Party movement, the Republican Party platform, and will be able to take on the Democrat nominee in the fall," Martin said.
"It's finally clear that it's a two-man race between Trump and Cruz, and they're both there because they've been espousing the values the Tea Party has stood for for the past seven years," Martin added. "Obviously Cruz has been fighting for those values on Capitol Hill, and we believe he's going to do that if he gets elected to the White House."
Matthew Pagano, who is running for a Minnesota delegate position at the state level, told TheBlaze that while Minnesota is a unique state in that it went to Florida Sen. Marco Rubio in its March GOP primary, an "overwhelming majority of people" moving through the delegate process are Cruz supporters.
"I would say that we're unusually unbound in Minnesota, and I would say that there's a lot of support for Cruz in the process among people that are running or likely to run for delegates through the process right now," Pagano said.
Pagano stressed that in order to become a delegate in Minnesota, candidates must go through an extensive course of action and attend conventions — a process that requires motivation that is usually derived from a single, specific candidate.
And despite what he described as "some curiosity" among potential Minnesota delegates about a third option at the Republican convention, those vying for a third choice at the convention are a minority, thanks in part to on-the-ground operations to get Cruz supporters elected to delegate positions.
—
Follow Kaitlyn Schallhorn (@K_Schallhorn) on Twitter