The American Library Association (ALA) fielded 275 formal challenges to materials in school libraries in 2015, and, for the first time ever, the Bible landed on the top 10 list.
Why was the holy book challenged? According to the ALA, "religious viewpoint" was the only reason cited. But that isn't necessarily the only issue some people have with the Bible sitting on school library shelves.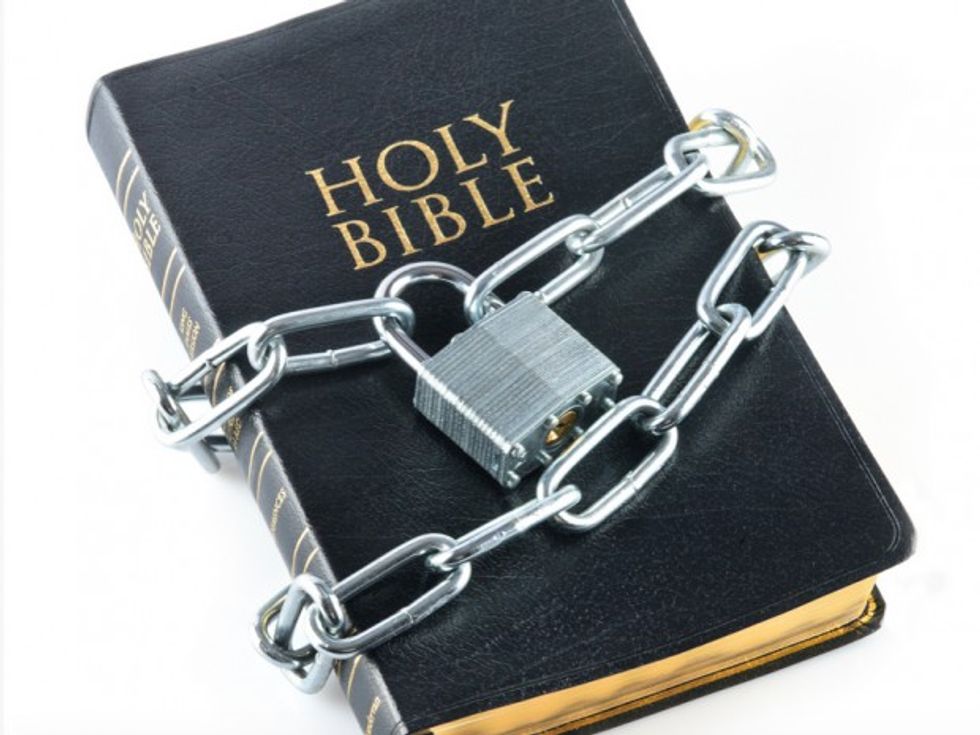 Photo credit: Shutterstock
"You have people who feel that if a school library buys a copy of the Bible, it's a violation of church and state," ALA Office of Intellectual Freedom (OIF) Director James LaRue told the Associated Press. "And sometimes there's a retaliatory action, where a religious group has objected to a book and a parent might respond by objecting to the Bible."
This development coincides with the belief shared by the majority of Americans that religious liberty is in decline. However, along with that belief is the feeling that American Christians complain too often about the way they are treated.
Though this is the first time the religious book has made it to the top 10 list, 2015 did mark a downward trend in the number of complaints fielded. The ALA registered 311 complaints in 2014 and 307 in 2013. The average number of complaints lodged generally falls between 300 and 600 per year.
The AFA compiles the top 10 list by collecting "anecdotal data derived from media stories and voluntary reports sent to OIF about book challenges in communities across the United States," according to the association's website.
It is worth noting that the Quran has also been challenged, but not as many times as the Bible, according to LaRue, who leads the team that organizes the annual Banned Books Week.
However, as Christianity Today pointed out, a book being challenged does not necessarily mean it is recommended by the ALA for removal from school libraries. According to the OIF, the Bible "does not violate the separation of church and state as long as the library does not endorse or promote the views" found in the book.
But, as Bible Gateway general manager Rachel Barach noted, threat of censorship is nothing new for the Bible.
"The Bible has been criticized, challenged, and banned by individuals, groups, and governments through centuries of persecution," she said.
In addition, American Bible Society communications director Andrew Hood says the Bible offers more than just religious commentary.
"The Bible — the most-translated and best-selling book of all time — has informed centuries of literature, government, philosophy and social behavior," he told Christianity Today. "To exclude it from public libraries and schools would be to diminish access to the most influential book of all time."
According to a recent Harris poll, 28 percent of Americans believe that certain books should be banned from libraries, an increase from 18 percent in 2011.
Here is the complete top 10 list of most-frequently challenged books of 2015:
1. "Looking for Alaska" by John Green

Reasons: Offensive language, sexually explicit and unsuited for age group

2. "Fifty Shades of Grey" by E.L. James

Reasons: Sexually explicit, unsuited to age group, and other ("poorly written," "concerns that a group of teenagers will want to try it")

3. "I Am Jazz" by Jessica Herthel and Jazz Jennings

Reasons: Inaccurate, homosexuality, sex education, religious viewpoint, and unsuited for age group

4. "Beyond Magenta: Transgender Teens Speak Out" by Susan Kuklin

Reasons: Anti-family, offensive language, homosex- uality, sex education, political viewpoint, religious viewpoint, unsuited for age group, and other ("wants to remove from collection to ward off com- plaints")

5. "The Curious Incident of the Dog in the Night-Time" by Mark Haddon

Reasons: Offensive language, religious viewpoint, unsuited for age group, and other ("profanity and atheism")

6. "The Holy Bible"

Reasons: Religious viewpoint

7. "Fun Home" by Alison Bechdel

Reasons: Violence and other ("graphic images")

8. "Habibi" by Craig Thompson

Reasons: Nudity, sexually explicit, and unsuited for age group

9. "Nasreen's Secret School: A True Story from Afghanistan" by Jeanette Winter

Reasons: Religious viewpoint, unsuited to age group, and violence

10. "Two Boys Kissing" by David Levithan

Reasons: Homosexuality and other ("condones pub- lic displays of affection")
—
Follow the author of this story on Twitter: