A New York man living in his mother's home thinks he has what it takes to be the next Mark Cuban.
And it's not an empty dream. At the age of 23, Dylan Gioia already owns and runs his very own professional basketball team from his mother's Brooklyn basement, ABC News reported.
"This is the hub of the Brooklyn Skyrockets," Gioia told ABC of his budding basketball team. "I do most of my work down here. I have a blackboard, I have my laptop. It's all you really need."
The Skyrockets are one of several dozen teams that belong to the American Basketball Association, the league with the signature red, white and blue ball that was popularized by its best-known player, Dr. J, back in the 1970s.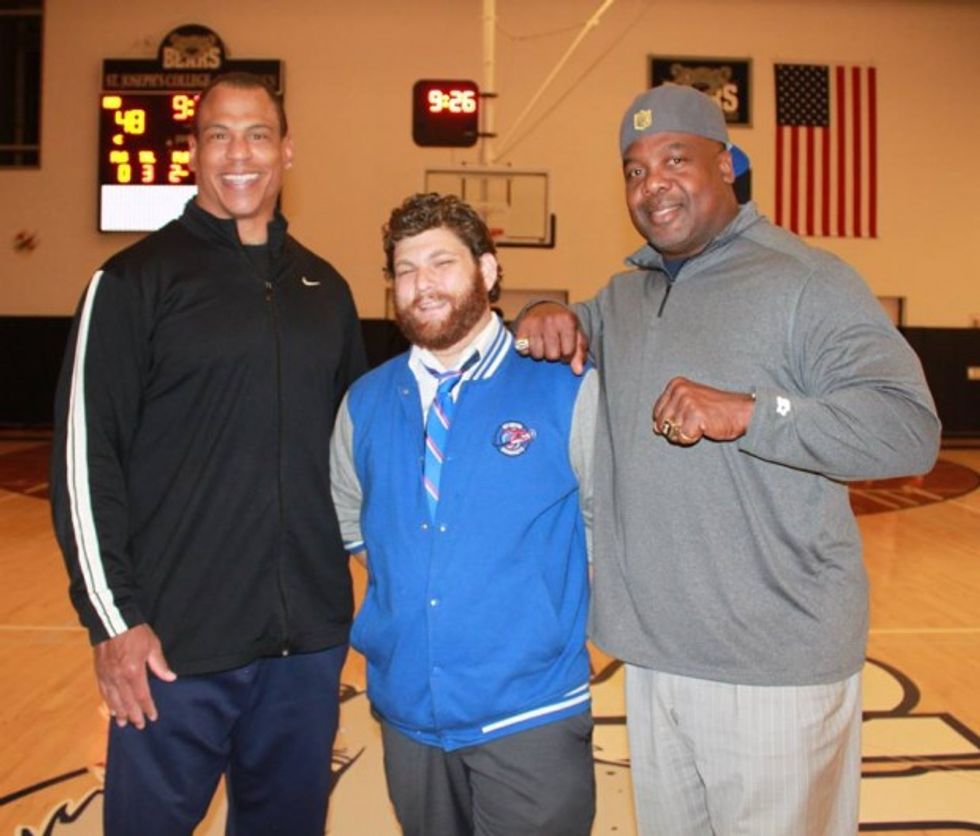 Brooklyn Skyrockets owner Dylan Gioia, center, poses at the team's 2015-16 home opener. (Image via Facebook/Brooklyn Skyrockets)
At its founding in 1967, the ABA was recognized as a major-league professional basketball organization. After nine successful years, it became a part of the NBA. Twenty-three years later, the ABA was reestablished as a professional basketball league with no affiliation with the original ABA.
The new ABA saw its first official season in 2000. Since then, the number of teams has grown from eight to more than 70 across 10 divisions in the United States, Canada and even Japan.
When Gioia discovered the resurrected ABA, he saw an opportunity to launch a career in sports management, the subject he studied while attending the State University of New York College at Cortland.
Gioia told ABC he dreams of one day becoming the general manager of the New York Knicks, a dream that seems plausible given the ABA's unique setup. "The whole point of the ABA is accessibility to ownership," Gioia said. "Not everyone has to be a millionaire."
After applying through the ABA website and being approved, the next step Gioia faced was figuring out a way to pay the $10,000 membership fee. He said he does this by paying only $250 each month, interest free.
Once he sorted out the financial end of things, Gioia was ready to build his team.
"You have to find a venue. We're playing somewhere called the Aviator Sports & Events Center," Gioia explained to ABC. The federally owned venue, located in Brooklyn, has a seating capacity of 4,000.
"You have to find players, so we had tryouts. We have to find coaches. You've got to put together a website and then you've got to start raising funds through sponsorship and getting your name out there," he said.
The Skyrockets had their first season in November 2014.
What sort of players comprise the new ABA? Gioia explained that they tend to be older men who played in college but went on to pursue other careers and start families.
"After school, I had a family, I had a son, so I tried to do other things," Skyrockets forward Keenan Bell told ABC. "But then this opportunity presented itself. So I said, you know what, it doesn't hurt, let me give it a shot, and it's something I can tell my son, show my son the tape."
Gioia shared that selling tickets, recruiting sponsors and paying team members is still a constant struggle. But he hasn't let little obstacles get in the way of his big plans for the young team.
"I just want to be able to have a self-sustaining team where I could have a staff and where I could be an owner just like Mark Cuban," Gioia said. Cuban currently owns the NBA Dallas Mavericks. "Sit in the stands and watch it and not stress as much as I am and actually be able to sit and enjoy it."
The Skyrockets, now in their off season, finished the 2015-2016 ABA season with a final record of 4-6.