© 2023 Blaze Media LLC. All rights reserved.
Duck Dynasty' Star Sadie Robertson's Viral Break-Up Video Stuns With Heartfelt Prayer: 'I Want to Be an Example for Y'all in Y'alls Break-Ups
"I hope, that even now, I can be there for y'all."
A&E's "Duck Dynasty" star Sadie Robertson finally publicly addressed her split from longtime boyfriend Blake Coward in a YouTube video posted late Wednesday night — but it's what the teen star did for her fans that's grabbing everyone's attention.
"This video is not gonna be fun, it's not gonna be easy — but that is how a break-up is," Robertson began. "It's not fun, it's not easy, but when you know you need to do something, then you need to do it."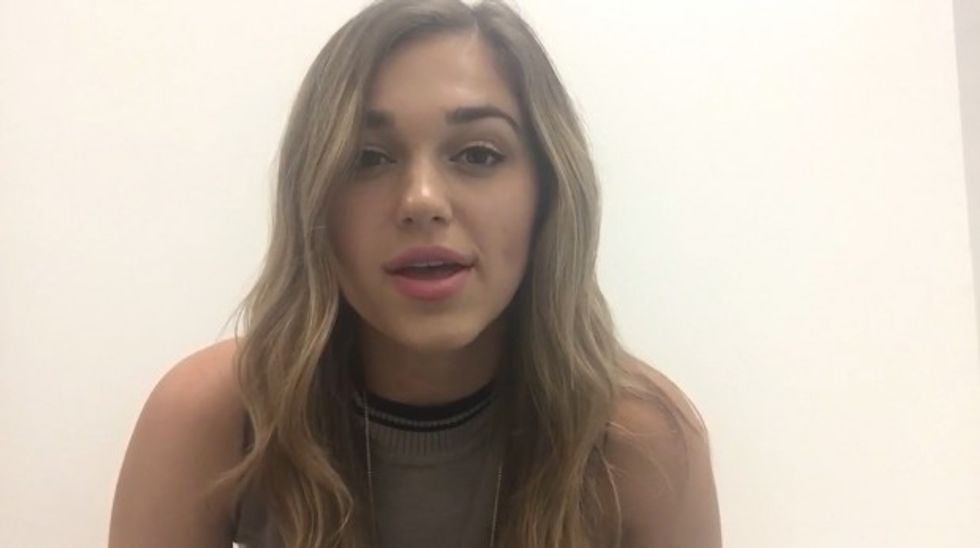 Image source: YouTube
Robertson admitted that she knew many of her millions of fans looked up to her and Blake's relationship as "goals" — meaning something other people desired to have — but she went on to explain that she hopes she can serve as an example on how to handle a break-up.
"I hope, that even now, I can be there for y'all," she said. "And y'all can look up to us in a break-up. I know it's weird to say, but I want to be an example for y'all in y'alls break-ups, because I know a lot of you are going through the same thing as me — we're both hurting the same way, we both feel that drop in our stomach the same way. I know exactly how you're feeling."
[sharequote align="center"]"I want to be an example for y'all in y'alls break-ups."[/sharequote]
Robertson went on to encourage her followers to not be "bound in bitterness" following a break-up and instead to find reassurance and solace in the grace of God and the purpose that He has made for each person.
"Instead of being bitter, instead of being jealous, instead of being angry, want what's best for them," Robertson said. "No matter what the outcome, take the things that you know you can work on, grow in that, and be better for the next person. Be better for the person that God has planned and prepared for you."
"It's hard to let go, I know," she added. "But I also know, that with each break-up, comes an opportunity to meet the right person."
"Break-ups are just a part of life," Robertson concluded, "but God has someone good for you. Keep that in mind."
To end the video, Robertson decided to do something a bit different from normal: She prayed for everyone who's currently going through a break-up:
Dear God, I pray for all the broken hearts out there tonight, God. I just pray for each girl out there who is hurting because of a relationship that ended and each guy out there that's hurting because of a relationship that ended, because it's really hard being in this stage of life. But God, we know that we're only put through this because eventually we're going to end up with the right person that you planned for us God. And that we should stop hurting and look to You because You can fill our hearts with peace. You can fill our hearts with that comfort, You can fill our hearts with that love God, You can make us whole when we don't feel whole at all, You can make us complete when we fill nothing but empty. God you are so good and you have a perfect will for us and we shouldn't question that. When we don't feel peace about something God, we know we have to just run to the peace and that we just have to find You. God help us to all remember that You are good at all times — all the time you are good — and that we don't have to be bound by bitterness. We can move forward. Help us to not sit in those swamps. And to the person who needs it tonight, help them tomorrow wake-up and say "I'm going to be joyful today because I choose to trust God." I pray this over everyone in each country who is watching. God I pray this over each broken heart. As in your name we pray, Amen.
Two weeks ago, news broke that Robertson had split from her longtime boyfriend, though it had yet to be publicly acknowledged by Robertson or a member of her family until this week.
In light of being single again, Robertson's mother, Korie Robertson, told the Christian Post this week that Sadie's future plans include focusing on her faith, her family and her career.
"She's gonna focus on this movie and on what we're doing with 'Duck Dynasty' and all the amazing opportunities she's got going on right now," Robertson said.
As of Thursday afternoon, Sadie's video had accumulated nearly 150,000 YouTube views. Watch it below:
—
Follow the author of this story on Twitter and Facebook:
[facebook //www.facebook.com/plugins/like.php?href=
Want to leave a tip?
We answer to you. Help keep our content free of advertisers and big tech censorship by leaving a tip today.
Staff Writer
Chris Enloe is a staff writer for Blaze News
chrisenloe
more stories
Sign up for the Blaze newsletter
By signing up, you agree to our
Privacy Policy
and
Terms of Use
, and agree to receive content that may sometimes include advertisements. You may opt out at any time.