Donald Trump's presidential campaign called the controversy surrounding allegations that campaign manager Corey Lewandowski assaulted a reporter "concluded" after a Florida prosecutor announced that he will not be prosecuted for battery.
Ex-Breitbart reporter Michelle Fields alleged that Lewandowski grabbed her arm at a March 8 press conference, leaving her bruised. Trump and his campaign, along with Lewandowski, denied the charge.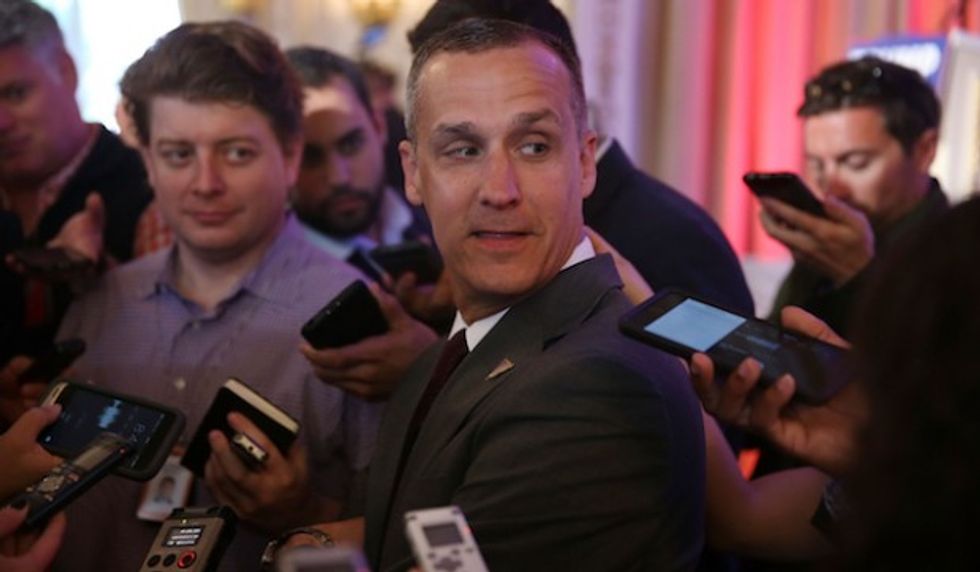 Corey Lewandowski, campaign manager for Republican presidential candidate Donald Trump, speaks with the media before former presidential candidate Ben Carson gives his endorsement to Trump at the Mar-A-Lago Club in Palm Beach, Florida. (Joe Raedle/Getty Images)
Lewandowski was charged with simple battery in the incident, but the Palm Beach County state attorney's office decided not to prosecute him.
"This office will not be filing charges against Corey Lewandowski for battery," Palm Beach County state attorney Dave Aronberg told reporters Thursday.
Palm Beach County state attorney: "This office will not be filing charges against Corey Lewandowski for battery" https://t.co/q8HYio5UE9

— CNN Politics (@CNNPolitics) April 14, 2016
A spokesperson for the Trump campaign said in a statement:
Corey Lewandowski is gratified by the decision to drop the misdemeanor charge and appreciates the thoughtful consideration and professionalism by the Palm Beach State Attorney and his staff who carefully reviewed this matter, as well as Mr. Trump's loyalty and the support of his colleagues and family during this time. The matter is now concluded.
After the March 8 incident, Fields tweeted a picture of her bruises, and Lewandowski called her "delusional."
I guess these just magically appeared on me @CLewandowski_ @realDonaldTrump. So weird. https://t.co/oD8c4D7tw3

— Michelle Fields (@Michelle Fields)1457636528.0
@MichelleFields you are totally delusional. I never touched you. As a matter of fact, I have never even met you.

— Corey R. Lewandowski (@Corey R. Lewandowski)1457674110.0
On Wednesday, Fields told TheBlaze that she is considering taking legal action against Trump and Lewandowski for defamation of her character.