In a rare op-ed for the Wall Street Journal, Republican presidential candidate Donald Trump attacked the "political insiders" and expanded on his criticism of Colorado's delegate process — a situation in which all delegates went to GOP rival Texas Sen. Ted Cruz.
Trump has been outspoken about his disdain for Colorado's process — mostly on his favorite social media platform, Twitter — but in an op-ed Thursday, the billionaire businessman argued that the process essentially "sidelined" 1 million Republicans in the state.
"Let me ask America a question: How has the 'system' been working out for you and your family?" Trump wrote.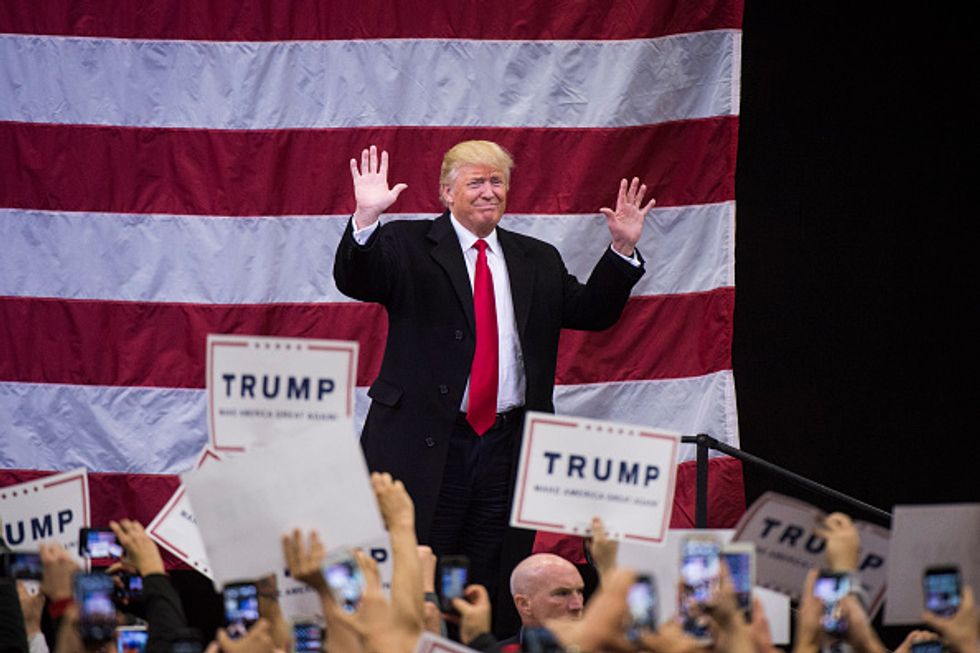 Republican presidential candidate Donald Trump walks out to speak during a campaign event at Griffiss International Airport in Rome, New York, Tuesday. (Getty Images/Jabin Botsford)
"What we are seeing now is not a proper use of the rules, but a flagrant abuse of the rules," Trump continued. "Delegates are supposed to reflect the decisions of voters, but the system is being rigged by party operatives with 'double-agent' delegates who reject the decision of voters."
He added, "The American people can have no faith in such a system. It must be reformed."
The Colorado GOP eliminated the straw poll this year in order for delegates not to be necessarily bound to a candidate when the convention commences over the summer.
A source with knowledge of how the state party selected its delegates this year told TheBlaze Friday that, while the presidential preference poll was eliminated in August, "no significant changes from 2012 to 2016 occurred in terms of electing delegates."
The source continued to say that, even though Trump claimed "1 million Republicans were sidelined" because of the process, turnout at Colorado's caucus in 2016 was "roughly similar" to that of the turnout in 2012.
"The reality is Trump could have done better in Colorado if he had more supporters show up at caucus," the source said. "He's just trying to reignite his campaign after some brutal losses, which from a tactical standpoint I actually understand."
Cruz was not exempt from Trump's criticism in the Journal piece. Trump slammed the Texan for "bragging about his voterless victory in Colorado" and "celebrating [Coloradans'] disenfranchisement."
"The great irony of this campaign is that the 'Washington cartel' that Mr. Cruz rails against is the very group he is relying upon in his voter-nullification scheme," Trump wrote.
While he promised that his campaign will "battle for every last delegate," Trump also slammed politicians and political insiders for focusing on "securing their private club" more than securing the country."
"Let us take inspiration from patriotic Colorado citizens who have banded together in protest," Trump said. "Let us make Colorado a rallying cry on behalf of all the forgotten people whose desperate pleas have for decades fallen on the deaf ears and closed eyes of our rulers in Washington, D.C."
"The political insiders have had their way for a long time. Let 2016 be remembered as the year the American people finally got theirs," he continued.
Trump leads the Republicans in the delegate count with 743. Cruz follows with 545, and Ohio Gov. John Kasich is in last place with 143 delegates.
—
Follow Kaitlyn Schallhorn (@K_Schallhorn) on Twitter