On Tuesday, the Colorado Republican Party will hold caucuses, pick delegates, elect Precinct Committee People and vote on resolutions — and yet Colorado is not included in Super Tuesday.
Colorado differs from the 11 states that participate in Super Tuesday as it will not vote for a Republican presidential candidate during the caucuses — a change approved by party leaders last year. According to the state party leaders, the elimination of the presidential preference poll is so that the state's delegates wouldn't necessarily be bound to whoever wins.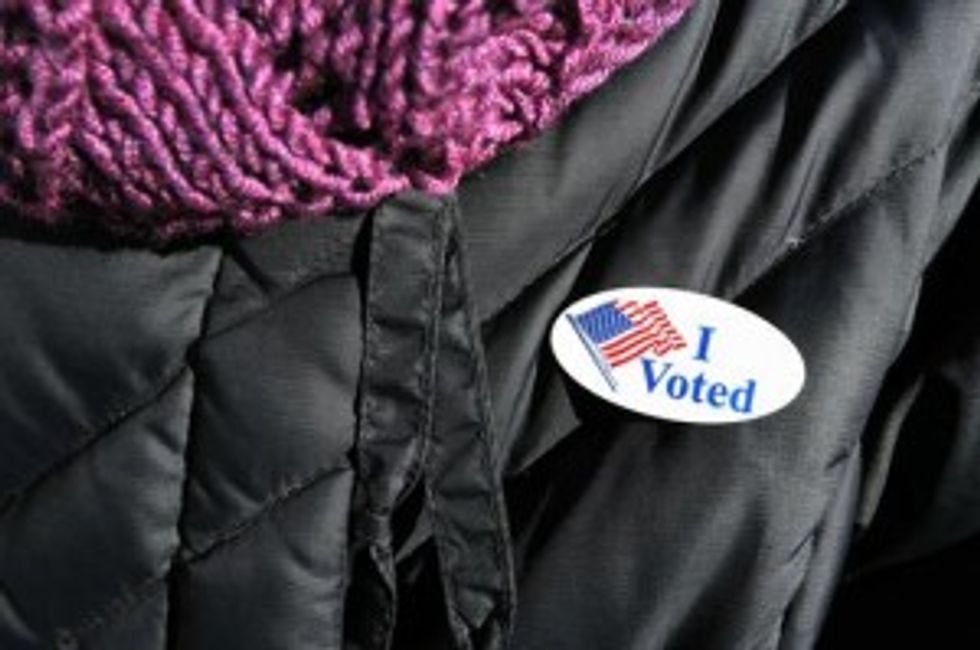 A woman wears an "I voted" sticker. Voters from Vermont to Colorado, Alaska to American Samoa and a host of states in between were heading to polling places and caucus sites on the busiest day of the 2016 primaries. (AP Photo/Michael Dwyer)
"This year the Republican National Committee changed the rules such that if we conduct a state party sponsored preference poll, we will bind our delegates to whichever candidates happen to win the preference poll, regardless of whether or not those candidates are still in the race a month later," a statement from the Colorado GOP said. "In the last two non-binding straw polls the candidate that won our straw poll did not make it to the national convention."
"The executive committee and I made a decision back in August of last year not to do a state sponsored straw poll because we believe our delegates will be better off having an option to choose the candidate they feel is best for Colorado at the time it matters most," Steve House, chairman of the Colorado GOP, said.
The vote to forgo the straw poll this year was decided in a unanimous vote by the executive committee, according to the Denver Post.
National delegates, however, could still be "bound" to a particular candidate if that person lists a candidate preference on their intent to run form.
House explained:
When electing a national delegate at the State and/or Congressional Assembly, it will be apparent to everyone voting whether that national delegate candidate listed a presidential preference. This self-binding process is likely to get a fair amount of attention from candidates for president because if they get 19 elected national delegates bound to them (of our total of 37) by April 9 they will be able to declare victory in Colorado by virtue of claiming a majority of delegates. To qualify for ballot access a candidate must first win the majority of eight states worth of delegates which will not be easy this year. The process of electing these delegates will therefore involve a large number of people voting for delegates that are supporting the candidate they want to see be our nominee.
According to Kyle Kohli, communications director for the Colorado GOP, precinct caucus elects delegates to the county assembly, the county assembly elects delegates to the congressional assemblies and state convention and the congressional assemblies and state convention elect national delegates.
"You have to participate every step of the way if you ultimately want to run for national delegate," Kohli told TheBlaze.
Colorado isn't the only state with such a plan for its delegates. According to an RNC memo provided to TheBlaze, North Dakota delegates are also unbound as well as those in some territories. Last week, the state of Washington held caucus meetings — but only to elect delegates. The delegates won't be assigned to a candidate until a presidential primary on May 24.
"The bottom line is the presidential preference poll never had any binding effect on our national delegates, this year is no different, just no preference poll," Kohli said.
"Is this process as simple as a preference poll? No, but we think it will result in a better selection process for presidential candidates," House said.
The state's Republican superdelegates include House, RNC national committeewoman Lily Nunez and RNC national committeeman George Leing.
The latest Quinnipiac poll has retired neurosurgeon Dr. Ben Carson with a six-point lead over his fellow Republican presidential hopefuls.
—
Follow Kaitlyn Schallhorn (@K_Schallhorn) on Twitter