A new executive order by President Barack Obama to increase competition could lead to a "responsible" reduction in federal regulations, White House press secretary Josh Earnest told TheBlaze.
Obama's new order called for federal departments and agencies to make recommendations for "pro-competition" executive actions that can be taken to reduce monopolistic practices and lead to lower costs for consumers. The order directs agencies to have recommendations completed in June.
"The question here is less about more regulation and less regulation, and more about what can we do to provide the market with an incentive to pursue more competition and more innovation and more savings for consumers and more economic expansion," Earnest said Friday. "In some cases, that does mean responsible decisions about reducing of regulations. That's not always the case, but it often is. But, again, I don't want to pre-judge what the conclusions of the agencies review might be."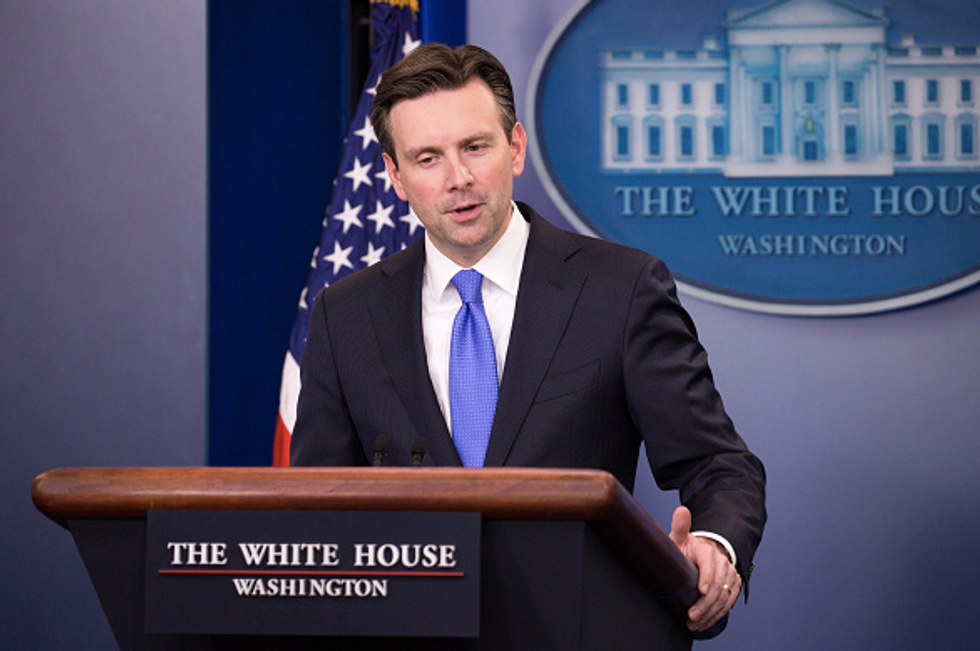 (Cheriss May/NurPhoto via Getty Images)
The Obama administration has had more high-impact economic regulation than the Bush administration, according to a report this week by the Competitive Enterprise Institute, a free market think tank, which found:
[T]he annual average for completed economically significant rules for Obama's seven years so far is 67; George W. Bush's average over his eight years was 49. This even takes into account the fact that only one edition of the Unified Agenda appeared in 2012. Overall, Obama's total number of economically significant rules completed over seven years is already 468 (as of year-end 2015). Bush's full-term total: 390.
Some of those will occur during the remaining months of the Obama administration, while some might be left to the president's successor, Earnest told TheBlaze.
"The president is hopeful that in the next 60 days, agencies may surface ideas that we can act on relatively quickly, maybe even before the end of the administration," Earnest said. "If it's possible to make changes in short order that would better promote competition, we certainly would support moving forward on this."
He continued: "If there are proposals put forward that would take longer to implement, we certainly will — if it's possible to initiate the process now — and let the president's successor decide how to implement it. In other cases, we may just use them to pass on recommendations that the next administration could take to promote better competition."
However, free market competition is not something that can be imposed by the federal government, said Clyde Wayne Crews, CEI's vice president for policy and author of the think tank's study comparing regulations under Bush and Obama.
"The implication is that government action compels more competition in the private sector, but when government action only restrains and interference reduces competition," Crews told TheBlaze, "an executive order to compel competition will attract cronyism."
Crews explained that customer decisions and market pressures drive competition, innovation and ultimately lower consumer prices.
The announcement for the executive order came on the same day that Obama directed the Federal Communications Commission to require cable providers to allow devices beyond the set top cable boxes that cost cable user on average $231 per year to rent, according to the White House.