PARIS (TheBlaze/AP) — Air France has resumed flights to Iran after last year's landmark deal to curb Iranian nuclear activities, as part of larger French and European efforts to rebuild trade ties long frozen by sanctions.
A direct flight for Tehran left Paris on Sunday for the first time since 2008 when the connection was suspended.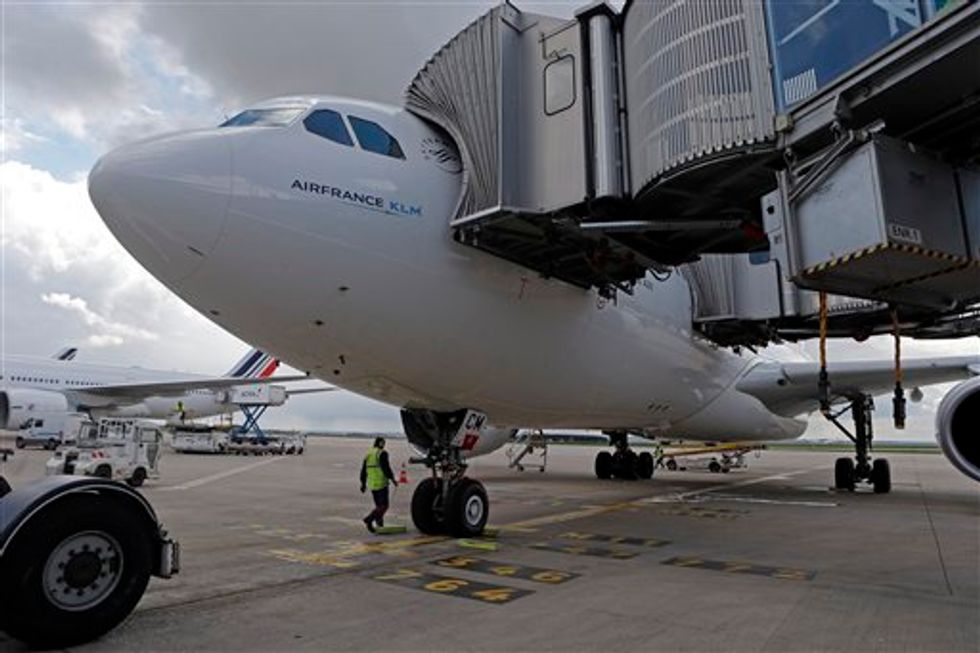 Air France ground staffs work next to the Airbus A330 of the AF 738 Paris Teheran inaugural flight at Roissy Charles De Gaulle Airport, north of Paris, France, Sunday, April 17, 2016. (AP Photo/Francois Mori)
French Transport Minister Alain Vidalies and a business leaders' delegation were on board flight AF 378 that took off from Roissy Charles de Gaulle airport after noon.
Air France CEO Frederic Gagey was optimistic the line would prove profitable. He said "it's a touristic destination which I believe is going to become very popular, very attractive."
Air France is also counting on Paris to become a hub for American and other tourists headed to Tehran.
But along with the optimism surrounding the resumed flights comes a wave of tension that began to form following a staff memo released by Air France executives earlier this month. The memo announced the new dress code for female flight attendants working aboard trips to Tehran.
A number of stewardesses reacted with outrage when the airline informed them that they would be required to wear headscarves and "loose fitting" clothing in Iran when flights to Tehran resumed. Earlier this week, Air France announced that female attendants may opt out of these flights if they so choose.
Gay Air France employees also protested the Tehran flights, citing the country's hostile views on homosexuality, Newsweek reported.
As of Sunday afternoon, nearly 28,000 people had signed a Change.org petition, created by someone named "Mr. Laurent," seeking to make the new route optional for gay flight attendants.
For now, however, gay flight attendants will still be required to make the trips to the Iranian capital.
Jean Marc Quattrochi, secretary general of Union des Navigants de l'Aviation Civile (UNAC), the union representing French flight and cabin crews, told Newsweek that UNAC hasn't been able to confirm Laurent's identity. Quattrochi said that while the union is "sensitive to the problem" of LGBT stewards not wanting to fly to Iran, where homosexuality is punishable by death, modifying flight assignments based on sexual preferences, skin color or religion "is not acceptable for our union."