When "Fox News Sunday" host Chris Wallace asked Corey Lewandoski on Sunday if he would like to offer an apology to former Breitbart reporter Michelle Fields — even if only to avoid potential litigation — Lewandowski once again refused to validate Fields' claims of assault.
Lewandowski, Republican presidential frontrunner Donald Trump's campaign manager, discussed the recently-dropped battery charges that Fields brought against him following their encounter at a March press conference that was caught on camera. Although Lewandowski could be seen grabbing Fields' arm in the footage, Trump's campaign manager maintains that the reality of the situation did not match Fields' violent allegations against him.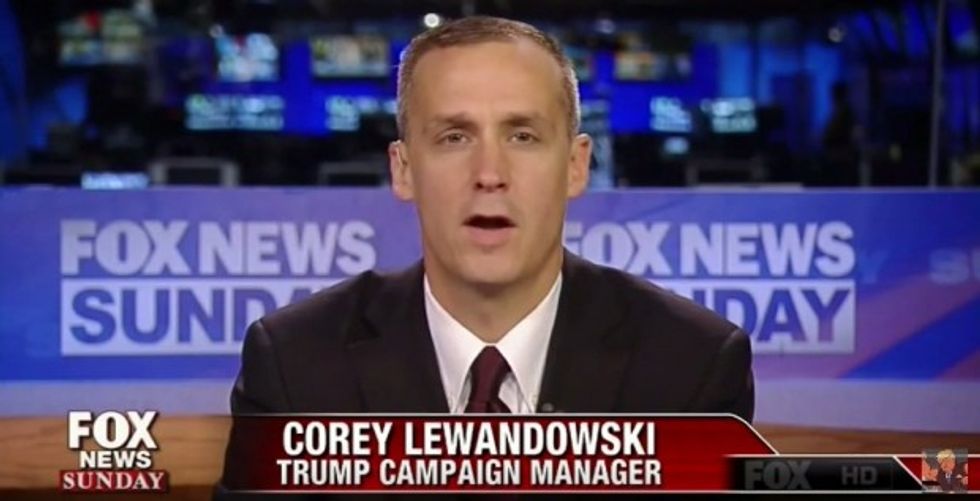 Corey Lewandowski (Image source: YouTube)
"What I acknowledge is, the sum total of my relationship with Ms. Fields was caught on that video tape," Lewandowski told Wallace. "She's an individual I had never met before, had never spoken to before, and candidly, I didn't remember the incident. The whole incident lasted less than three seconds, and it was me moving from one location to another location. I would have remembered if I tried to violently throw someone to the ground, or if there was an incident which would have been memorable. And there wasn't."
Lewandowski also maintained that he had tried to call Fields after he read about the allegations against him from Fields' boyfriend on Twitter, although Fields says that she has no records of a call or of any message being left for her.
Wallace then pressed Lewandowski even further, bringing up the possibility that Fields might pursue a defamation lawsuit against Lewandowski and Trump.
"In the interest of avoiding unnecessary litigation — which I know Republicans don't like — are you prepared, here and now, to apologize to Ms. Fields for touching her and for saying that she was delusional?" Wallace asked.
Lewandowski rejected that notion.
"I've never spoken to Miss Fields. I turned over my phone records to the Palm Beach County District Attorney's office, it clearly shows I called her phone number that evening, when I got back and read about this on the Twitter feed," Lewandowski maintained. "I'd be happy to have a conversation with her. But to apologize to someone I've never spoken to, and candidly don't remember ever having any interaction with, I think is something that is a little unrealistic right now."
(H/T: Mediaite)
—
Follow Kathryn Blackhurst (@kablackhurst) on Twitter