Bryce Harper, the reigning MVP of the National League, appears to be picking up right where he left off following his monster campaign of 2015.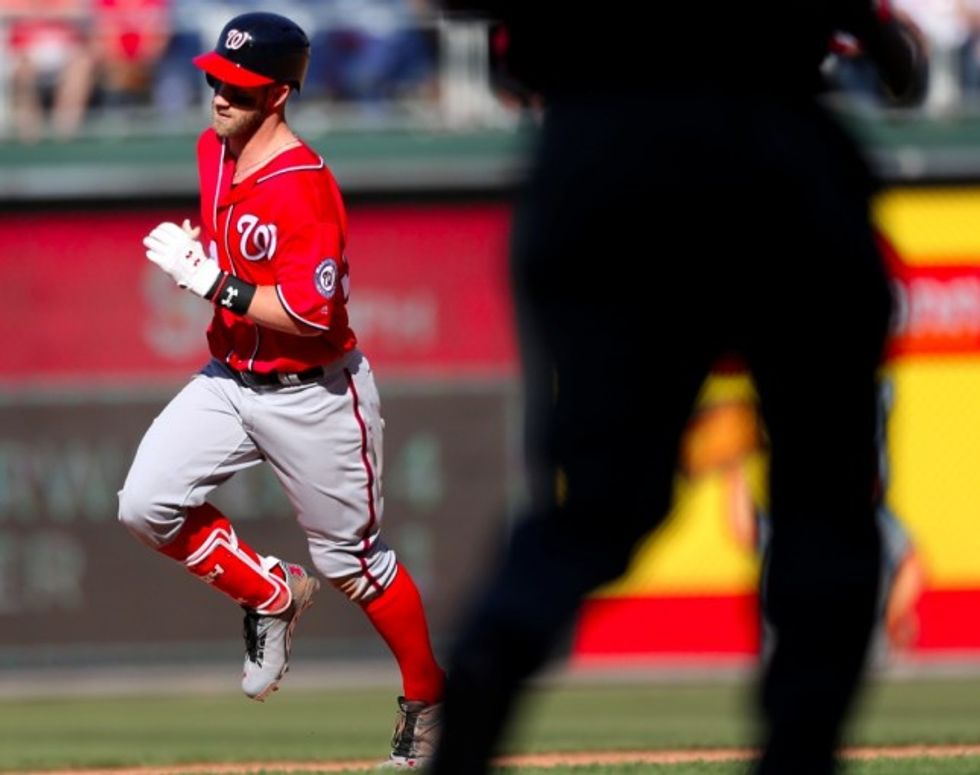 Washington Nationals' Bryce Harper, left, runs the bases after hitting a home run off Philadelphia Phillies relief pitcher Jeanmar Gomez in the 10th inning Sunday in Philadelphia. (AP Photo/Laurence Kesterson)
Harper hit his sixth home run of the season Sunday against the Philadelphia Phillies — a go-ahead dinger in the top of the 10th inning — which not only marked the fourth-straight game in which he's homered, but also the sixth straight game at Citizens Bank Park in which Harper has hit a round tripper.
STOP pitching to @Bharper3407. #YoungKinghttps://t.co/VJ1BJtrVsi

— MLB (@MLB) April 17, 2016
And you might say his 428-foot shot offered some bathroom humor — literally.
After flying well past the right-center field fence, the ball ended up bouncing right into a bullpen restroom. "The ball goes into the john," an announcer is heard saying.
Whatever jests you can extract from that imagery, the Washington Nationals' celebration didn't last long, as the home team had the last laugh.
The struggling Phils pulled off a two-run bottom of the 10th inning to take the game 3-2 and deny Harper & Co. a three-game sweep.