New York Rep. Peter King (R) is no fan of Ted Cruz.
He made that very clear on on MSNBC's "Morning Joe" Tuesday by hyperbolically stating that he might ingest poison if the Texas senator and 2016 candidate were to become the Republican nominee.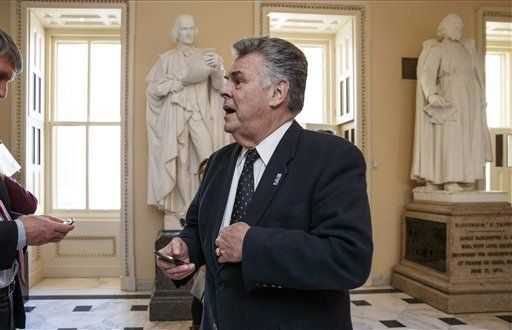 Rep. Peter King (R-N.Y.) stands outside the House chamber on Capitol Hill in Washington, D.C. (AP/J. Scott Applewhite, File)
Host Joe Scarborough jokingly introduced King by referring to him as "Nassau County's chairman for Ted Cruz for President."
King laughed, then set the record straight.
"First of all, in case anybody gets confused, I am not endorsing Ted Cruz, I hate Ted Cruz," King said. "And I think I'll take cyanide if he ever got the nomination."
The Republican congressman added that he expects businessman and fellow New Yorker Donald Trump to score a victory in the state's Republican primary Tuesday, even though he's not a Trump supporter.
Trump has been leading polls in New York by an average of 30 points, according to Real Clear Politics' aggregated polling data.
King said he voted by absentee ballot for Ohio Gov. John Kasich, whom he also has not endorsed but cast his vote for in order to "send a message" that neither Trump or Cruz was the right choice for the Republican Party.
Cruz has never been popular with his colleagues in Congress — South Carolina Sen. Lindsay Graham, who's now a reluctant Cruz supporter, once famously said that "if you killed Ted Cruz on the floor of the Senate, and the trial was in the Senate, nobody would convict you."
Watch the whole exchange with King here:
—
Follow the author of this story on Twitter and Facebook:
[facebook //www.facebook.com/plugins/like.php?href=