Congress is currently divided over a bill that would allow the families of 9/11 victims to sue the government of Saudi Arabia, while officials are staving off calls to declassify 28 pages from the 9/11 Commission Report that could reflect poorly on the kingdom.
Nevertheless, President Barack Obama told Saudi King Salman that America is "grateful" to Saudi Arabia.
Obama traveled to Riyadh Wednesday ahead of the six-nation Gulf Cooperation Council Summit. Salman greeted the president at the entrance of Egra Palace. Though the two leaders exchanged kind words while walking through a palace with crystal chandeliers and an ornate setting of fresh flowers in the reception room where they met, relations have been strained on a number of fronts.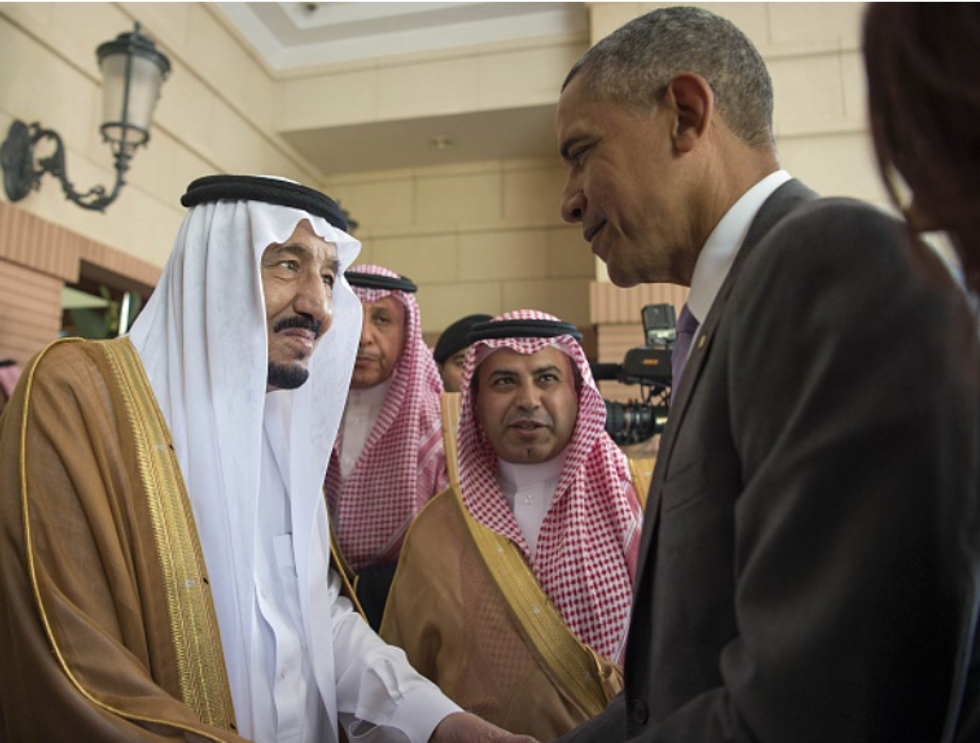 President Barack Obama shakes hands with Saudi King Salman bin Abdulaziz Al Saud at Erga Palace in Riyadh Wednesday. (Bandar Algaloud/Anadolu Agency/Getty Images)
The Saudi government has threatened to withdraw from U.S. investment if the bill allowing lawsuits against the government is enacted. Further, the Saudis oppose the U.S.-led nuclear deal with Iran.
"I and the Saudi people are very pleased that you, Mr. President, are visiting us here in the kingdom," Salman said.
Obama responded with pleasantries.
"The American people send their greetings, and we are very grateful for your hospitality, not just for this meeting but for hosting the GCC-U.S. summit that's taking place tomorrow," Obama said to the king in front of reporters.
The king replied, "Thank you, Mr. President, and the feeling is mutual between us and the American people."
The two leaders then went on to have a private meeting.
The president's trip to Saudi Arabia comes at an awkward time, as members of Congress are asking the administration to declassify the 28-pages of the 9/11 Commission Report about the potential sources of support for the hijackers.
Separately, the lawsuit legislation has bipartisan support, and is sponsored by Sens. John Cornyn (R-Texas) and Charles Schumer (D-N.Y.), the whips for their respective parties. The "Justice Against Sponsors of Terrorism Act," which was passed the Senate Judiciary Committee, would take away sovereign immunity from foreign governments in cases "arising from a terrorist attack that kills an American on American soil." However, the Obama administration, as well as Republican leaders such as House Speaker Paul Ryan (R-Wis.), fear that such a law allowing lawsuits against Saudi Arabia would put United States soldiers, diplomats and international aid workers at risk of litigation.