ESPN fired MLB pitcher Curt Schilling Wednesday evening after the legendary athlete posted a controversial meme about the "basic functionality of mens and womens restrooms" on Facebook.
After reviewing the issue, ESPN released a statement saying they have terminated Schilling, noting that they are "an inclusive company."
"ESPN is an inclusive company. Curt Schilling has been advised that his conduct was unacceptable and his employment with ESPN has been terminated," the statement read.
The post, which was later deleted, showed a man dressed as a woman with a caption referring to the transgender bathroom laws that have made headlines frequently in recent months: "Let him into the restroom with your daughter or else you're a narrow-minded, judgmental, unloving racist bigot who needs to die!!!" the meme read.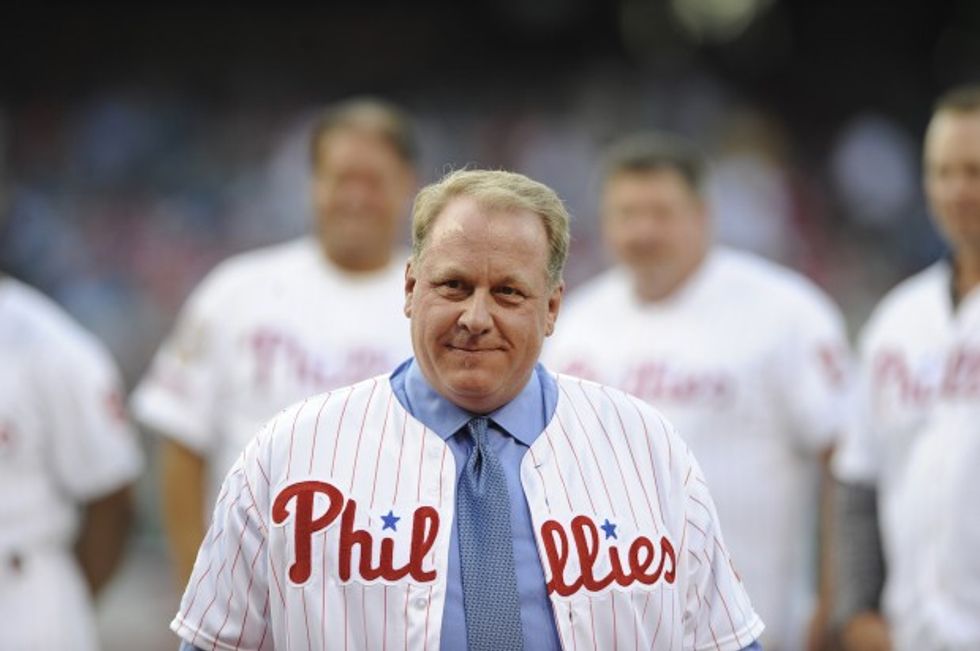 FILE - In an Aug. 2, 2013 file photo, former Philadelphia Phillies pitcher Curt Schilling is inducted into the Phillies Wall of Fame during a baseball game between the Philadelphia Phillies and the Atlanta Braves in Philadelphia. (AP Photo/Michel Perez, File)
"A man is a man no matter what they call themselves, Schilling said, according to NBC Sports. "I don't care what they are, who they sleep with, men's room was designed for the penis, women's not so much. Now you need laws telling us differently? Pathetic."
Schilling took to his blog Tuesday, telling people who were offended by the post, "that's your fault, all yours."
"I didn't post that ugly looking picture," he wrote. "I made a comment about the basic functionality of mens and womens restrooms, period."
This is not the first time Schilling has found himself in hot water for controversial comments.
Last year, he was suspended by ESPN for tweeting a meme of Hitler comparing the number of Muslims in the world to the number of Nazis in Germany in the 1940s. That tweet was later retracted and Schilling apologized, saying, "it didn't come across in any way as intended."
—
Follow the author of this story on Twitter: