Though it may not give this Minnesota mother any cool points, Amy Adams says she is selling her 15-year-old daughter's red Dodge truck on Craigslist to teach her a lesson.
In the Craigslist ad, which was posted Tuesday, Adams said she is selling the truck — what she calls "every teenage kid's dream vehicle" — because her daughter has "decided that her grades don't matter, that she can disrespect myself and her siblings on a daily basis, and that she has the right to skip school and run away from home."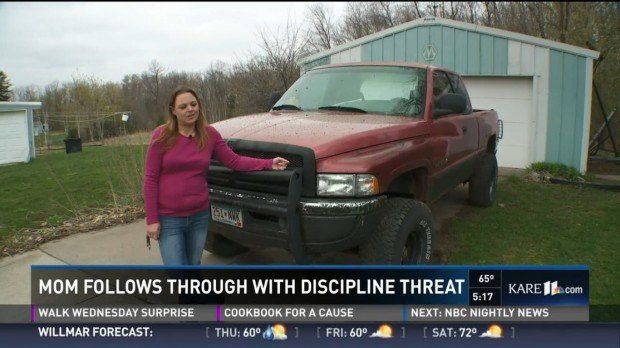 Image source: KARE-TV
Adams, who dubbed herself the "World's Meanest Mom" in the ad, told KARE-TV, "She was on her 'one more chance and the truck was getting sold,' and she blew that 'one more chance' on Monday when she decided to skip school."
In fact, her daughter's decision to skip school lead the Minnesota mom to offer a discount to a buyer who will be attending North Branch High School in the fall.
"If the person driving the truck on a daily basis will be attending North Branch High School next year," Adams wrote, "you will get a $300 discount. Why? Because I AM the World's Meanest Mom, and would love to hear her be reminded every day next year of all the mistakes she made."
And, though the ad is full of sarcastic language, Adams stood by her words, criticizing the belief that parents should act like friends of their children.
"Where's that going to leave them five years from now, ten years from now, when they're walking around disrespecting the wrong people?" she asked, adding that, of the 400 ad responses she's received, "over half of them were just other parents saying, 'Hey, high five.'"
For anyone who believes she went to far, Adams says she has been in her daughter's shoes. As a kid, she said she thought her own mother was the "meanest mom in the world."
"To my mom, I was short tempered. I was snippy. And I was obnoxious," Adams said.
But, as an adult, Adams was glad she could thank her mother for her tough parenting before she died.
"The moment they diagnosed her as terminal, we had that conversation," Adams said. "She's been gone for, it will be 10 years this July."
Now, Adams is hoping her daughter can come to respect her decision, too: "I hope she realizes that it's OK to discipline your kids. And it's OK to have expectations. And it's OK for them to have consequences."
Once her daughter learns that lesson, Adams said, the money made from selling the big red pickup will go toward buying a new car.
—
Follow the author of this story on Twitter: