Administrators at Westosha Central High School in Salem, Wisconsin, were shocked after learning of a photograph taken by a student Monday during an honors English class.
The photo, which features one of the student's classmates giving a presentation while dressed in a Ku Klux Klan costume, quickly gained viral attention after it was posted on social media.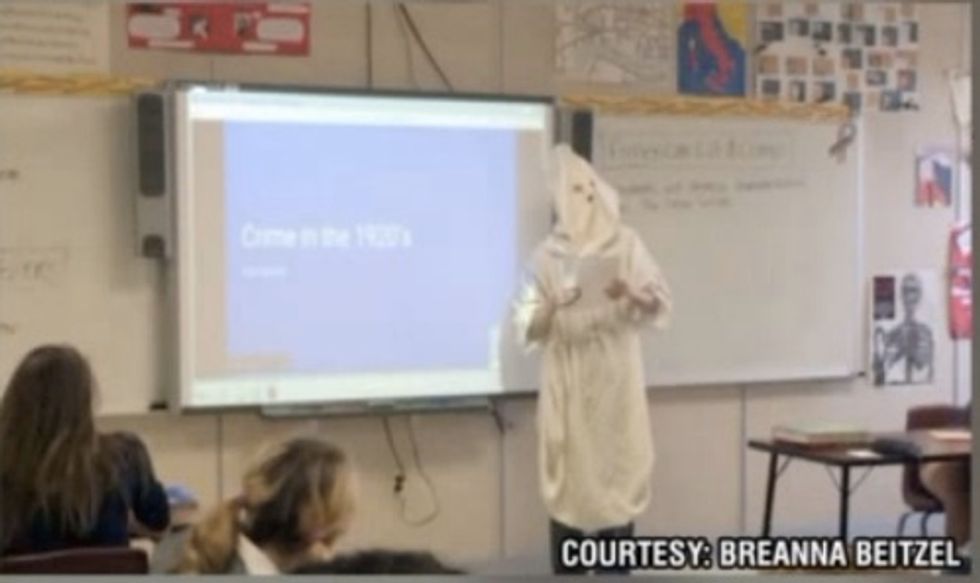 Image source: WITI-TV
"Once I heard it — I just can`t believe someone would actually put that on," Westosha Central alumnus Brett Sandberg told WITI-TV.
The student who wore the outfit reportedly did so during a presentation on crime in the 1920s.
"He`s not wearing it to recess. He`s wearing it for educational purposes. If that`s what his presentation was and he wanted to wear it, yeah he should," Jack Harris, who lives near the school, told WITI.
Even after being given the context, however, some of the student's peers were still rather disturbed by the display.
"I would have said something — like maybe, instead of putting it on, I would have shown it not on myself," Westosha Central senior Camille Tracy said. "I would've had it to the side and say 'this is what it might've looked like' and not put it on myself."
Sandberg agreed: "I think it should have been shown instead of worn."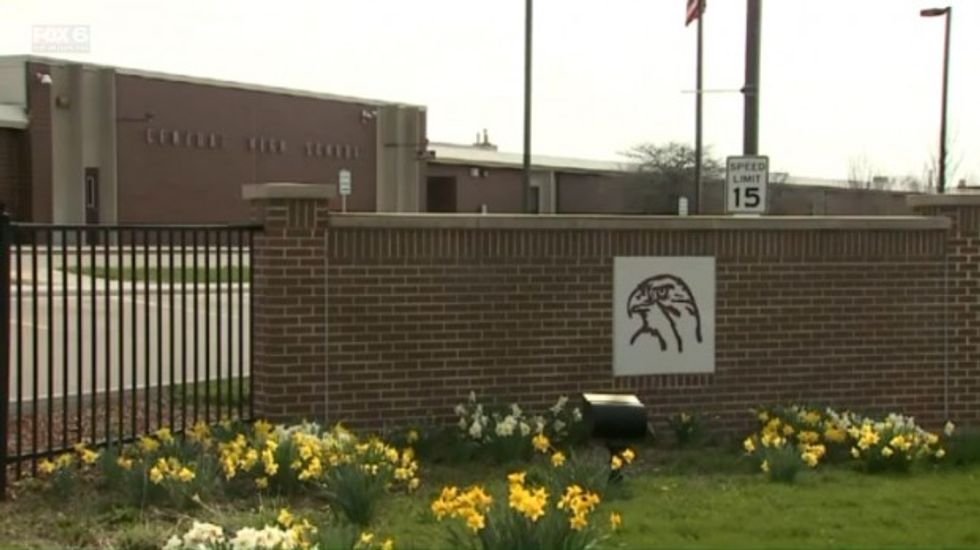 Image source: WITI-TV
After the photo began to gain traction on social media, Westosha Central High School principal Lisa Albrecht posted a statement on the school's Facebook and Twitter pages.
In the statement, which Albrecht told TheBlaze she deleted after it attracted many "rude comments," the principal wrote that she was "appalled" when she first received the image. But after speaking with the student and the teacher who witnessed the presentation, she concluded that the student was "not meaning any harm":
This morning, I became aware of a photo taken in an Honors English class, where a student was presenting in a KKK-like outfit. As any of you would be, I was appalled by the photo. In my investigation, I found that students in this class were presenting background information about the 1920's in preparation of reading a novel written about this period of time. The student in the photo, not meaning any harm, wanted to convey the message of crime during this time and the uprising of the KKK and how hateful this group of people were. I have spoken to both the student and student teacher. The student, in his eagerness to do a good job, admits he failed to understand the hurtful symbolic meaning of this prop. The student teacher, in hindsight, recognizes now how this incident negatively portraits on the culture of the building and apologizes for it. In closing, I apologize that this happened and I want you to know we have actively addressed this.
In an email Wednesday, Albrecht told TheBlaze that the student who made the initial post "cannot believe the firestorm it started."
"If this student acted in a malicious manner, with a purpose to degrade one based on race, I would definitely have responded in a different way," Albrecht added. "However, for this incident, where the student feels as bad as those he unintentionally offended, the key is to help those understand they need to accept responsibility, apologize and move forward."