As the Obama administration seeks to fend off American lawsuits against the government of Saudi Arabia, President Barack Obama traveled to Riyadh and defended the Iran nuclear deal, which the Saudi government has vocally opposed. Obama argued that Iran was holding up its end of the bargain.
Speaking to reporters at the Diriyah Palace after meeting with Arab leaders as part of the six-nation Gulf Cooperation Council Summit, Obama also stressed the cooperation of the Arab countries in fighting the Islamic State and other terror groups.
"I think it is no doubt true that when we entered into our negotiations with Iran over the nuclear deal, there was concern that in the interest of getting the deal done, we would somehow look the other way with respect to their other destabilizing activities," Obama said. "What we are able to report is not only have we seen Iran do what it was supposed to do under the deal and the threat of an Iranian nuclear weapon is greatly reduced, but what we've also seen, what the GCC has seen, is our continued cooperation in, for example, interdicting Iranian efforts to arm the Houthi militias inside of Yemen. That, I think, has created some confidence."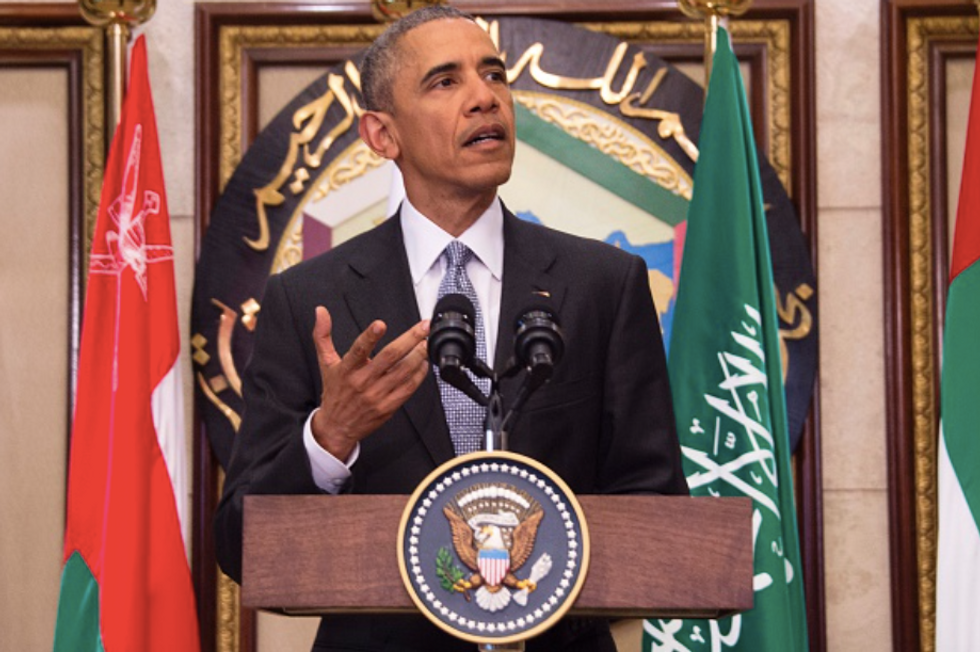 President Barack Obama delivers a speech following the Gulf Cooperation Council Summit meeting in Riyadh Thursday. Obama used the speech to tout the Iran nuclear deal — a deal the Saudis opposed. (Jim Watson/AFP/Getty Images)
However, critics of the deal point to Iran's ballistic missile tests as a clear sign the regime is bent on trouble. The Obama administration has expressed concerns over the missile testing but said it doesn't violate the letter of the nuclear agreement.
Obama again compared the deal to President Ronald Reagan's negotiations with the Soviet Union.
Obama said the deal will "cut off every single one of Iran's pathways to a nuclear weapon." But he stressed that the United States has "serious concerns" about Iran's behavior in the region.
"None of our nations have an interest in conflict with Iran," he said, referring to the gulf countries.
In response to a reporter's question, Obama praised the gulf countries for assisting the United States in the battle against extremists and said they share a "broad common vision" with the United States.
"During the course of our administration, the gulf countries have extensively cooperated with us on counterterrorism, on curbing the financing of terrorist activities," Obama said. "They are part of the counter-ISIL coalition that has made progress."
Obama's visit to the kingdom comes as Congress deliberates on a bill with board bipartisan support that would allow the families of 9/11 victims to sue Saudi Arabia. Obama is actually joined by Republican leaders such as House Speaker Paul Ryan (Wis.) in seeking to block the bill, fearing it could prompt litigation against U.S. soldiers and diplomats.