The Obama administration is paying $8.6 million directly to the government of Iran to buy 32 tons of heavy water, a top component to develop nuclear weapons — a transaction seen as a means of preserving the controversial nuclear agreement.
Obama administration officials have consistently defended the $100 billion in sanctions relief for Iran by clarifying that no payments will be going to the Iranian government. However, the new development by the Energy Department marks actual transactions between the two countries.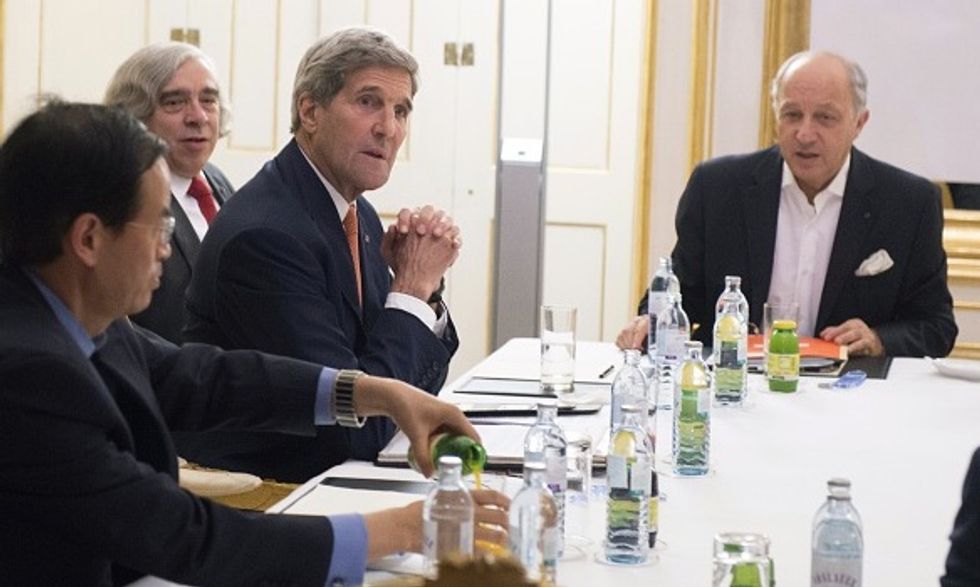 Secretary of State John Kerry, Secretary of Energy Ernest Moniz, third from the right, and French Foreign Minister Laurent Fabius, right, at the Palais Coburg Hotel in Vienna, Austria, during Iran nuclear talks July 14. (Joe Klamar/AFP/Getty Images)
"The idea is: Okay, we tested it, it's perfectly good heavy water. It meets spec. We'll buy a little of this," Energy Secretary Ernest Moniz told the Wall Street Journal, which reported the transaction. "That will be a statement to the world: 'You want to buy heavy water from Iran, you can buy heavy water from Iran. It's been done. Even the United States did it.'"
This confirms some of the biggest fears about the Iran nuclear deal reached last July, said House Majority Leader Kevin McCarthy (R-Calif.) in a statement.
"Nowhere in the agreement does it suggest the Ayatollah should be financially awarded for turning over materials that either are or soon will be in violation of the agreement," McCarthy said. "Potentially providing Iran with money to support terrorism or its ballistic missile program is irresponsible. This dangerous precedent could pave the way for either additional transactions with Iran or allow Iran to enter the U.S. financial system. That access was not granted in the nuclear deal, and it shouldn't be granted now."
Under the U.S.-led multilateral nuclear deal, Iran is required to keep heavy water below 130 tons during the early years of the deal and below 90 tons in later years.
U.S. officials said Iran has struggled to find buyers and the Energy Department's purchase is driven by U.S. concerns that Iran will not have the ability to cut the stockpile as required.
Mark Dubowitz, executive director of the Foundation for Defense of Democracies, a national security think tank, called this a "clever scheme" by Iran.
"Produce too much heavy water so as to break the nuclear agreement, then get the Obama administration and eventually US companies to pay Tehran to get rid of it. Rinse, repeat," Dubowitz said. "The Obama administration is no longer just carrying water for Iran's nuclear program, it's now paying for it. And worse, these U.S. subsidies will simply help Tehran perfect its heavy water production capabilities so it will be fully prepared to develop its plutonium bomb-making capabilities when restricts on the program sunset over next 10-15 years."