For a middle school choral group from a North Carolina town, making a trip to New York City to sing is a pretty big deal.
Indeed the Waynesville Middle School Chorus got a chance last week to show off their vocal prowess at several locales in the Big Apple, including the Cathedral of St. John the Divine, WHNS-TV reported.
But one performance didn't go as planned.
A video posted to Facebook Wednesday showed the group of about 50 middle schoolers just starting a rendition of "The Star-Spangled Banner" outside the 9/11 memorial.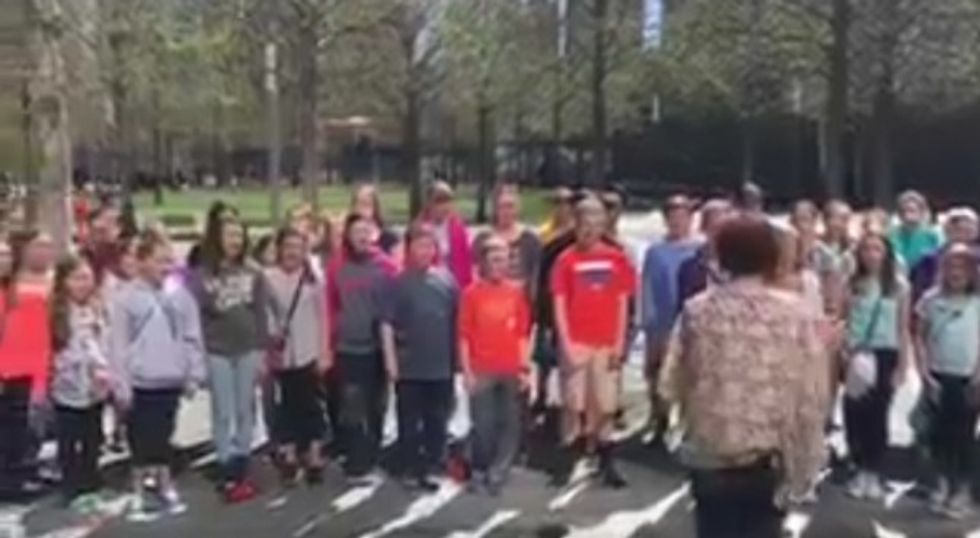 Image source: Facebook video screenshot
The students' performance of the national anthem grew more stirring once they began harmonizing on "the rocket's red glare" — but before they could finish "the bombs bursting in air," their voices quieted and stopped.
The camera panned left, and there stood two security officers.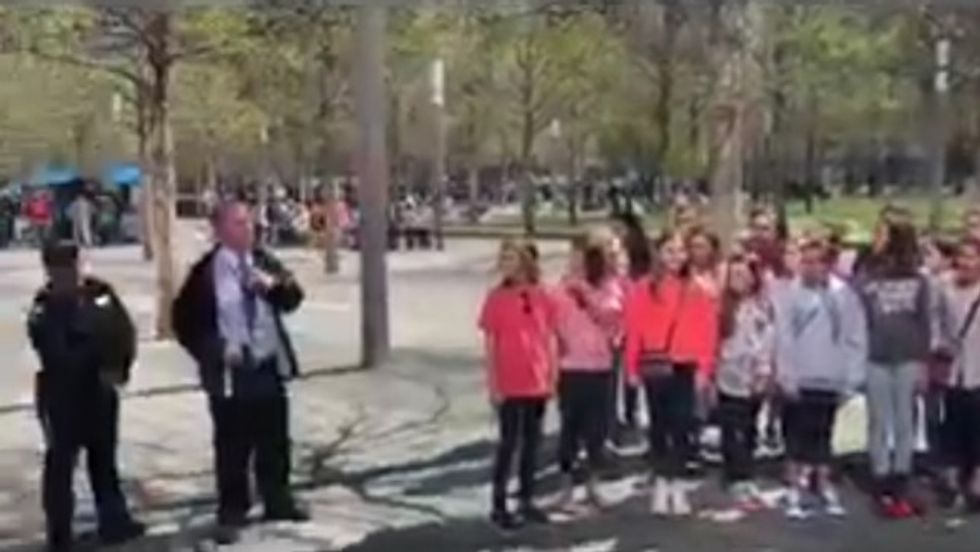 Image source: Facebook video screenshot
Seems performance permits must be obtained since the 9/11 memorial is considered a burial site, WHNS reported, and the group didn't have one. While the choral director asked one guard for permission to sing, the station said another guard asked that the performance be halted.
The choral group "immediately complied and apologized," Principal Trevor Putnam told WHNS.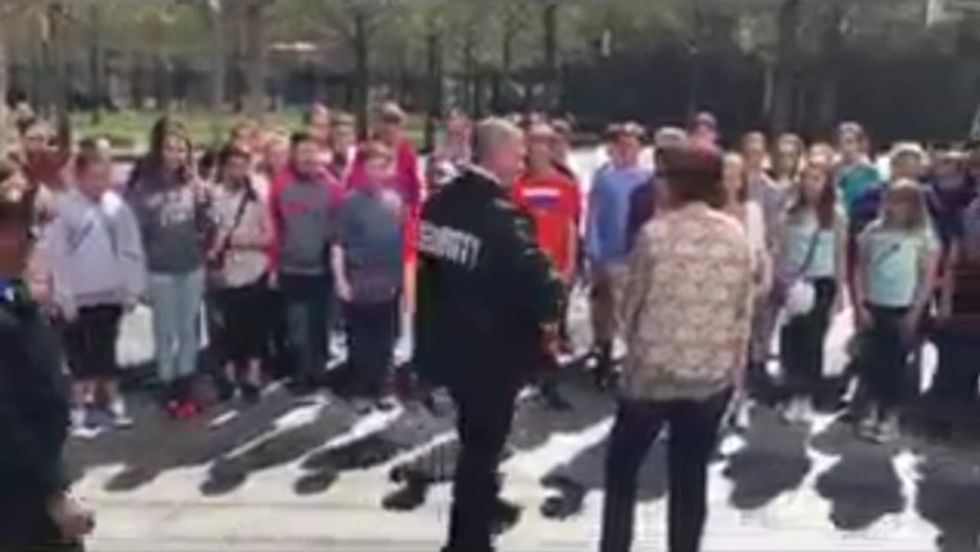 Image source: Facebook video screenshot
"Some of the students were very upset and confused," music teacher Martha Brown told the New York Post. "I told the children, 'This is a place where you need to respect authority even if you don't understand it.'"
Connie Shepherd Scanlon posted the clip on Facebook — which has received more than 380,000 views as of Monday morning — and noted, "You can't sing the national anthem. So sad this is happening everywhere. They sounded great. God Bless America!"
Here's the video:
Brown told the Post that singing was her students' way of "paying respect" at the site and that their performance didn't have to be cut off. "He could have waited 30 to 45 seconds for us to finish, or he could have stopped us before we started," she added to the paper.
As you can imagine, once word hit the Internet that the students' performance was cut short, other folks weren't happy.
"I think it's terrible, being a veteran and such," Bill Bright told WSOC-TV. "Trying to instill on our youth the history of our country and the importance of our country; what we have here. So why stop them from singing our national anthem?"
A spokesperson for the 9/11 memorial told WHNS the guard didn't respond appropriately and work is underway to ensure security staff doesn't repeat the action.