Millennial journalist Alexis Boomer sat in her car, flipped on a camera and recorded a video message to her generation that's absolutely scorched the Internet — it's been viewed in excess of 33 million since its Friday Facebook posting and is still climbing fast.
In the two-minute clip, Boomer gave her two cents on why older people think "our generation sucks." But Boomer didn't criticize her elders — instead she went off on her peers.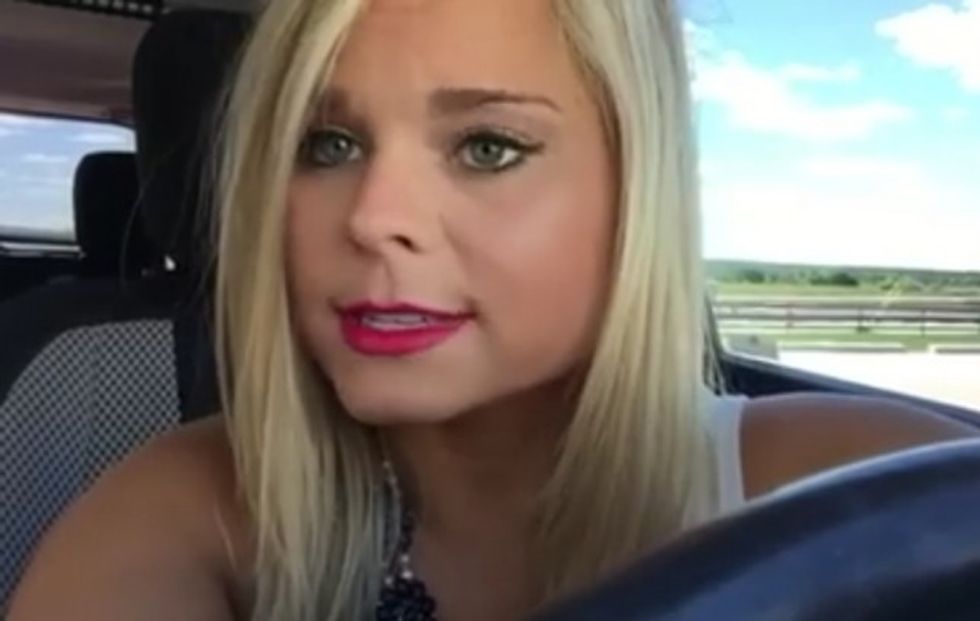 Alexis Boomer (Image source: Facebook/Alexis Bloomer)
She began by declaring that "we're just existing, we're not really contributing anything to society." For Boomer that includes simple things like "no ma'am" manners and holding doors open for others.
"We listen to really obscene music that degrades women and pretty much glorifies drugs and crime," Boomer continued, adding that cussing has become a vehicle to prove a point and words like "bae" are used to "describe someone we love."
"And we idolize people like Kim Kardashian, and then we shame people like Tim Tebow," she said. "We're lazy, we're really entitled and we want to make a lot of money and have free education but we're not really willing to put in the work."
Boomer was far from finished.
After criticizing the time millennials spend online "making friends" instead of "actually building relationships," she pointed out that her peers place too much value in Facebook's "relationships appearance" and how many followers they generate.
"We don't respect our elders, we don't even respect our country," Boomer continued. "We're stepping on our flag instead of stepping up to volunteer. And we mock the men and women that are fighting for us, but we praise the people that are fighting each other."
She added that millennials have "a lot to do with" the deep divide between Americans, noting "everything that used to be frowned upon is now celebrated. Nothing has value in our generation because we take advantage of everything."
Then Boomer called on her peers to reverse course — and made a big apology.
"To all of our elders, I'm sorry. And I do know that we were raised better. Thank you from this millennial for putting up with those ... who do not see wrong in their actions," she added. "I hope we start pulling our pants up and actually [begin] contributing to the society we love ... so that we can make a difference in the future."
To clarify her points, Boomer later noted in comments that she realizes not all of her peers are "bad," but that she had just watched a young guy stepping in front of a limping, elderly man and failed to hold a door open for him. "It made me think," she wrote, adding that her video "shouldn't offend anyone unless you're guilty of doing any of these things."
(H/T: Allen West)