A pro-Ted Cruz PAC has pulled ads in certain states following the announcement of the two GOP presidential hopefuls' alliance.
"The PAC has shelved advertising plans in New Mexico and Oregon," Kellyanne Conway, director of research and media outreach for the Trusted Leadership PAC, said in a statement to TheBlaze Monday.
A spokesperson for the PAC declined to say whether the shelved ads were anti-Kasich or just generally pro-Cruz.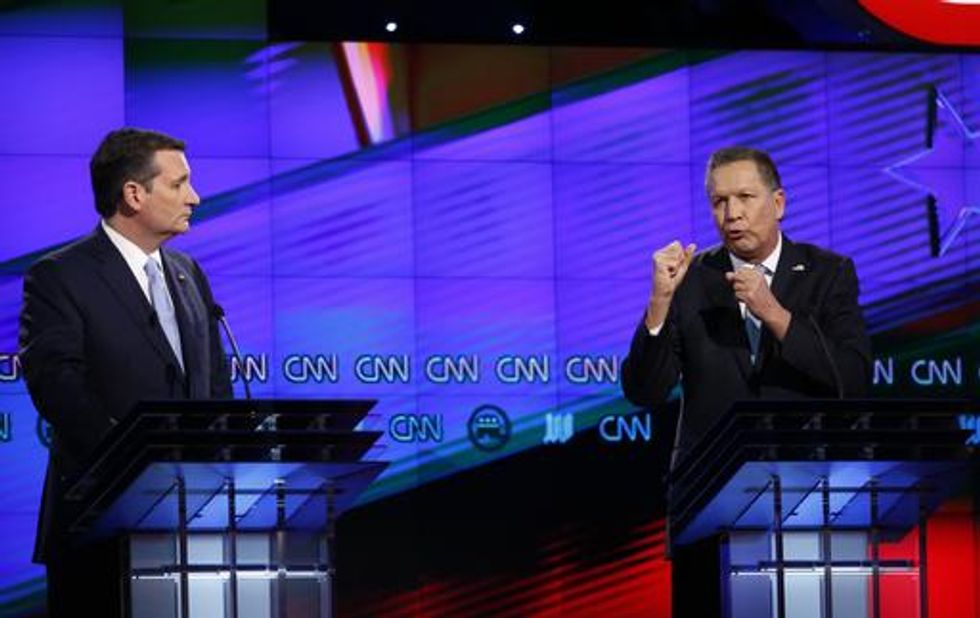 GOP presidential candidate Ohio Gov. John Kasich, right, speaks as fellow candidate Texas Sen. Ted Cruz listens during a Republican presidential debate. (AP Photo/Wilfredo Lee)
Trusted Leadership announced its decision to shelve the ads after the news of the alliance between Cruz and Kasich broke late Sunday night. The pair have made a plan to attempt to prevent Republican front-runner Donald Trump from receiving the required number of delegates in the upcoming primaries. According to that alliance, Kasich will attempt to clear a path to victory in Indiana for Cruz, as the Texas senator does the same for Kasich in New Mexico and Oregon.
Conway stated that Trusted Leadership has added another pro-Cruz television advertisement in Indiana and will continue to run an anti-Kasich ad in that state that debuted earlier this month in Wisconsin.
Ahead of Wisconsin's April 5 primary, which Cruz won, Trusted Leadership released two ads which hit Kasich's record with Medicaid and "friendship" with President Barack Obama. The latter ad, called "Kasich BFF" by the PAC, is expected to continue in Indiana.
—
Follow Kaitlyn Schallhorn (@K_Schallhorn) on Twitter