United Nations officials advocating for more Syrian refugees to be let into the United States assert there are alternative methods — such as boosting college scholarships and allowing extended family members to be brought into the country — when the refugee admittance process moves too slowly.
Alternative pathways could bring the United Nations High Commission for Refugees closer to its goal of 480,000 resettled refugees over the next three years, wrote Nayla Rush, senior researcher for the Center for Immigration Studies. But there is a potential for legal issues.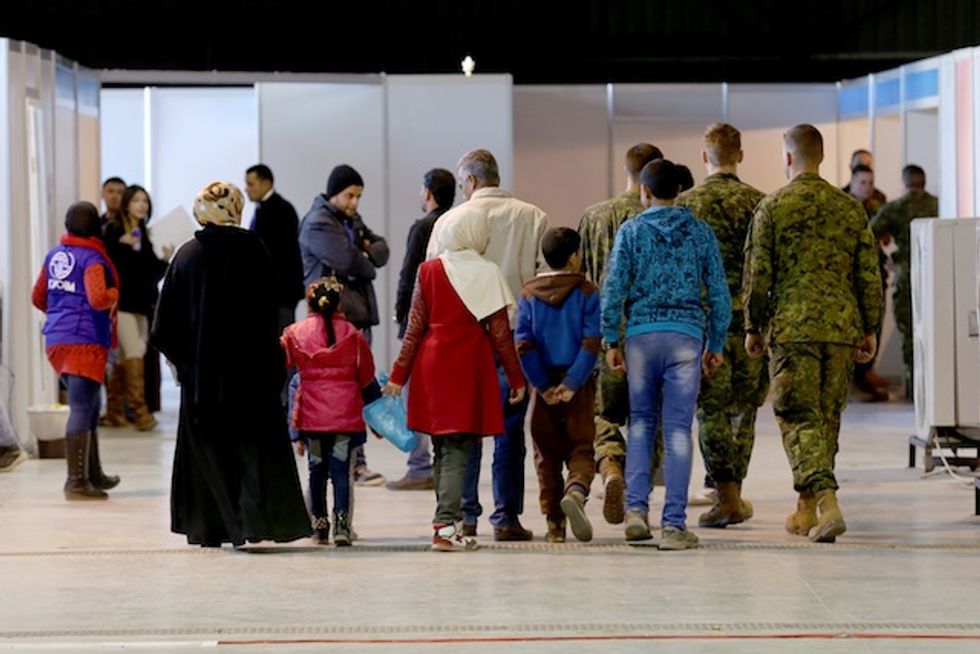 Syrian refugees wait at Marka Airport in Amman, Jordan, Dec. 8 to complete their migration procedures to Canada, which has announced that it will take around 25,000 Syrians from Jordan, Lebanon and Turkey. (AP Photo/Raad Adayleh)
"Refugees who are not resettled could be 'legally admitted' using various routes. ... The legitimacy and transparency of these new 'alternative pathways,' aimed at admitting increasing numbers of Syrian refugees into the United States without calling them 'refugees,' remain to be seen," Rush wrote. "They might even amount to convenient admissions detours at a time when the U.S. refugee resettlement program is under tight scrutiny."
Rush's concerns stem from comments U.N. High Commissioner for Refugees Filippo Grandi made while speaking about "alternative venues" during a March 30 conference in Geneva.
"Resettlement needs vastly outstrip the places that have been made available so far," Grandi said. "But humanitarian and student visa, job permits and family reunification would represent safe avenues of admission for many other refugees as well."
A State Department spokesperson did not immediately respond after a call and email from TheBlaze Monday.
Syria is facing a two-front humanitarian crisis from the government of President Bashar Assad, as well as from the Islamic State, and civil war raging among disparate rebel groups. However, after reports last year that dozens of suspected terrorists entered the country through the refugee process, Congress passed a stricter vetting process for Syrian refugees seeking entry.
During a Brookings Institute forum in February, Beth Harris, a research professor at Georgetown University and an adviser to the United Nations Secretary General on humanitarian refugee policy, talked about similar "alternative pathways."
"Maybe it's hard for the U.S. to go from 2,000 to 200,000 refugees resettled in a year, but maybe there are ways we can ask our universities to offer scholarships to Syrian students," Harris said. "Maybe we can tweak some of our immigration policies to enable Syrian-Americans who have lived here to bring not only their kids and spouses but their uncles and their grandmothers. There may be ways that we could encourage Syrians to come to the U.S. without going through this laborious, time-consuming process of refugee resettlement."