In his first speech since it was announced that his two Republican presidential rivals had teamed up against him, GOP front-runner Donald Trump levied insult after insult against his competitors — and the rhetoric got personal.
The billionaire businessman didn't hold back during his rally in Warwick, Rhode Island, Monday afternoon as he criticized Ohio Gov. John Kasich's eating habits and called Texas Sen. Ted Cruz a "failed senator."
"I have never seen a human being eat in such a disgusting fashion," Trump said of Kasich.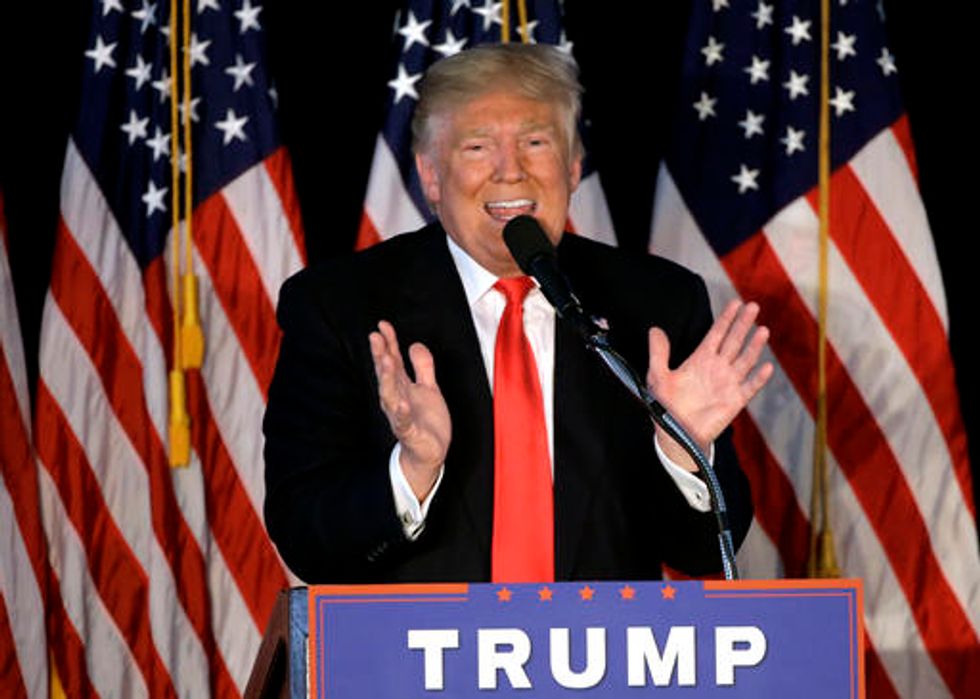 Donald Trump addresses an audience during a campaign rally in Warwick, Rhode Island, Monday. (AP Photo/Steven Senne)
"I'm always telling my son, Barron, 'small, little bites.' This guy takes a pancake, and he's shoving it in his mouth," he continued. "It's disgusting. Do you want that for your president?"
Trump later told the crowd that he instructed his son not to watch Kasich eat.
As for Cruz, Trump asserted that the Texas senator is "bad for this country and bad for jobs and businesses" as he does not have the appropriate economic expertise.
"Now, it's sort of funny because I watched Cruz this morning, and he's all mixed up because he's losing so badly, and when he's under pressure, he's like a basket case," Trump said. "So he's stuttering and he's stammering, and I watched him, and he's saying, 'Uh, I want jobs and I want the economy and I want this and I want that,' — all stuff that I've been saying for years, and he just started saying it."
"He doesn't know anything about the economy. He doesn't know anything about jobs," Trump continued. "He was a failed senator; he couldn't get anything passed."
Trump, who flourishingly impersonated Cruz multiple times throughout his speech, added that Cruz is known as the guy who will "go down and filibuster for a day or two" as the other senators call him a "pain in the ass."
News broke late Sunday that Cruz and Kasich had formed an alliance for three of the remaining primary states in an effort to prevent Trump from getting the 1,237 delegates needed in order to clench the Republican nomination outright. With the alliance, Cruz will give Kasich a "clear path" to victory in New Mexico and Oregon, and in turn, Kasich will give Cruz a "clear path" to victory in Indiana.
On Monday, Trump contended that he was happy about the alliance as it is a sign of how "weak" and "pathetic" the two candidates are.
"Did you see the news today where they banded together," Trump said to boos from his supporters. "You know, if you collude in business or if you collude in the stock market, they put you in jail. But in politics — because it's a rigged system, because it's a corrupt enterprise — in politics, you're allowed to collude."
"Honestly, it shows such total weakness, and it's pathetic when two long-time insider politicians — establishment guys, whether you like it or not — have to collude, have to get together to try to beat a guy who really speaks what the people want," he said.
Trump also touted his new nickname for Kasich — "1 for 41." Previously, Trump referred to the Ohio governor as "1 for 38" on social media, but he told Rhode Islanders Monday that he had been mistaken with that number.
Lyin' Ted Cruz and 1 for 38 Kasich are unable to beat me on their own so they have to team up (collusion) in a two on one. Shows weakness!

— Donald J. Trump (@Donald J. Trump) 1461585261.0
"Pretty soon it's going to be '1 for 46,'" he said. "So he's going nowhere."
Trump also predicted that once Democratic presidential front-runner Hillary Clinton released an attack ad on Kasich's campaign, his polling against her would plummet.
"He's just a stubborn guy, that's all he is," Trump said of Kasich. "He's like if you have a child, he just says, 'I want it, Mommy. I don't care, Mommy. I want it, Daddy. I don't care, I want it.' That's all he is."
Trump opened his speech Monday afternoon by advocating on behalf of New England Patriots quarterback Tom Brady after an appeals court reinstated his four-game suspension Monday.
"Let me just start by saying: leave Tom Brady alone. Leave him alone," Trump said.
Connecticut, Delaware, Maryland, Pennsylvania and Rhode Island will all hold Republican primaries Tuesday. Trump is currently leading in the polls in all five states, according to Real Clear Politics' aggregated polling data.
Watch Trump's speech in Rhode Island below.
—
Follow Kaitlyn Schallhorn (@K_Schallhorn) on Twitter