After 46 years apart, four U.S. Marine veterans crowded around a photo they'd taken five decades ago, examining every detail to make sure the recreation was just right.
This past Saturday, with a yellow longboard in tow, the four men made their way to Cinnamon Beach in Palm Coast, Florida, to recreate the image they took in May 1966 while stationed at Camp Pendleton in Oceanside, California, according to the Naple Daily News, a local Florida news source.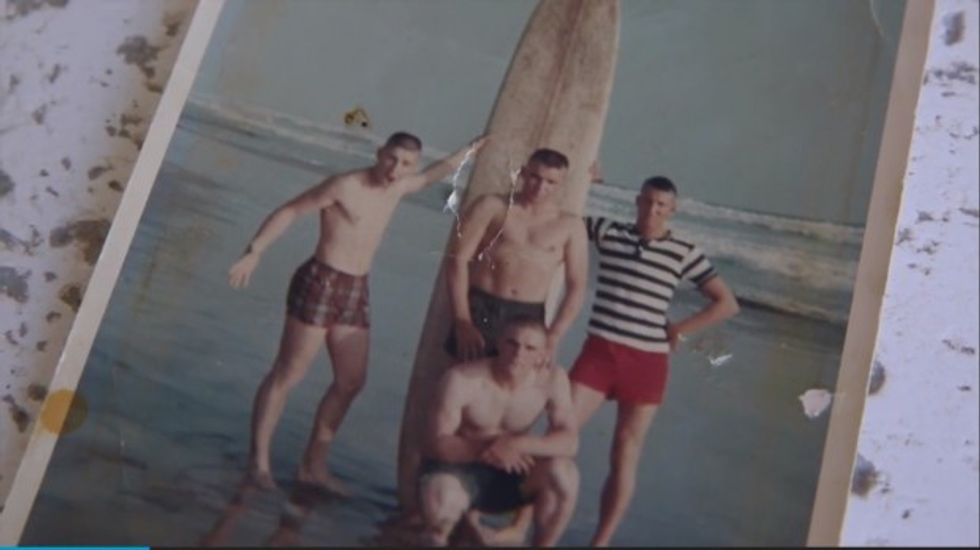 Image source: Naples Daily News screen grab
"We found each other after 46 years, we decided, 'We're not getting any younger, let's take another picture,' Bob DeVenezia, 70, said, sitting in his Florida condominium. "I'm not doing this for my own acknowledgment — I'm doing it for these guys."
Bob Falk, 71, leaned against the surfboard's left side, wearing a nearly identical blue-and-white striped shirt and red shorts.
Dennis Puleo, 69, wearing a blue-and-white bathing suit, took off his shirt and his shoes, revealing scars left by shrapnel, and stood opposite Falk.
Tom Hanks, 69, seeking to puff out his chest the same way he did 50 years ago, stepped in front of the yellow board and took in a strong gasp of air, attempting to suck in the stomach that has grown since his time on active duty.
Lastly, there was DeVenezia, who took a knee in front of Hanks, crouching just as he did in California, as Hanks put his hands on his shoulders.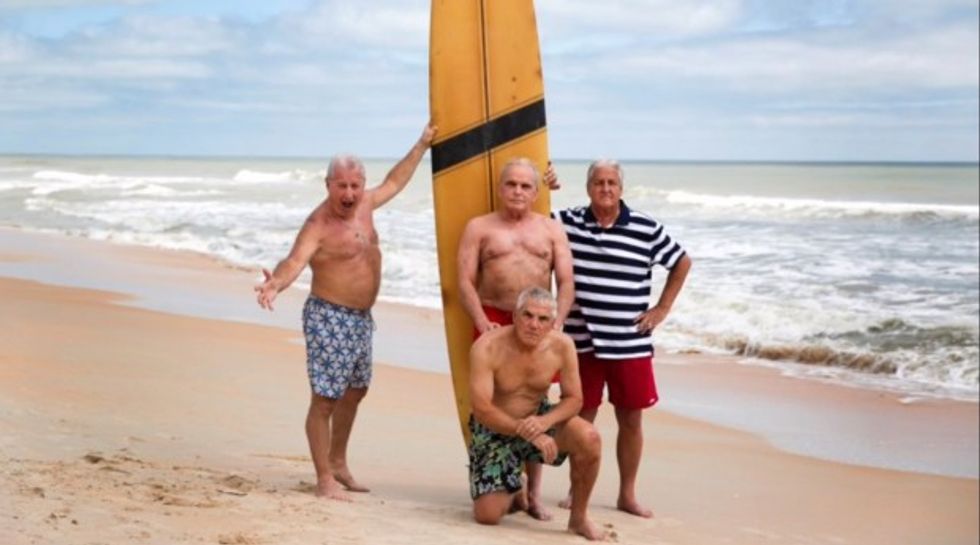 Image source: Naples Daily News screen grab
The four men, three machine gunners and one anti-tank man, were part of the weapons platoon during the Vietnam War. They were all together, getting ready to ship off to East Asia in the 1966.
Over the next two years, they trained together and deployed together. But once they were in Vietnam, the men separated, though they experienced many of the same hardships. Two of them walked away with Purple Hearts, but all of them remember the fear of war that changed their lives.
"Two of us survived, the other two guys didn't get hurt somehow — we all got hurt, I mean not physically, they didn't get hurt," DeVenezia said. "Somehow, we all survived, and we're all, three of us are in Florida, one's in Atlanta, Georgia. We decided to get together and do it again — that's it, that's the whole thing."
According to the 70-year-old vet, there is a physical bond the four men have that comes only through fighting together in war.
"Unless you fought in the war, and your life depended on these other guys, there's a bond there that — it's real, it's physical," DeVenezia said. "I can't explain it."
—
Follow the author of this story on Twitter: