Officials at Rutgers University in New Brunswick, New Jersey, have removed a controversial art display that depicted Jesus affixed to a dartboard — a piece of art that one conservative commentator called "sickening."
The piece, titled, "Vitruvian Man," featured Jesus Christ "nailed" to the board with four darts. It was on display inside of the Art Library on Voorhees Mall before complaints from students and alumni led college leaders to take action, NJ.com reported.
"The artwork in question was removed from the exhibit because it did not meet Rutgers University Libraries policy, which requires art exhibitions and their pieces to be based on university events, curricular offerings and topics of interest to the university community," Jessica Pellien, director of communications at Rutgers University Libraries, told the outlet.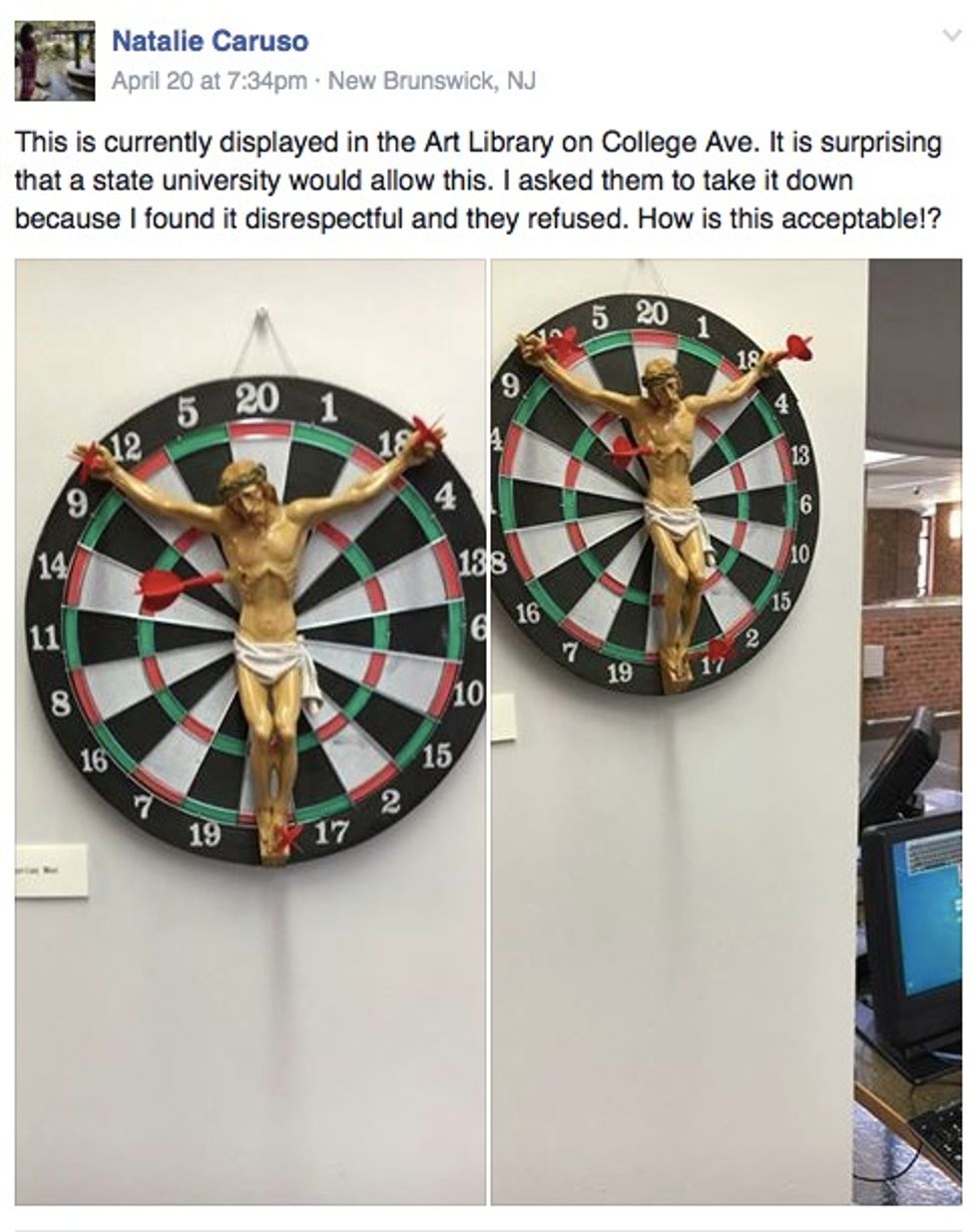 A screen shot of the social media post about the controversial artwork
She said that there is a process through which libraries determine how to choose artwork for display, but that the "policy and process the libraries use to select artwork for exhibitions was not followed" in this case.
At first, the Jesus-themed piece was removed from a prominent spot near the circulation desk and moved to a lower shelf of a more concealed display case. But it was later taken out all together, according to NJ.com.
The university has not named the individual who produced the piece of art, and it is unclear whether it was a student or faculty member, but one thing is absolutely clear: the debate over the now-removed piece has extended well beyond the Rutgers campus.
"The art exhibit inside a campus library at Rutgers University was sickening – Jesus crucified on a dartboard," conservative commentator Todd Starnes wrote. "I've often wondered why the artistic class seems compelled to denigrate and desecrate the Sacred."
Debate originally touched off after a student at Rutgers posted images of the "Vitruvian Man" on her Facebook page on April 20, writing: "This is currently displayed in the Art Library on College Ave. It is surprising that a state university would allow this. I asked them to take it down because I found it disrespectful and they refused. How is this acceptable!?"
While many disliked the piece, others shot back that it is simply artistic expression. Some even posited that the image of Christ on a dartboard could actually be meant to showcase how Jesus was treated rather than denigrating the Christian figure.
"As an Orthodox Christian, this just made me cringe!! Where is the art in this?? Plz explain," wrote Facebook user Kirolos Wahba. "If you see art, you are either blind, or have no taste in art, or just a hater on religion who uses this as a pathetic excuse to attack religion!"
But a man named David Awad wrote, "Good art is offensive."
Read the entire debate here. What do you think? Let us know below.
(H/T: NJ.com)
--
Follow the author of this story on Twitter and Facebook: