Donald Trump laid out his plan for the future of U.S. foreign policy in Washington Wednesday, promoting an "America First" approach to dealing with the world.
"America First will be the overarching theme of my administration," the 2016 Republican front-runner declared in a rare policy speech at the National Press Club.
Borrowing from business principles of zero-sum outcomes to explain his philosophical approach to the world's issues, Trump said his strategy will replace "randomness with purpose, ideology with strategy and chaos with peace."
"Businesses do not succeed when they lose sight of their core interests, and neither do countries," Trump said. "No country has ever prospered that failed to put their own interests first."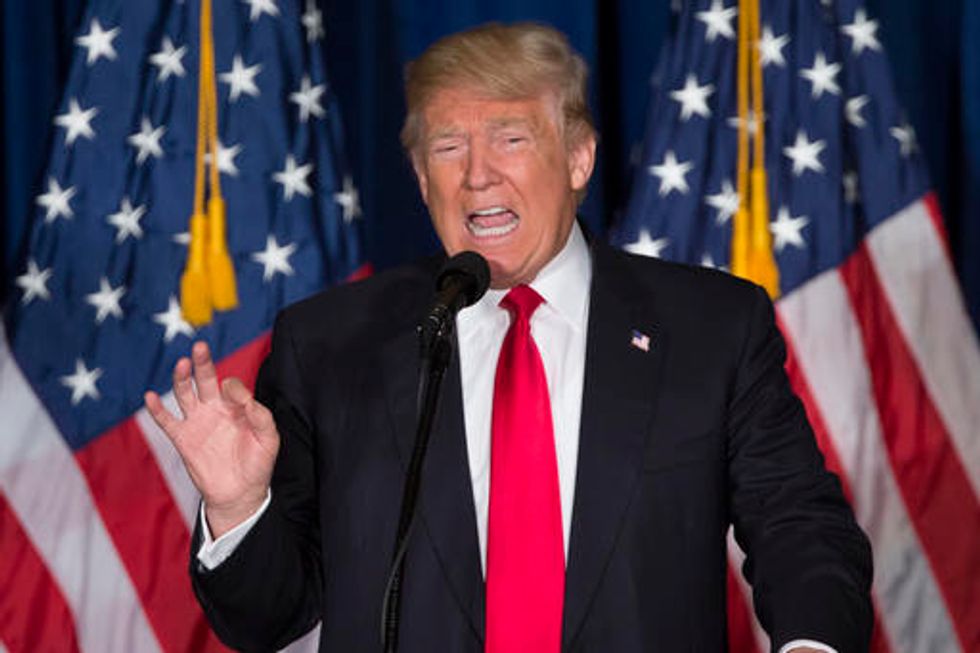 Republican presidential candidate Donald Trump gives a foreign policy speech at the Mayflower Hotel in Washington. (AP/Evan Vucci)
The U.S.'s main weaknesses in foreign policy are that its resources are totally overextended, its allies are not paying their fair share, its friends are beginning to think they can't depend on the U.S., and the U.S. lacks a coherent foreign policy strategy based on American interests, Trump said.
Trump praised former President Ronald Reagan for his leadership during the Cold War, but argued, "unfortunately, after the Cold War our foreign policy veered badly off course."
Since then, there's been one foreign policy disaster after another, Trump said: In Iraq, Egypt, Libya and Syria.
"It all began with the dangerous idea that we could make Western democracies out of counties that had no interest" in becoming democracies, Trump said.
The U.S. should "promote regional stability, not radical change," and be clear-eyed about which nations will only ever be enemies.
For example, Iran left negotiations on nuclear power and immediately went back on its word, Trump said, an outcome that can be attributed to the U.S. not being willing to walk away from the negotiating table. Trump also argued that the U.S. should rethink its relationships with fellow world powers Russia and China, finding areas of mutual benefit that could lead to better cooperation.
His speech was met with restrained applause from the D.C. audience, a far cry from his raucous rallies on the campaign trail. Trump spent much of the speech criticizing President Barack Obama's foreign policy record, as well as Democratic 2016 rival Hillary Clinton's.
"We have a president who dislikes our friends and bows to our enemies," Trump said. Obama and Clinton are responsible for the last eight years of "reckless, rudderless and aimless" foreign policy, he added.
In a Trump administration, the U.S. will focus first on its own interests and the shared interests of its allies for overall stability, the candidate said.
"We're getting out of the nation-building business," Trump said.
—
Follow the author of this story on Twitter and Facebook:
[facebook //www.facebook.com/plugins/like.php?href=