Despite sweeping all five primary states Tuesday night, Republican presidential front-runner Donald Trump criticized the GOP's delegate system as a "scam."
"To a certain extent, the RNC inherited this, but this delegate system is a scam, it's a scam," Trump said during an interview on MSNBC's "Morning Joe" Wednesday.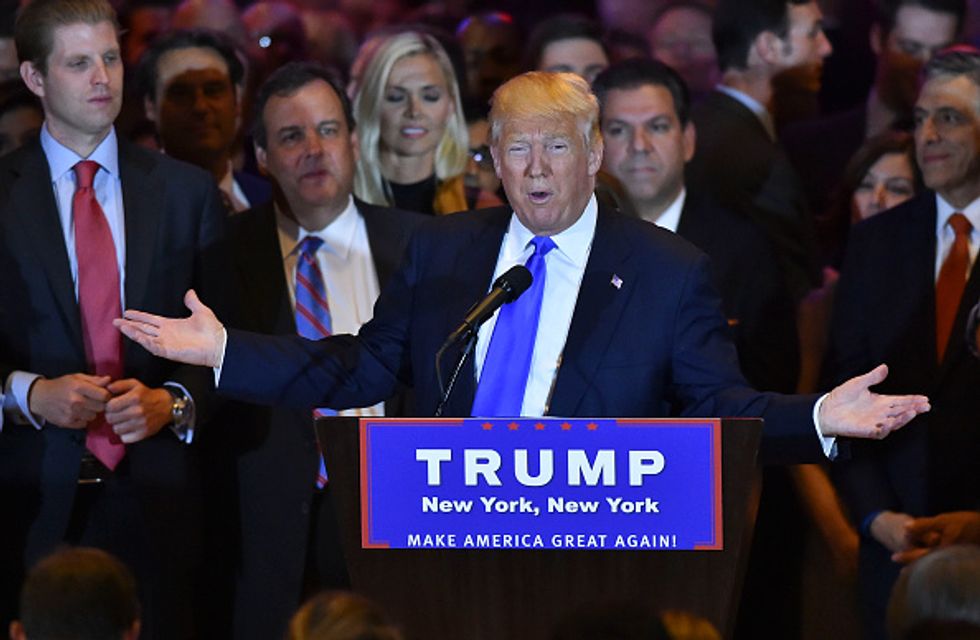 Surrounded by his supporters, Republican presidential candidate Donald Trump addresses the media at Trump Tower in New York City following primary election results Tuesday. (Getty Images/Ricky Carioti)
"With that being said, in Pennsylvania I did really well because I got the 17 [delegates], plus I've got many, many more that are already pledged," Trump said. "But the whole system, of what's been going on, where I win Louisiana and end up with less delegates. The whole system is a scam."
Trump received 41.4 percent of the vote in Louisiana compared to Texas Sen. Ted Cruz who garnered 37.8 percent in the state's March 5 primary. Both candidates received 18 delegates each.
The billionaire businessman continued to lambaste his GOP presidential rivals, particularly Cruz, who he contended won delegates only with "a scam vote" such as in Colorado and Wyoming or with "fixed" caucuses.
Trump added Wednesday morning that he "gets along" with RNC Chairman Reince Priebus "well" and would like to work with the RNC.
"I like him a lot. He likes me, I think, as much as he can like anybody that is causing a little bit of difficulty by all these wins," Trump said. "These wins were not supposed to be. They were supposed to pick a senator who would have lost, or they were supposed to pick a congressman ... or they were supposed to pick a governor."
"Morning Joe" hosts Mika Brzezinski and Joe Scarborough told Trump that they agreed with his assertion that the Democratic presidential primary has been "rigged since day one" against Vermont Sen. Bernie Sanders.
Trump swept the primaries held in Connecticut, Delaware, Maryland, Pennsylvania and Rhode Island during what was deemed "Acela Tuesday" — and by large margins. With 99 percent of the vote in Wednesday morning, Trump's smallest lead was in Maryland where he garnered 54.4 percent of the vote. Trump's greatest lead was in Rhode Island where he received 63.8 percent of the vote.
.@realDonaldTrump: This delegate system is a scam... The whole system is rigged https://t.co/fnaRuEcj1R

— Morning Joe (@Morning_Joe) April 27, 2016
—
Follow Kaitlyn Schallhorn (@K_Schallhorn) on Twitter