Former ESPN baseball analyst Curt Schilling said that "some of the biggest racists in sports commentating" work for his former employer during a "Breitbart News Patriot Forum" event for SiriusXM on Wednesday.
"Some of the most racist things that I've ever heard come out of people that are on the air at ESPN. There are some of the biggest racists in sports commentating, and you take it for what it is. You know who they are, you know what they are. I like that they are openly because then you know who they are. You know that they exist."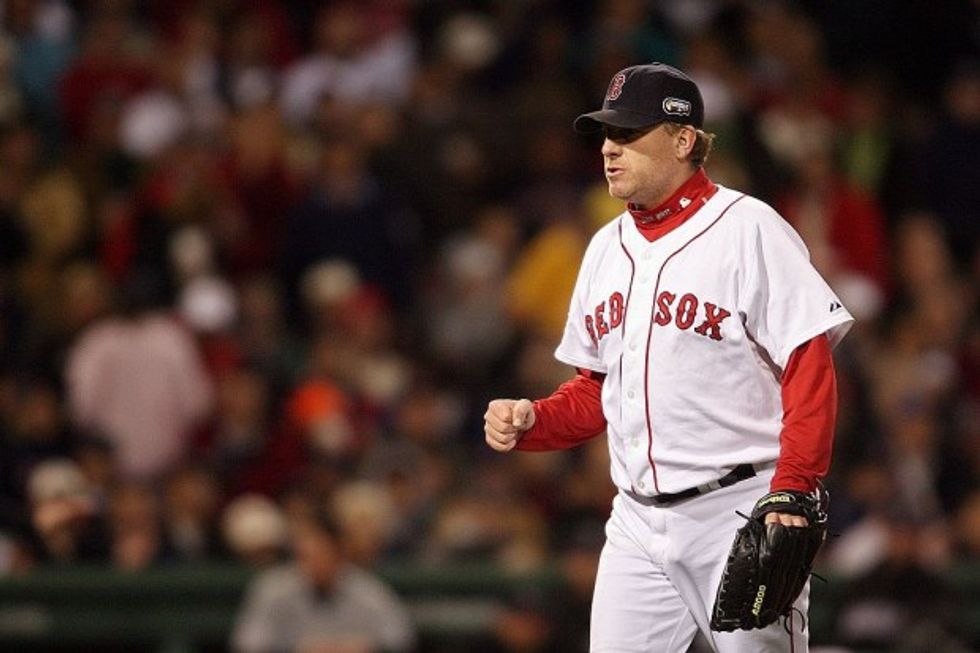 Curt Schilling #38 of the Boston Red Sox pumps his against the Colorado Rockies during Game Two of the 2007 Major League Baseball World Series at Fenway Park on October 25, 2007 in Boston, Massachusetts. (Photo by Nick Laham/Getty Images)
ESPN fired Schilling, a former pitcher for the Boston Red Sox, last week after he shared a controversial meme regarding transgender bathroom laws.
Schilling said that at ESPN he was in the position of "being told what I can't say."
"It was apparent to me early on that if you wanted to go off topic as a sportsperson, you had to go off topic left or you were going to get into trouble," Schilling said.
"One of the things I got early on, people would walk up to me - we had the green room in ESPN, which I kind of turned it into a locker room where everything was on the table, you could make fun of anybody's mom and all the things that go with that, like in a baseball locker room - but I had people come up to me and go, 'Hey, I'm with ya, I'm a Republican, too.' It felt like, underground."
"It was like a deadly serious thing, like, we didn't talk… like religion on the table was a much easier discussion to have than who you voted for," Schilling said.
Listen below:
(H/T Hot Air)