When Nathalie Olds entered a woman's restroom at a Target store in Keizer, Oregon, on Sunday afternoon, she said a sign posted inside had her "very shocked."
Target spokeswoman now says they are investigating who hung up this sign in women's restroom in Keizer. #liveonk2 pic.twitter.com/dTEKUknEqh

— Hillary Lake, KATU (@hillarylake) April 26, 2016
The "Attention Ladies" sign says Target lets men use women's restrooms, and vice versa, no questions asked. It also encourages people to report peeping individuals and hidden cameras and to use caution when sending teens and children alone into bathrooms.
"I was very shocked when I first saw it," Olds told KGW-TV.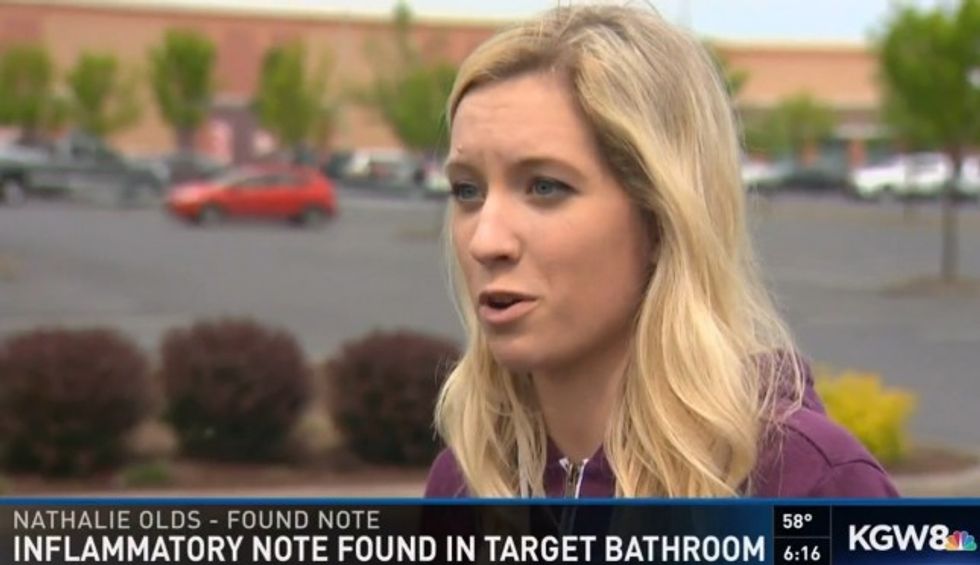 Image source: KGW-TV video screenshot
She also was confused by the message: "I took it as fact. Heterosexual cisgender men were allowed in the bathroom now."
But after learning more about Target's policy allowing transgender people to use restrooms that correspond to their gender identities, Olds said she got angry.
"I realized it was obviously somebody who was transphobic or somebody who wanted to basically state that transgender women are men, and that's not okay with me," she told the station.
"The reality is people have been in the bathrooms their whole lives with transgender people and they just never noticed," Olds added to KATU-TV.
Andrea Zekis, a transgender woman, told KGW the sign in the bathroom was probably posted by someone "who just doesn't understand transgender people and their experiences."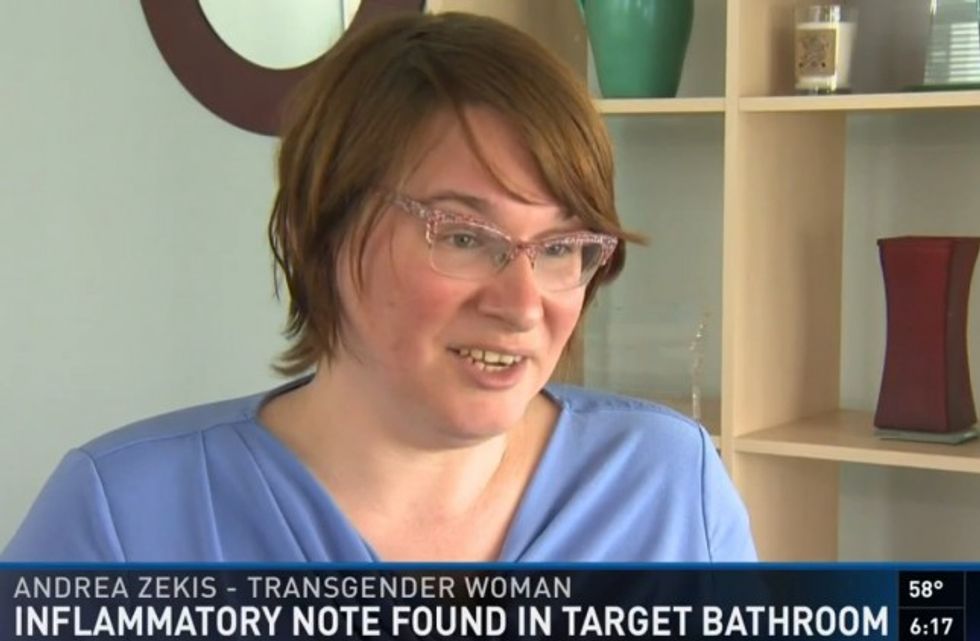 Image source: KGW-TV video screenshot
"I belong in a women's restroom because I'm a woman," Zekis told the station, adding she just wants a restroom that's safe and private. "It'd be completely inappropriate for me to use the men's room."
Jeana Frazzini, co-executive director for Basic Rights Oregon, told KGW that the sign "is telling some trans people that they don't belong."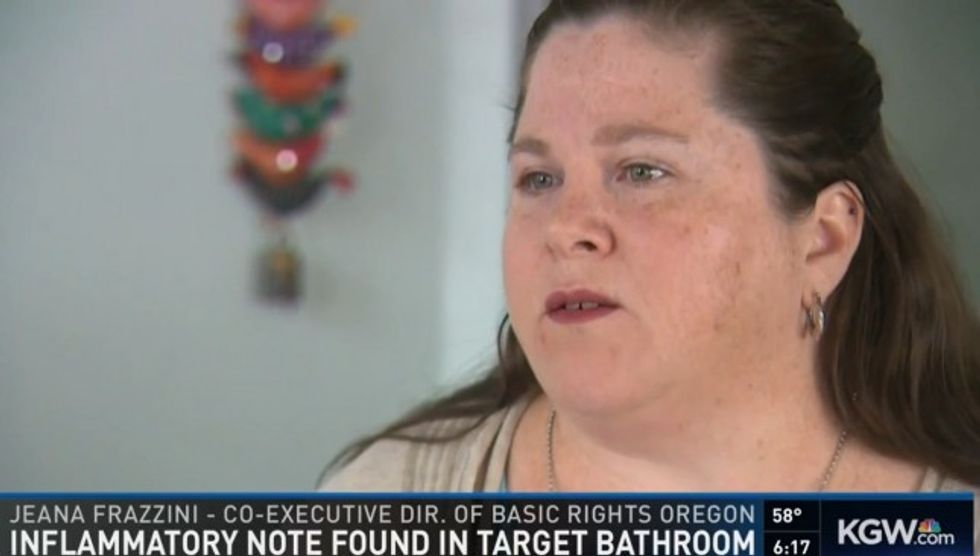 Image source: KGW-TV video screenshot
"Signs like what we've seen in Keizer create an even more hostile climate for transgender people who are among the most vulnerable in our communities," she told the station, adding that "hate and misunderstanding toward transgender people has a cost and it's in the lives of young people and it's the lives of people who don't have a place."
While a Target spokesperson told the station the store is trying to find out who posted the sign, Olds said she won't be shopping there anymore unless it's determined that the sign wasn't posted by an employee.