Actress Susan Sarandon says she fears Hillary Clinton's war record more than she fears Donald Trump's plan to build a wall at the U.S.-Mexico border.
Sarandon, an avid supporter of Vermont Sen. Bernie Sanders (D), made the comment to Stephen Colbert on CBS' "The Late Show" Wednesday. Colbert held up a picture of Sarandon with Clinton from before the U.S. invaded Iraq, which Sarandon says she opposed at the time.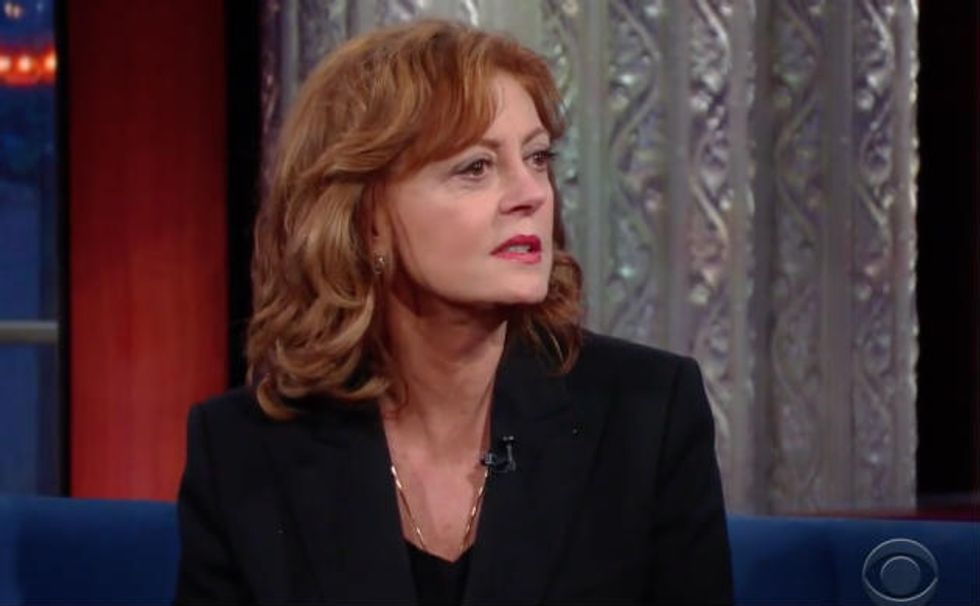 Susan Sarandon (Image source: YouTube)
"Look how happy we were," Sarandon joked, referring to the photo. "Then I had to break up with her."
Sarandon said she told Clinton not to agree to go into Iraq because of what she said was a lack of evidence and exit strategy, but the then-New York senator voted anyway to authorize the invasion.
"So I was like, 'Who is this person? I can't trust her,'" Sarandon said.
The progressive actress cited two other controversial issues on which she disagrees with the Democratic front-runner: fracking and the minimum wage.
"Fracking is the absolute worst thing you can do for the environment," Sarandon said, adding, "She goes behind my back, and she's selling it all over the world."
But perhaps the most shocking statement of the evening came later during Sarandon's appearance.
"I'm more afraid of, actually, Hillary Clinton's war record and her hawkishness than I am of building a wall," Sarandon told Colbert.
"But that doesn't mean that I would vote for Trump," she added.
(H/T: Mediaite)
–
Follow the author of this story on Twitter and Facebook: