Republican presidential contender Texas Sen. Ted Cruz fired back at former House Speaker John Boehner (R-Ohio) Thursday night, telling Fox News host Megyn Kelly that Boehner, along with businessman Donald Trump and Democratic front-runner Hillary Clinton, "are all part of the same problem" in Washington.
Boehner made headlines after he excoriated Cruz at an event at Stanford University Wednesday, telling a crowd that Cruz is "Lucifer in the flesh."
"I have Democrat friends and Republican friends. I get along with almost everyone, but I have never worked with a more miserable son of a bitch in my life," Boehner said of Cruz.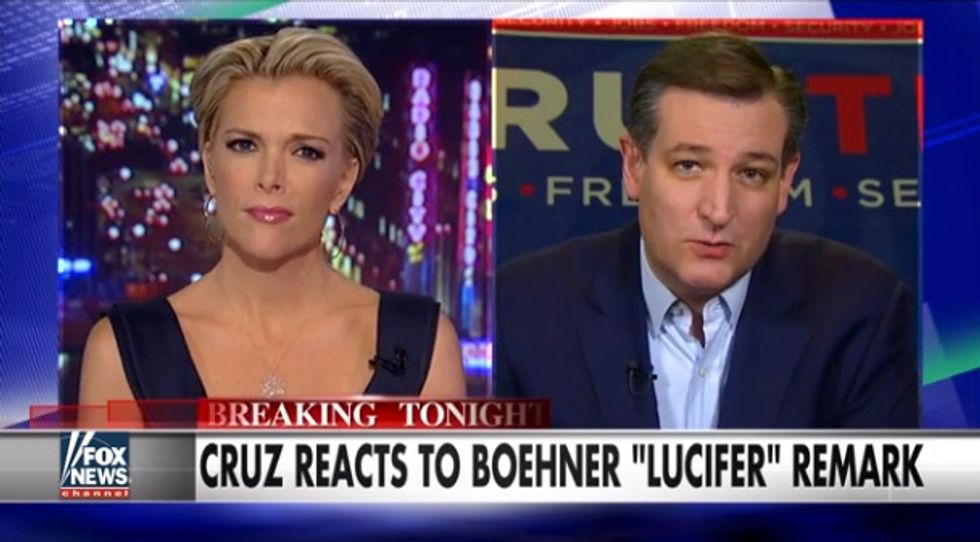 Image source: Fox News
Not only did Cruz fire back at Boehner, but he also told Kelly that Boehner wasn't even honest in his remarks because the two have never worked together.
"I don't know John Boehner. He and I have never worked together. I've probably met him two, three, four times in my life, and I'd be surprised if we've said 50 words to each other. And everything we've said has been empty pleasantries: 'Good to see you, Mr. Speaker,'" Cruz said. "So his claim that he's never worked with anyone more unpleasant — we've never worked together."
[sharequote align="center"]"I don't know John Boehner. He and I have never worked together."[/sharequote]
"In fact, during the government shut down, I reached out and offered for [Utah Sen.] Mike Lee and me to go sit down with the speaker and the majority leader, and the response I got was: 'No interest. There's no point in talking. We have nothing to say to you,'" Cruz added. "So I don't know the guy."
But according to Cruz, the real story to take from Boehner's comments was his praise of his "texting and golfing buddy" Trump and Clinton.
"If you want to see what is wrong with the corruption in Washington, with the Washington establishment and the system — John Boehner and Donald Trump and Hillary Clinton, they are all part of the same problem and the reason John Boehner is so unhappy," Cruz said.
Later in the interview, Cruz defended his decision to announce earlier this week that Carly Fiorina would be his running mate should he secure the Republican nomination. Cruz was criticized for his unorthodox decision but told Kelly that his ticket offers a "clear choice" in the election, saying that Trump and Clinton are on the "flip sides of the same coin."
Cruz has since begun fundraising off Boehner's comments, according to a report from The Hill.
Watch:
—
Follow the author of this story on Twitter and Facebook:
[facebook //www.facebook.com/plugins/like.php?href=