The first U.S. Zika virus-related death was reported Friday by the U.S. Centers for Disease Control and Prevention and confirmed by the Puerto Rico Department of Health.
A 70-year-old Puerto Rican man died in February from complications related to the Zika virus, marking the first time the infection contributed to a death in the United States or its territories, the CDC said.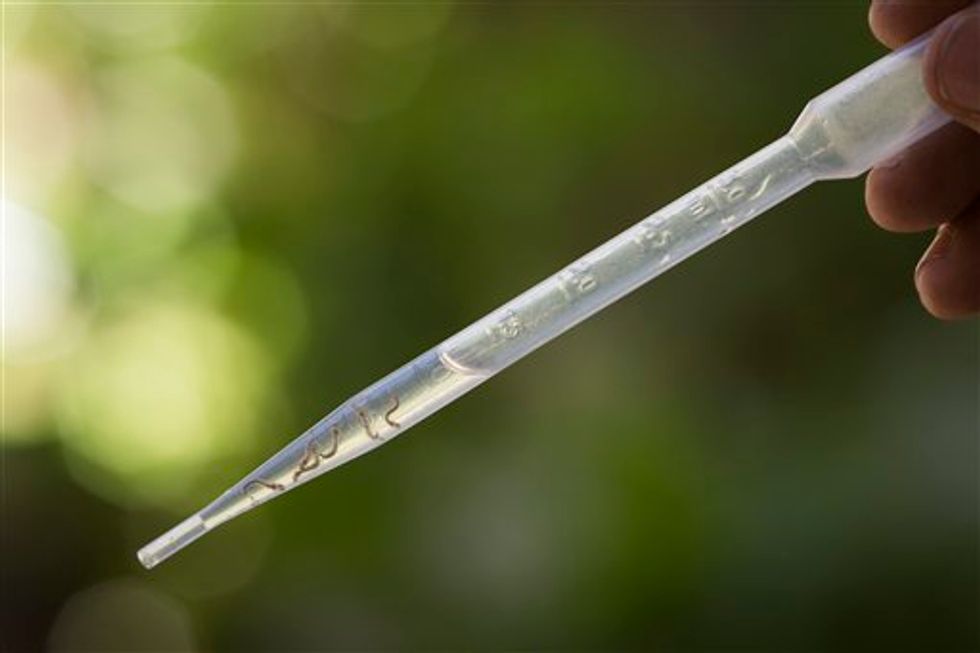 A health worker shows larvae of the Aedes aegypti mosquitoes found inside a warehouse during an operation to combat the mosquitoes that transmits the Zika virus in Recife, Pernambuco state, Brazil, Tuesday, Jan. 26, 2016. Brazil's health minister Marcelo Castro says the country is sending some 220,000 troops to battle the mosquito blamed for spreading a virus suspected of causing birth defects, but he also says the war is already being lost. (AP Photo/Felipe Dana)
The infected man, who lived in the San Juan metro area, developed Zika earlier this year and was treated for symptoms that lasted less than a week, according to Tyler Sharp, an epidemiologist at the CDC Dengue Branch in San Juan, Puerto Rico.
"A few days after his recovery, he returned to the hospital with signs of a bleeding disorder and was diagnosed with immune thrombocytopenic purpura, or ITP," Sharp told CNN. "That's a disorder where a person's immune system attacks the blood cells, called platelets, that allow clotting."
The CDC did confirm that, as an elderly man, the individual did have some health complications, but said none of them were life-threatening and are unlikely to have lead to his death.
It's important for everyone in Puerto Rico – especially women & pregnant women – to take steps to protect against #Zika.

— Sylvia Burwell (@SecBurwell) April 27, 2016
There have been a total of 638 confirmed cases of Zika in Puerto Rico, where the virus is being transmitted from insects to people. The majority of those infected reported mild symptoms — fever, headaches and rashes. In addition, a total of 49 pregnant women tested positive for Zika.
This particular case is unique, though, as it is one of only nine cases to have bleeding associated with the virus.
"We do not know if there are risk factors in the person infected with Zika that would make them more suspectible to developing ITP," Sharp said. "Bleeding typically begins in the mouth and from the gums, and progresses with easy bruising and petechiae, or tiny, round pinpoints that appear on the skin as a result of bleeding."
According to Sharp, ITP develops after the Zika illness resolves, "then the antibodies begin to cross-react with other cells in the body. ... In ITP, the antibodies attack platelets."
The CDC said they have tested 6,000 specimens since Puerto Rico became the first U.S. territory to report a local transmission of the Zika virus.
—
Follow the author of this story on Twitter: