In and out of jail and constantly in trouble. That was the life one former South Carolina gang member was living until one security guard — who constantly arrested her — changed her life.
Vickie Wilson, now the in-school suspension instructor at Whittmore Park Middle School, said her life was spiraling out of control when she was younger.
"My childhood, I was very frustrated, I was very angry," she told WMBF-TV. "I fought all the time because of the dysfunction in my family."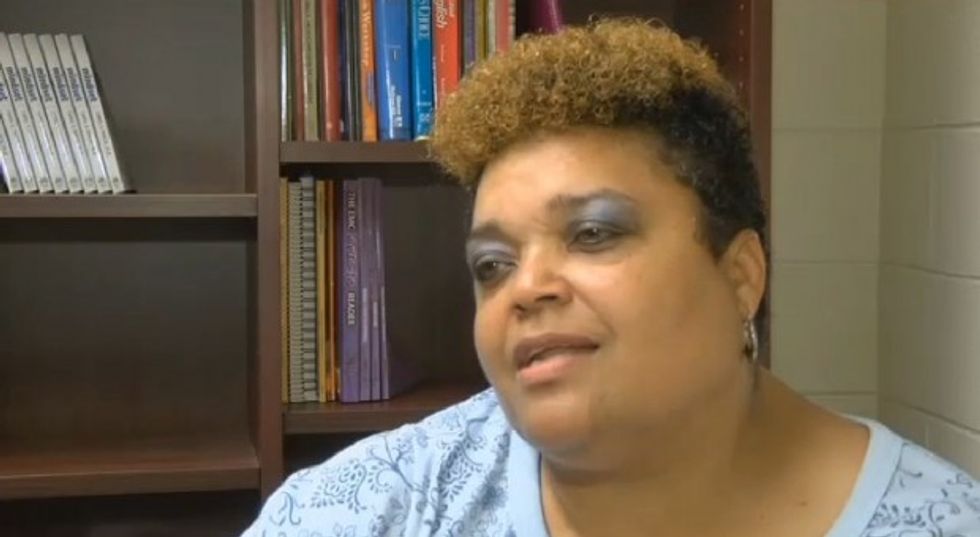 Image source: WMBF-TV screen grab
Her only solace was the crime that so frequently entrapped her. There were many, Wilson said, who would taunt her, telling her she'd never really amount to anything, but there was one person who told her something different. That person was the security guard at her high school.
"She arrested me [for] shoplifting, she arrested me [for] gambling in the bathroom, she arrested me [for] fighting," Wilson recalled. "She was always there, and every time Ms. Vaughn came around, she would always say, 'Vickie, life does not have to be like this.'"
"She made a difference for me," she continued, "so I want to make difference for others."
But with crime continuing to entice her, Wilson decided to enlist in the military. During basic training, she was arrested for assault and battery. And it was at that moment she remembered Ms. Vaughn, and decided to make a change.
"This time when they put in me jail, I heard the doors cling, and it was a clinging that I had never heard before," she said. They said, 'Vickie, by the time you get out, it could be 20 years.'"
Since that rock-bottom moment, Wilson has totally transformed her life. She is now the in-school suspension instructor at Whittmore Park Middle School, and this week she received the Horry County Schools' Support Staff Employee of the Year Award for her dedicated work with her students — an opportunity she credits to God.
"I am overwhelmed at how much God is showing me that he cares about me with this award," she said.
Wilson now works with students needing attention because of disciplinary problems — a reality that is very close to her heart. She helps the students redirect their negative circumstances into positive motivation. According to Wilson, it's about eliminating "can't" and "won't" from students' vocabulary.
"You say you can't, I say, 'Yes, you can,'" she instructed. "You say you won't, I say, 'Yes, you will.'"
Judy Beard, the school's principal, says she is an advocate for the students who feel they have no voice of their own. "Through her work, we've seen children make incredible progress," she said of Wilson.
In fact, Wilson's program has been so successful, she's taken it into the community, with a mentoring group for girls called "Q.U.E.E.N.S.," which stands for, "Qualities, Unique, Elevated, Express with Nobility." The initiative teaches eighth-grade girls about their self-worth, self-esteem and making good life choices.
"You want them to look in the mirror and see they are beautiful young ladies that have a purpose," Wilson said. "They are queens, and if they can tell themselves that and believe that about themselves, then they will begin to present themselves that way."
In the end, Wilson just hopes to offer the same life-altering impact to her students that Ms. Vaughn impressed upon her all those years ago.
"She never criticized me, she never degraded me, and even though she arrested me, she encouraged me," she said. "So I have utmost respect for Ms. Vaughn."
WFXG FOX54 Augusta - Your News One Hour Earlier
—
Follow the author of this story on Twitter: