A Fox reporter covering a Donald Trump event in Burlingame, California interviewed an attendee who got into a "tussle" with a few protesters.
The man, Adam Perry, calmly told Fox's Claudia Cowan about the aggressive treatment he received outside of the event.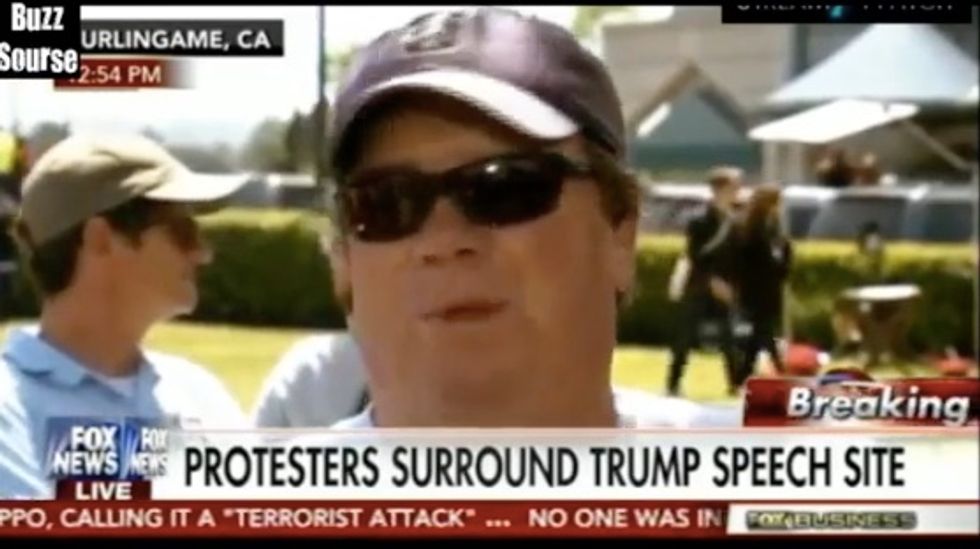 Image via Twitter
He explained that he decided to check out the event by himself "just to see what the atmosphere was." Perry said he'd been there for about an hour and a half when he was cornered by protesters in a hotel lobby:
"At that point, complete chaos broke out," he told Cowan. "I got punched, beat up, eggs thrown at me. I was spit on. My cell phone … took a 200-foot flight … it was nice enough that someone gave it back to me. My hat got taken. I've been kicked, beat on my back, kind of beat up … ."
He added that it was "very difficult" to remove himself from the situation once the attack began.
Watch:
Trump Supporter Shares His Story About Being Beaten Up By Anti-Trump Protesters. #CAGOPConvention #CAPrimary #MAGAhttps://t.co/zPccysftCP

— Trump's Got My Vote (@veganvecoh) April 29, 2016
Protesters plagued Friday's rally, causing Trump himself to leave his motorcade. The Republican front-runner joked that he felt like he was "crossing the border."
That same day, one protester interrupted Cowan during a live broadcast: