During an appearance with "Fox News Sunday" host Chris Wallace, Republican presidential frontrunner Donald Trump defended his controversial "woman card" comments aimed at Democratic candidate Hillary Clinton.
Trump originally had lashed out at Clinton on Tuesday night during his victory speech in New York, saying, "Well, I think the only card she's got going is the woman's card ... and, frankly, if Hillary Clinton were a man, I don't think she'd get five percent of the vote."
On Sunday, Wallace confronted Trump over his comments and brought up a recent poll that showed only 24 percent of women had a favorable view of Trump.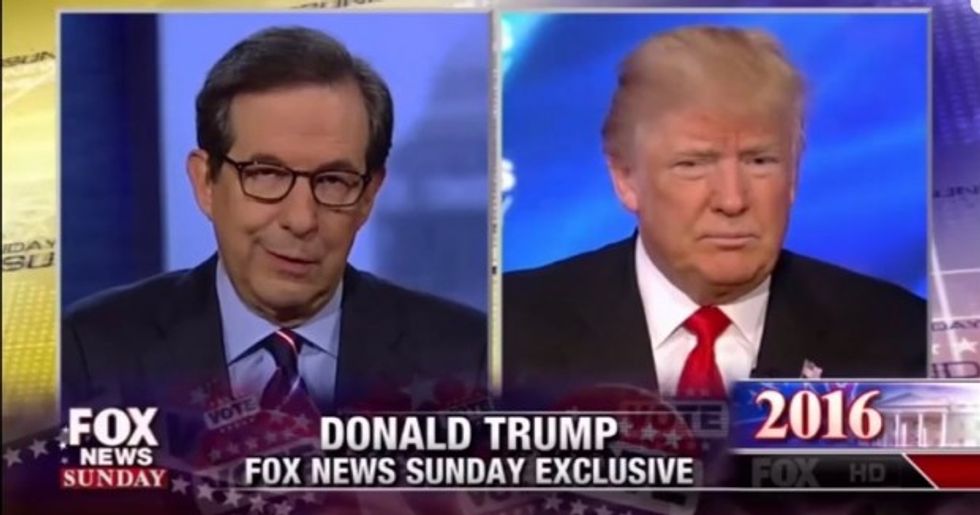 Image source: YouTube
"Now, I have to tell you strategists in both parties say if you consciously went about it, if you specifically planned you couldn't have said anything that would drive your numbers among women even lower," Wallace said.
Trump responded, saying, "Really? Okay, well, I'm my own strategist, and I liked what I said and it's true. I only tell the truth, and that's why people vote for me."
Wallace then tried another angle of approach.
"Regardless of whether you like her or not, or you think she should be president or not ... she was a senator. She was the Secretary of State for four years," Wallace responded. "To say if she were a man she'd get five percent — isn't that kind of dismissive?"
Trump responded, "Bernie Sanders said she shouldn't be allowed to run, that she's not capable, and you know, what he said is incredible..."
Trump went on to add that Clinton "is a strong person and is going to have to be able to take it. The fact is, the only card she has is the woman's card. She's done a lousy job in so many ways and even women don't like her. They don't like her. But it is the woman's card, and she plays it, and I'll let you know in about six months whether or not she plays it well."
This segment plays around the 2:43 minute-mark on the video below.
(H/T: Mediaite)
—
Follow Kathryn Blackhurst (@kablackhurst) on Twitter