Republican front-runner Donald Trump continued his march to the conventions Wednesday with a solid win over rival Sen. Ted Cruz in Indiana, a state where the Texas senator had hoped to eke out a victory.
Cruz had flooded his schedule with events in the past few days, hoping to make up some of Trump's double-digit lead in the conservative Hoosier State.
But early returns showed Trump with a sizable lead over Cruz, 54.2 percent to 32.6 percent. Ohio Gov. John Kasich had 10.2 percent of the vote, with 5 percent reporting.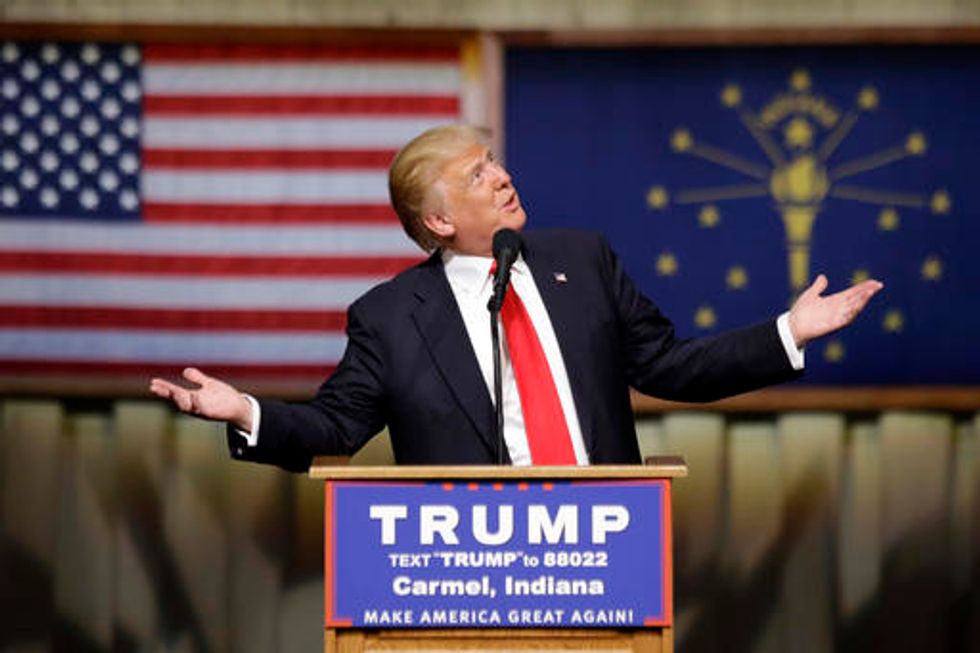 Donald Trump speaks during a rally at The Palladium in Carmel, Ind., Monday. (AP/Michael Conroy)
There are 57 delegates up for grabs in Indiana, which awards them by a nearly winner-take-all method.
"If we win in Indiana, it's over with, folks," Trump told supporters at a rally in South Bend.
Cruz rolled out all the stops in an attempt to prevail in Indiana, the largest single delegate prize left in the race besides California on June 7.
Gov. Mike Pence endorsed the candidate this week, and Cruz made an unusual early announcement of his 2016 running mate, former Hewlett-Packard chief executive Carly Fiorina.
The Republican 2016 race got even uglier today, after Trump pushed the tabloid rumor that Cruz's father was linked to Lee Harvey Oswald, the man who assassinated John F. Kennedy.
"What was he doing with Lee Harvey Oswald shortly before the death? Before the shooting?" Trump said on Fox News this morning. "It's horrible."
Cruz pushed back, calling the story "nuts." He then went on to tell the press what he "really" thinks of Trump, none of which was kind.
"Donald Trump is such a narcissist that Barack Obama looks at him and says, 'Dude, what's your problem?'" Cruz said today.
After Trump's Indiana win, the Republican 2016 campaign heads to Nebraska and West Virginia, where primaries will be held next Tuesday.
The race will limp on through states like Oregon and California until it hits the Republican National Convention floor in mid-July, where Cruz and Kasich advocates hope to defeat Trump on a second or third ballot, provided that the businessman doesn't reach the 1,237 delegates he needs to win the nomination outright.
—
Follow the author of this story on Twitter and Facebook:
[facebook //www.facebook.com/plugins/like.php?href=