Republican front-runner Donald Trump took the stage Tuesday night, this time as the GOP's "presumptive nominee" — something he said he didn't expect.
After thanking his family, staff and the voters of Indiana for his victory in the Hoosier State and the "unbelievable" year he has had, Trump pivoted toward his now-former rival Ted Cruz, who ended his presidential bid Tuesday night.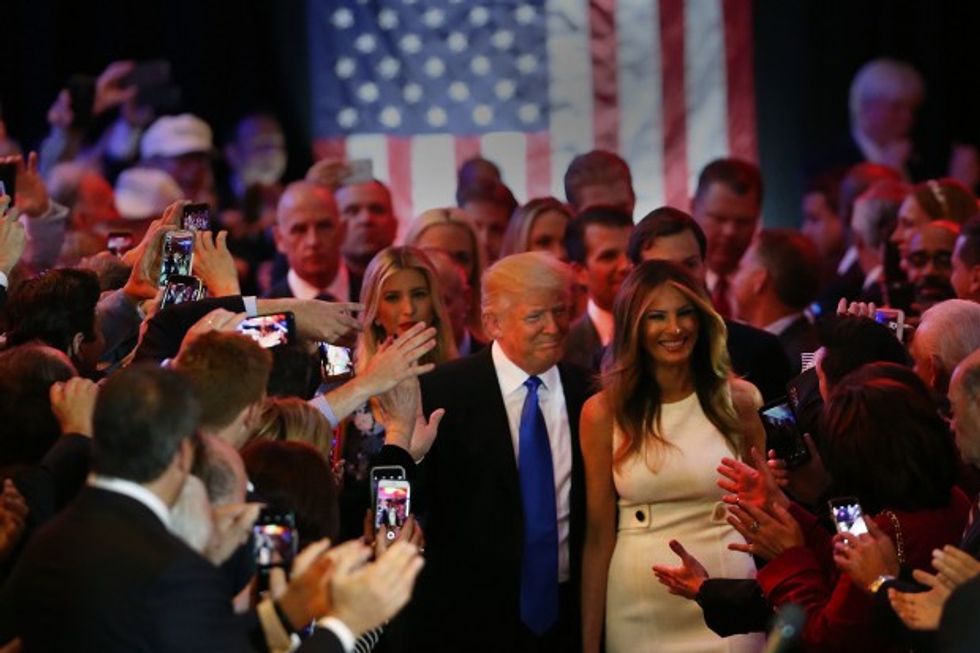 Photo by Spencer Platt/Getty Images
Gone were references to his famous "Lyin' Ted" nickname and in its place were glowing words for the Texas senator.
"Ted Cruz, I don't know if he likes me, but he is one hell of a competitor. He is one smart guy. He has got an amazing future," Trump said, later adding that Cruz's decision to drop out was a "brave" one because the Republicans "have to have unity."
"I understand how Ted feels, and Heidi, and their whole beautiful family," he continued.
Then, Trump, who now possesses 1,041 delegates, gave Republicans a glimpse into what his White House administration would look like.
Though he's taken a tough stance on the border and international trade, Trump insisted that the U.S. is "gonna have unbelievably good relationships with other countries, but, likewise, they're gonna have to treat us fair."
"We're gonna have great economic development and we're not gonna let countries take that away from us," he said, promising to bring employment to both the Hispanic and African-American communities.
In addition, Trump continued his promise to defeat the Islamic State, should he win the White House in November.
"We're going to build up our military bigger, better, stronger than ever before," he said. "[W]e cannot allow the Islamic State to continue."
Concluding his remarks, Trump thanked Republican National Committee chairman Reince Priebus for the "amazing job" he has done leading the Republican Party.
"Our theme is very simple. It's 'Make America great again.' … You will be so proud of this country very soon. Thank you very much," Trump said as he turned to walk away from his podium.
As it stands, Trump has 1,047 delegates, followed by Cruz with 565 delegates and Ohio Gov. John Kasich with 153 delegates. Moving forward, Trump has a lot of work to do in order to truly unify the Republican Party before the GOP convention in July and, ultimately, the general election in November.
In order to secure the Republican nomination, a candidate must earn at least 1,237 delegates.
—
Follow the author of this story on Twitter: