Sen. Ted Cruz (R-Texas) ended his run for the White House Tuesday evening after a devastating loss to front-runner Donald Trump in Indiana.
"From the beginning, I've said I'd continue on as long as there is a viable path to victory," Cruz said after the loss. "Tonight, I'm sorry to say, it appears the path has been foreclosed."
"Together we left it all on the field in Indiana. We gave it everything we've got. But the voters chose another path," the Texas senator added. "And so, with a heavy heart, but with boundless optimism for the long-term future of our nation, we are suspending our campaign."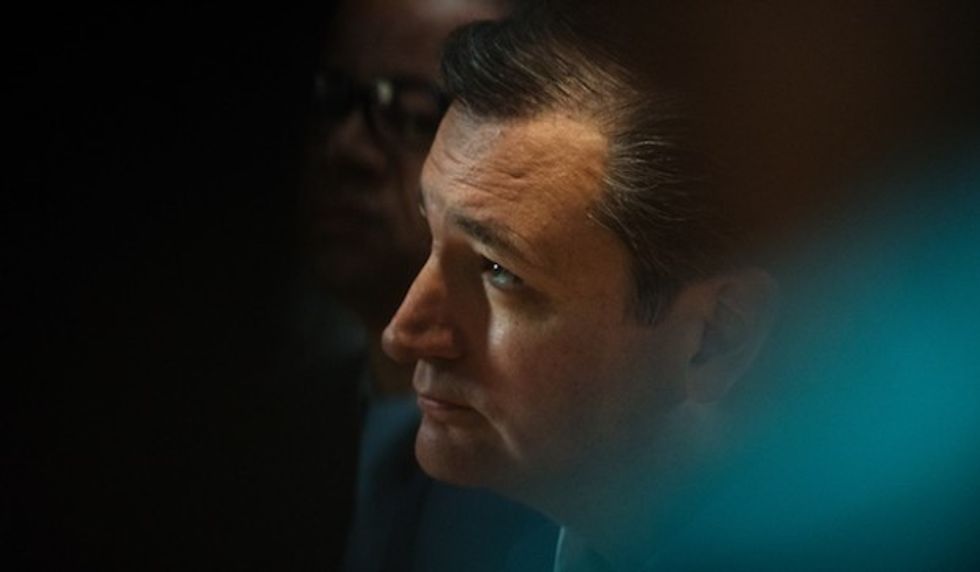 Bryan Thomas/Getty Images
"But hear me now, I am not suspending our fight for liberty," Cruz continued. "I am not suspending our fight to defend the Constitution. To defend the Judeo-Christian values that built America. Our movement will continue."
Had he succeeded in his quest, Cruz would have been the first U.S. president of Hispanic descent, although he often downplayed his heritage on the campaign trail, instead, touting the need for tougher immigration laws, for a border wall along the border with Mexico, protecting gun rights, repealing President Barack Obama's health care law and instituting a flat tax.
Cruz argued he was the only true conservative in the race, building on his reputation in the Senate where he clashed both with Democrats and members of his own party over his ideological stubbornness. Cruz railed against what he called the "Washington cartel," trying to appeal to an electorate that is craving political outsiders.
But he ultimately couldn't compete with Trump's appeal among white, working class voters who were drawn to the billionaire's outlandish approach to politics.
Trump, now the presumptive Republican nominee, defeated Cruz by double-digits in Indiana — a state that the Texas senator had poured all his resources into.
Cruz criss-crossed the state touting the endorsement of Gov. Mike Pence and selected former rival Carly Fiorina as his running-mate.
All that proved to be fruitless, however, when Trump delivered him a crushing defeat in the Hoosier State, sending the billionaire real estate mogul marching toward the 1,237 delegates needed to win the GOP nomination outright.
The Associated Press contributed to this story.
—