The mainstream media and music worlds erupted over the weekend with the exciting news that U2 guitarist The Edge had become the first contemporary artist ever to play at the famous Sistine Chapel in Vatican City.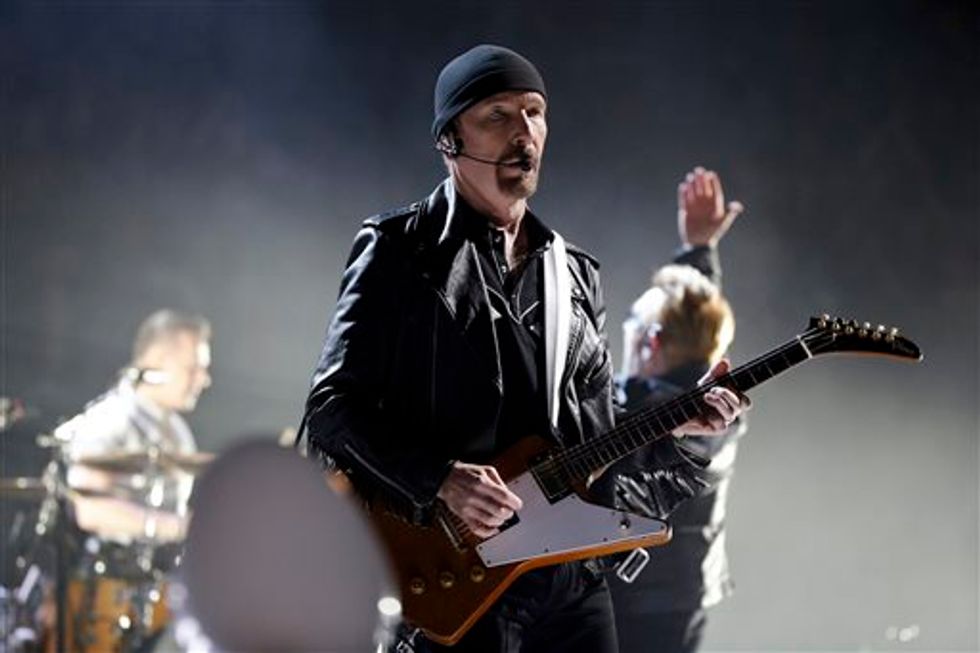 The Edge (AP Photo/Thibault Camus, File)
The artist played four songs Saturday night for an audience of 200 doctors attending the Cellular Horizons conference on regenerative medicine at the Vatican.
"When they asked me if I wanted to become the first contemporary artist to play in the Sistine Chapel, I didn't know what to say," he said Saturday, adding that he was "stunned" when asked to play in the chapel that Renaissance genius Michelangelo painted in the 16th century.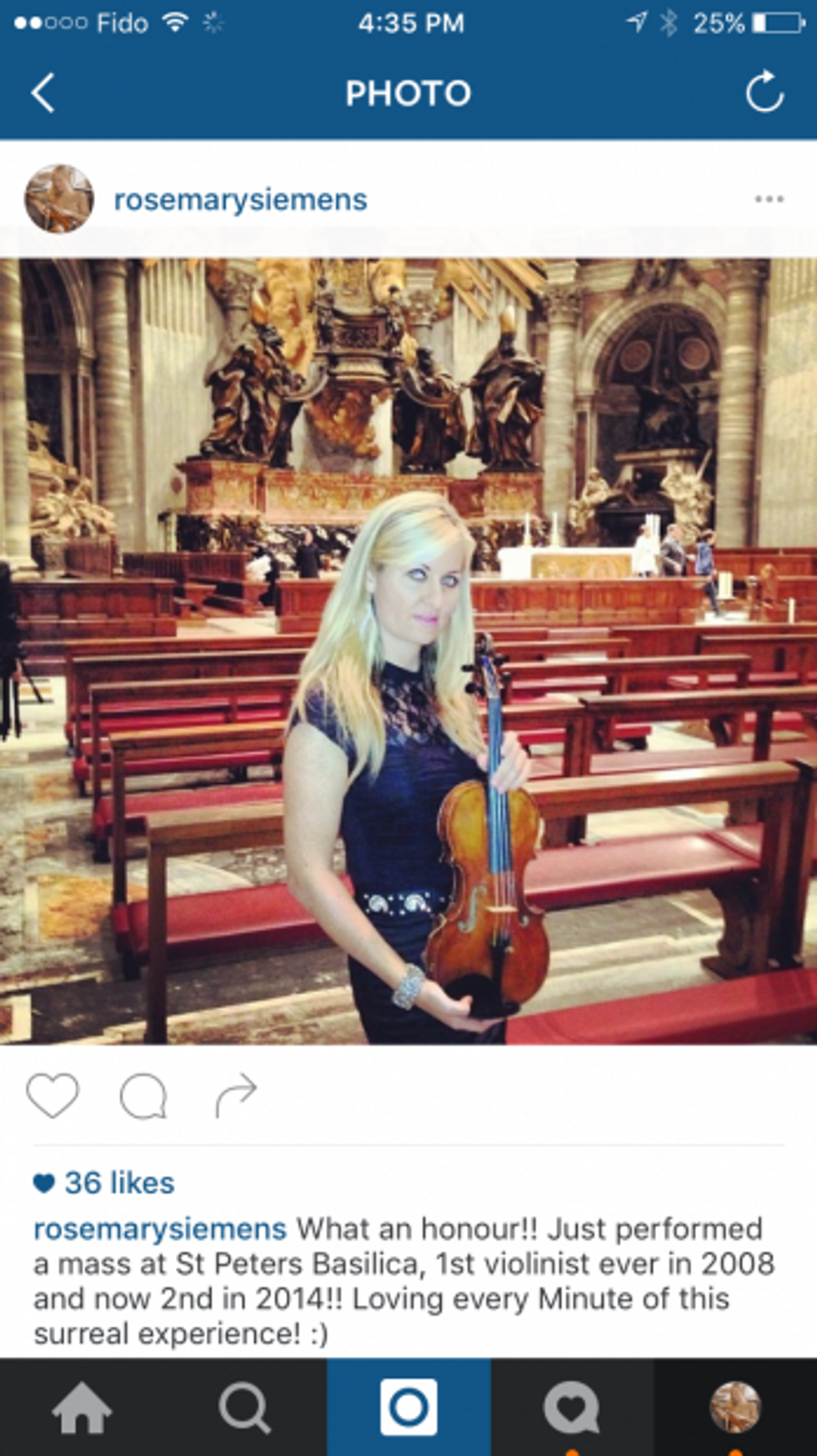 Image source: Rosemary Siemens
But just a few days after the story was reported, TheBlaze received an email from a reader named Rosemary Siemens, a Canadian violinist who says she was in fact the first contemporary artist to play the Sistine Chapel, and she has the documents to prove it.
Siemens told TheBlaze Monday that composer Stephen Edwards first forwarded her the article about The Edge. Edwards had composed the set performed by Siemens and singer Mary Zilba, star of "Real Housewives of Vancouver," in Rome in February 2014.
She politely requested that the story be corrected.
"My best friend Mary Zilba and I, both farm girls, Mary from Ohio and I from Plum Coulee, Manitoba, had this incredible experience of Mary being the first vocal soloist and I being the first violin soloist to perform at the Sistine Chapel," Siemens told TheBlaze Monday in an email.
She said that "friends and family flew in from from around the world" for the "momentous occasion."
"We even got scrolls from the Vatican saying we were the first," Siemens wrote.
She later provided photos of the official letter to verify her claims: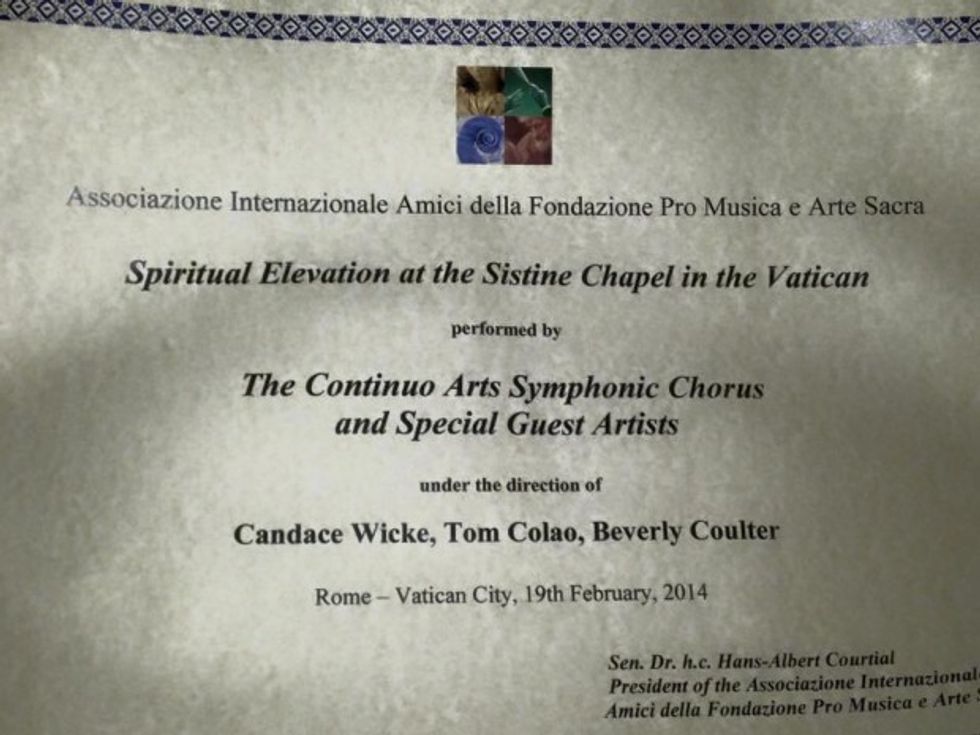 Image source: Rosemary Siemens
Siemens and Zilba were granted the special opportunity to play at the Sistine Chapel by principle conductor at the Continuo Arts Foundation, Candace Wicke.
"Continuo Arts has had a long history with the Fondazione Pro Musica in Vatican City and the invitation for us to perform in the Sistina grew from there," Wicke told TheBlaze in an email Monday. "We were so pleased to be able to invite Rosemary and Mary to join us and suffice it to say, it was an out-of-body experience."
"We are so grateful to Candace Wicke and continuo arts foundation for giving us the once in a lifetime opportunity to perform at the Sistine Chapel Feb. 19th, 2014," Siemens wrote.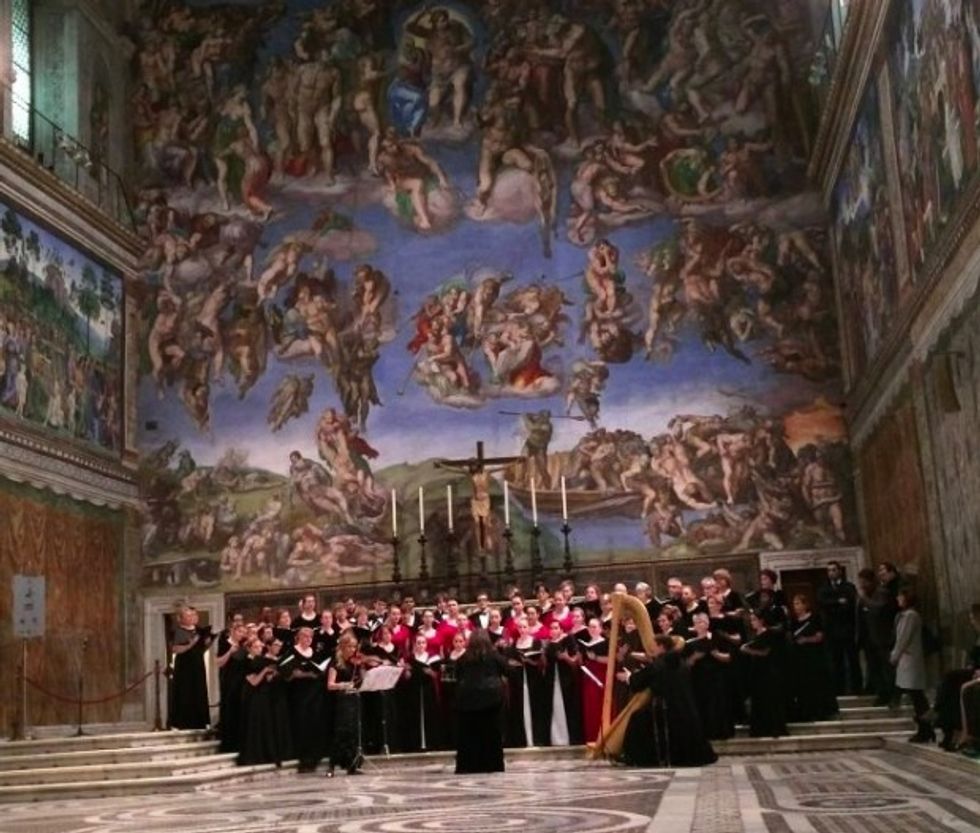 Image source: Candace Wicke
According to Siemens, Wicke also made it possible for her to be the "first and only violinist to play at St. Peter's Basilica at the Vatican in 2008 as well as in 2014."
Siemens has toured the world, played at New York City's Carnegie Hall four times and played at billionaire businessman Donald Trump's Mar-A-Lago home.
Watch her historic performance here: