A video posted to YouTube last month shows a woman confronting a young dad using food stamps at a Walmart.
The viral video begins with the woman, who was in line behind the man and his family, complaining about how she is funding his groceries with her tax money.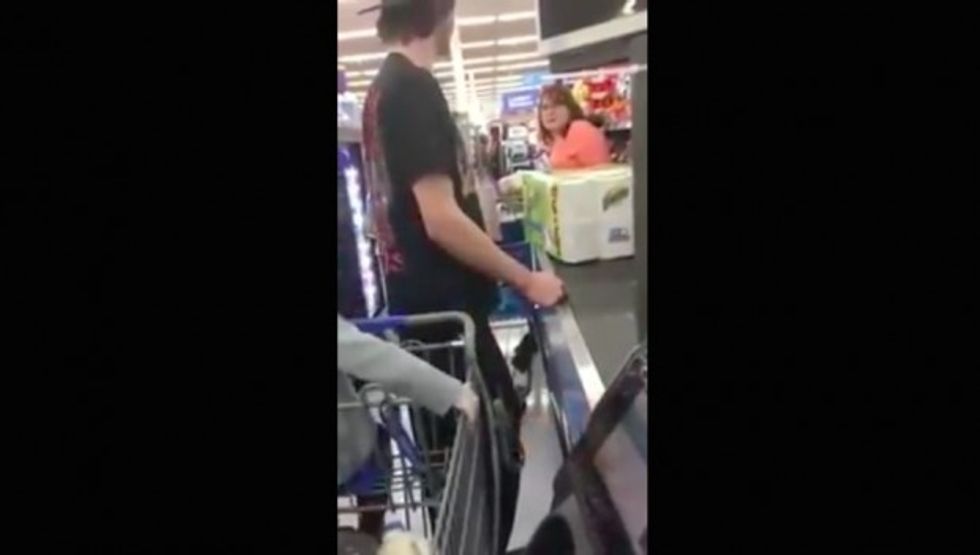 Image source: YouTube
"You know, I put in 50-60-hour weeks … I'm trying to provide for my family," the man says.
The woman proceeds to argue while a child sits in the man's shopping cart.
"You're not providing for it, I am!" she yells. "The government is!"
"No you're not," the man replies.
"They take it out of my check!" she yells back. "Bulls**t they don't!"
The dad then suggests she complain to local lawmakers.
"Vote Republican — I'm sorry, I don't know what to tell you," he says.
When the woman continues to lecture him and assures that she's not "a bleeding heart f***ing liberal," the dad tells the woman to "shut the f*** up."
"I don't have to!" she shoots back. "It's a free country, remember?"
The woman insists that Democrats "give it to you so that you vote that way — I'm not stupid."
The video ends with the dad telling the woman to mind her own business and saying, "Well until you vote Republican and get them out of there, deal with it, b***h."
"I don't make the rules, lady," he says.
"No you don't — you just take advantage of them like everybody else," the woman replies.
"Why wouldn't I?" he says.
A 2014 Forbes report found that Walmart's "low-wage workers cost U.S. taxpayers an estimated $6.2 billion in public assistance including food stamps, Medicaid and subsidized housing."
And a 2013 Wall Street Journal report found that nearly $1 out of every $5 in food stamp money is spent at Walmart.
(Content warning: strong language):