The potential next president of the United States "loves debt."
During an interview with CNN host Wolf Blitzer Wednesday, presumptive Republican nominee Donald Trump said, "Don't forget, I'm the king of debt. I love debt."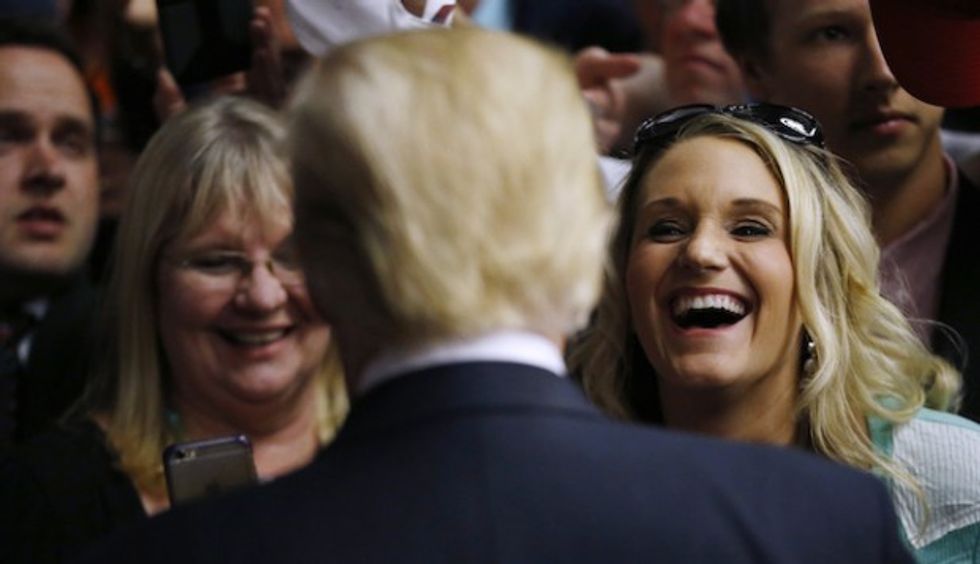 AP Photo/Julio Cortez
Trump's comments came after Blitzer asked the billionaire businessman, who has filed four business bankruptcies, about Puerto Rico and the fact the the country is defaulting on $400 million.
"If you were president of the United States, what would you do to help the people in Puerto Rico?" the CNN anchor asked.
In response, Trump told Blitzer the U.S. currently has $19 trillion in debt. Rather than working to help Puerto Rico, the presumptive nominee said America should fix its own problems first.
"I don't believe [the U.S.] should [bail out Puerto Rico]," he said. "And, frankly, Puerto Rico is better if they don't, because they'll cut the bonds, they'll cut them way down. ... I mean, the problem for Puerto Rico is they're in far, far too much debt."
Because Trump "used" the bankruptcy laws for his own ventures, he said he "knows more" about debt "than practically anybody."
"I love debt," he repeated. "I love reducing debt, and I know how to do it better than anybody. I will tell you, Puerto Rico has too much debt, so you can't just restructure. You have to use the laws, you have to cut the debt way down and get back to business."
Donald Trump: "I love debt," but I would not bail out Puerto Rico https://t.co/M2VnbabDtJhttps://t.co/C3NkClSOm6

— CNN (@CNN) May 4, 2016
—
Follow the author of this story on Twitter: