Ohio Gov. John Kasich has cancelled a campaign press gaggle in Dulles today, opting instead to deliver a statement in his home state.
Kasich plans to use the statement to drop out of the 2016 race, a campaign aide confirmed to TheBlaze.
The move comes after businessman Donald Trump's decisive victory in Indiana yesterday. Texas Sen. Ted Cruz, considered Trump's main rival for the Republican nomination, dropped out of the presidential race following the Indiana result.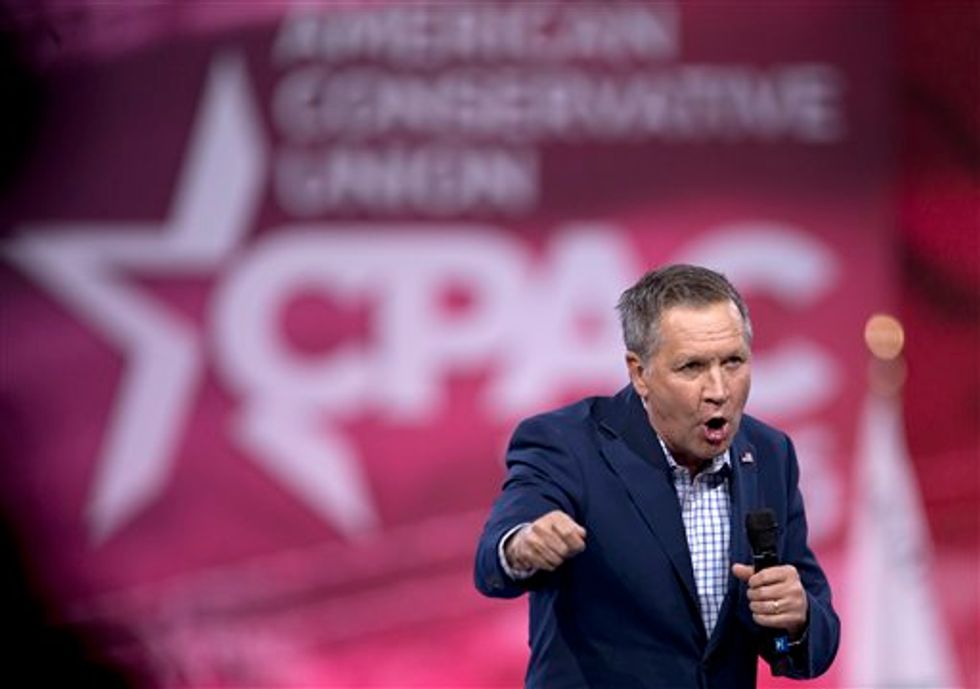 Ohio Gov. John Kasich speaks during the Conservative Political Action Conference in March. (AP/Carolyn Kaster)
Kasich's speech will be at 5 p.m. in Columbus.
As of last night, Kasich's campaign insisted that he planned to stay in the race until the Republican National Convention in July.
"As long as it remains possible, Gov. Kasich will fight for the higher path," Kasich's chief strategist John Weaver said in a statement last night. "Gov. Kasich will continue to campaign and offer the voters a clear choice for our country."
Kasich had hoped to force a second floor vote if Trump was unable to obtain the 1,237 delegates he needed to win outright — but Trump's path to that number of delegates became much clearer with Cruz's exit.
Kasich had only won his home state of Ohio, and was fourth in the delegate count after Trump, Cruz and Florida Sen. Marco Rubio. His exit leaves Trump with a nearly clear path to the Republican nomination, and a chance to face the likely Democratic nominee, former Secretary of State Hillary Clinton, in November.
Kaitlyn Schallhorn contributed to this report.
—
Follow the author of this story on Twitter and Facebook:
[facebook //www.facebook.com/plugins/like.php?href=