Families in Moncks Corner, South Carolina, received an unexpected visitor in their neighborhood Monday morning when an alligator meandered through their yards and was caught on camera throwing itself against the front door of one home.
Gary Rogers told WCIV-TV that he was out walking his dog down a street in Foxbank Plantation when he was startled to behold the creature making its way through the yards of two homes as nearby construction workers ceased what they were doing to watch its progress. As the alligator continued toward the front porch of one of the houses, Rogers said that he quickly whipped out his camera to capture the moment.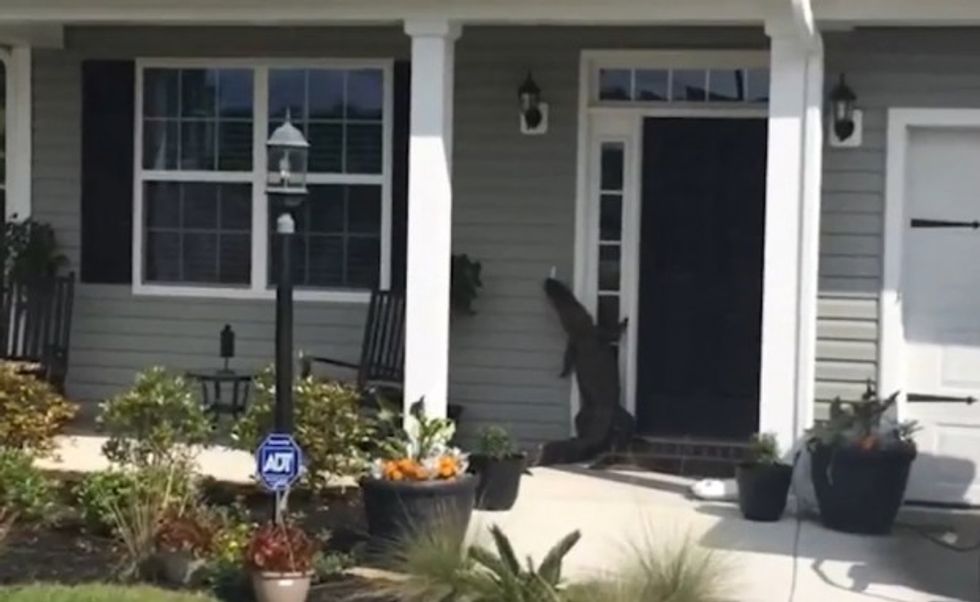 Image source: WCIV-TV
"He was walking around in front of a couple of houses down in the cul-de-sac area. So we went down. Took a couple videos. Got some good shots of him. He was trying to climb the fence a couple times. Tried to climb somebody's door. It was pretty funny actually," Rogers told WCIV. "I'm not from the area, so seeing an alligator is interesting as far as I'm concerned."
In the video, the alligator can be seen lurching toward the front door of one home as it rose up on its hind legs and slid down the door, leaving scratch marks on both the wood and the door knob.
"I didn't know alligators could actually climb. And this alligator looked like he was really trying to make an attempt to get over the fence and into this woman's pool in the backyard. And then when it went over to the house it kind of was up around the doorbell," Rogers told WCIV. "The gator was not aggressive at all. He was just kind of trying to find his way out. I mean he was caught between fences, in between a couple of houses. Had no place to go. Went around the air conditioner a couple of times."
Jamie Bailey, the owner of the front door the alligator attempted to scale, said that she thought her neighbor was joking when she received a text informing her of the unique guest.
"I thought it was a joke ... And then they sent me the video front on and I was in disbelief. Couldn't believe it," Bailey told WCIV. "I mean who would have thought — an alligator!"
Bailey added, "I told my husband earlier I said we're going to get a gator crossing sign — and we're putting it in the front yard."
(H/T: New York Daily News)
—
Follow Kathryn Blackhurst (@kablackhurst) on Twitter