Former Florida Gov. Jeb Bush (R) may have congratulated presumptive Republican nominee Donald Trump — but that doesn't mean he'll be pulling the lever for him in November.
In fact, Bush, who ended his White House bid in February after a long — and often personal — battle against Trump, wrote in in a statement posted to Facebook Friday afternoon that he will not be voting for Trump or Democratic front-runner Hillary Clinton, should they each secure their respective party's nominations.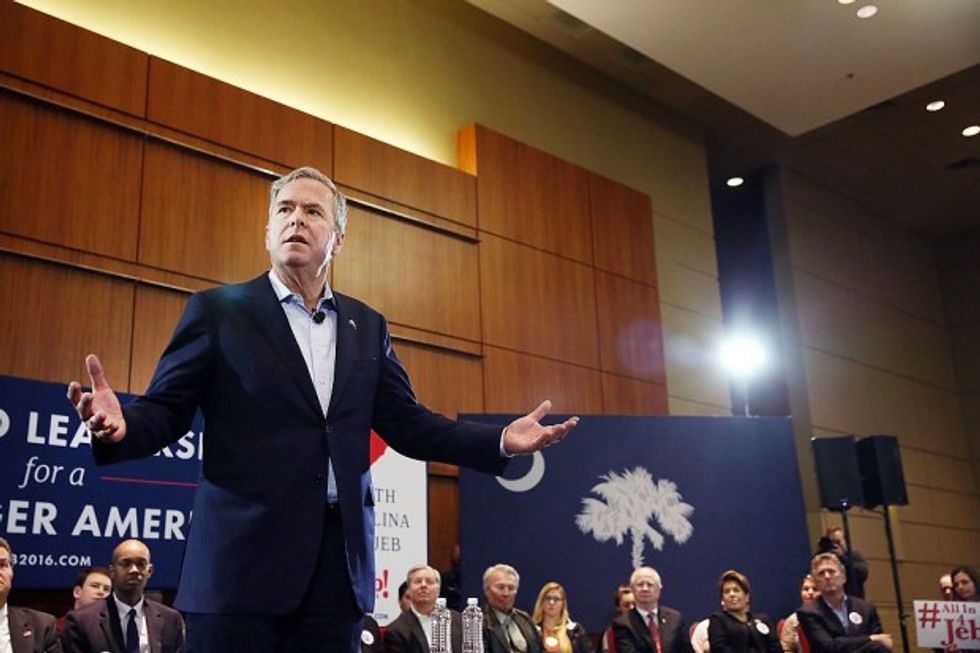 Photo by Spencer Platt/Getty Images
"There is no doubt," Bush wrote of Trump, "that he successfully tapped into the deep sense of anger and frustration so many Americans around the country rightfully feel today."
He continued, "The tremendous anger of the current U.S. electorate — whether Republican, Democrat or independent — is a result of people fearful about the future, concerned with the direction of our country and tremendously frustrated by the abject failure and inability of leaders in Washington, D.C. to make anything better."
The one-time presidential hopeful said voters have  "made it clear" that the U.S. government is "broken." However, Bush is "not optimistic" that Trump or Democratic front-runner Hillary Clinton is the right person to fix Washington.
Bush wrote that the presidency "goes beyond just politics." He said the right candidate for the White House needs to possess "great fortitude and humility and the temperament and strong character to deal with the unexpected challenges" that may arise. And, according to him, Trump exhibits none of those qualities.
"Donald Trump has not demonstrated that temperament or strength of character," he wrote. "He has not displayed a respect for the Constitution. And, he is not a consistent conservative. These are all reasons why I cannot support his candidacy."
Bush doesn't believe Clinton displays the necessary characteristics to be president, either.
"Hillary Clinton has proven to be an untrustworthy liberal politician who, if elected, would present a third term of the disastrous foreign and economic policy agenda of Barack Obama," he remarked.
Instead of focusing on the top of the ticket, Bush wrote that he will set his sights on down-ballot elections, which many have said are threatened by the strong likelihood of a Trump nomination.
"For Republicans, there is no greater priority than ensuring we keep control of both chambers of Congress. I look forward to working hard for great conservatives in the Senate and House in the coming months," he concluded.
This comes one day after House Speaker Paul Ryan (R-Wis.) said he is "just not ready" to fully endorse Trump.
—
Follow the author of this story on Twitter: