Russell Moore, president of the Southern Baptist Convention's Ethics and Religious Liberty Commission, has repeatedly made it more than clear that he's not a fan of presumptive Republican presidential nominee Donald Trump.
Moore most recently took aim at the "reality television moral sewage" that he said is "coming through all over our culture" during an appearance on CBS News' "Face the Nation" on Sunday, relating that dynamic back to what he sees happening in the 2016 presidential campaign.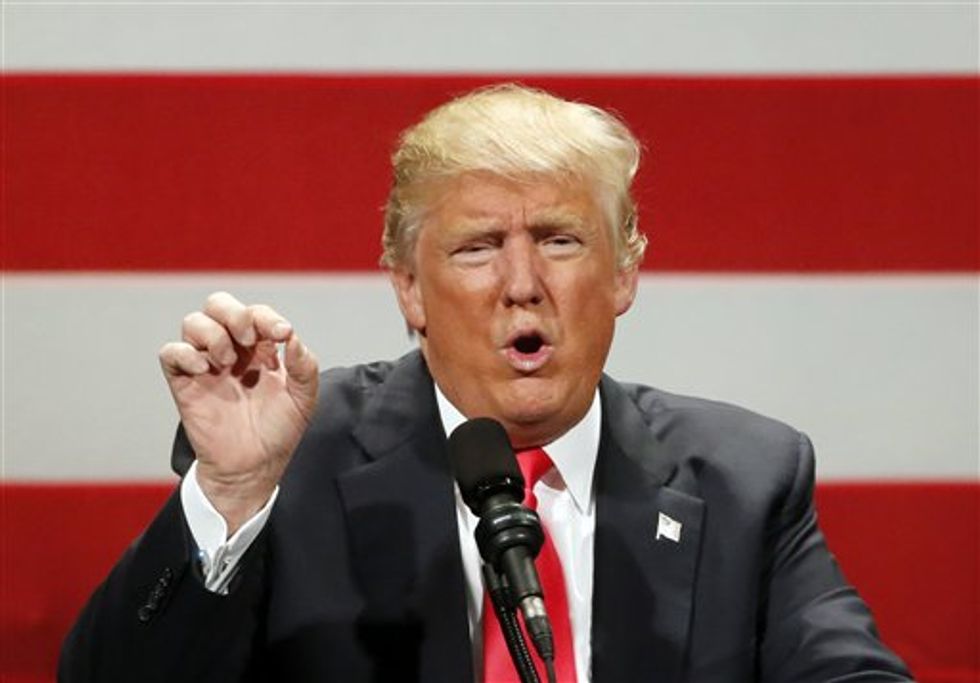 Republican presidential candidate Donald Trump speaks at a rally at the Milwaukee Theatre Monday, April 4, 2016, in Milwaukee. (AP Photo/Charles Rex Arbogast)
"What we have in the Donald Trump phenomenon … is an embrace of the very kind of moral and cultural decadence that conservatives have been saying for a long time is the problem," Moore said on "Face the Nation." "And conservatives who previously said we have too much awful cultural rot on television now want to put it on C-SPAN for the next four years … with either [Trump or Hillary Clinton]."
The theologian said that this is simply not what conservatives believe in, stating that the embrace of Trump is representative of the broader cultural problem that conservatives have decried for so long, as Newsmax reported.
.@drmoore Russell Moore is truly a terrible representative of Evangelicals and all of the good they stand for. A nasty guy with no heart!

— Donald J. Trump (@Donald J. Trump) 1462788349.0
Trump apparently didn't appreciate that sentiment, as the candidate sent a tweet on Monday morning that took direct aim at Moore. He wrote, "Russell Moore is truly a terrible representative of Evangelicals and all of the good they stand for. A nasty guy with no heart!"
Sad! https://t.co/HhzdS2nzsF

— Russell Moore (@Russell Moore) 1462792615.0
Moore responded by sharing Trump's tweet and writing "Sad!" But a few minutes later he sent another message that consisted of a single Bible reference. That mention was 1 Kings 18:17-19, which reads:
"When he saw Elijah, he said to him, 'Is that you, you troubler of Israel?' 'I have not made trouble for Israel,' Elijah replied. 'But you and your father's family have. You have abandoned the Lord's commands and have followed the Baals. Now summon the people from all over Israel to meet me on Mount Carmel. And bring the four hundred and fifty prophets of Baal and the four hundred prophets of Asherah, who eat at Jezebel's table.'"
For anyone who might be confused by the reference, consider the context that 17th century pastor and author Matthew Henry gave the scriptures when he explained the conversation unfolding within them as a back and forth between Ahab, a Israeli king, and Elijah, a prophet, as recounted in the Old Testament.
Henry explains the character of the two men:
We have here the meeting between Ahab and Elijah, as bad a king as ever the world was plagued with and as good a prophet as ever the church was blessed with. 1. Ahab, like himself, basely accused Elijah. He durst not strike him, remembering that Jeroboam's hand withered when it was stretched out against a prophet, but gave him bad language, which was no less an affront to him that sent him. It was a very coarse compliment with which he accosted him at the first word: Art thou he that troubleth Israel? 1 Kgs. 18:17. How unlike was this to that with which his servant Obadiah saluted him (1 Kgs. 18:7): Art thou that my lord Elijah? Obadiah feared God greatly; Ahab had sold himself to work wickedness; and both discovered their character by the manner of their address to the prophet.
1 Kings 18:17-19 https://t.co/gpbDUbhIiB

— Russell Moore (@Russell Moore) 1462792904.0
Without much digging, one might be able to easily discern the intended parallels that Moore was likely getting at. As Mediaite's Alex Griswold wrote, "Message received, Dr. Moore. Message received."
As TheBlaze previously reported, Moore has held little back in offering up critiques of Trump. Consider that, after Liberty University President Jerry Falwell Jr. seemingly compared Republican presidential candidate Donald Trump to biblical leader King David, back in March, Moore offered up a quip.
"There's a Psalm five-one, or something like that, somewhere, I'm told," Moore tweeted in response to Falwell's comments, seemingly poking fun at Trump's much-covered "Two Corinthians" flub.
In a separate message, Moore wrote, "King David was no dime-store demagogue."
--
Follow the author of this story on Twitter and Facebook: